Meg Montague (57) is conscious of the water she uses while cleaning, washing and bathing. Meg and a group of women on her street are conserving water by installing water-efficient appliances and toilets, recycling water from washing machines and using drip irrigation in their gardens.
As severe drought and water scarcity reaches epidemic proportions in most parts of Australia, Watermark Australia - a community education programme initiated by the Victoria Women's Trust - is helping conserve what is perhaps the 21st century's most precious commodity.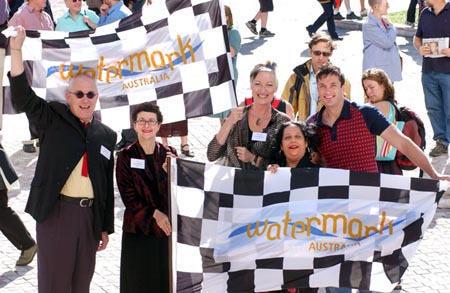 Watermark Australia, launched in June 2005, has helped ordinary people become aware of simple but powerful water-saving solutions. Project Director Mary Crooks, who is also the Executive Director of the Victorian Women's Trust, was inspired to launch Watermark Australia after the success of the Purple Sage Project, which showed how women could drive a wide-ranging process of civic engagements at the grassroots level.
"In many ways, the success of the Purple Sage Project lay in the way it harnessed women's capacity for local leadership. The issue of water use and management provides an enormous opportunity for women everywhere to support a similar extensive public process of dialogue and action to a sustainable water future," adds Mary.
Small groups of friends, family, workmates meet monthly around their kitchen tables, neighborhoods or workplaces to discuss and share thoughts, anecdotes and 'folk-wisdom' on water.
Karen Throssell, a writer, has long been concerned about Australia's water profligacy. Her Watermark group is diverse both in age and background, although not gender. She says, "We had a token male and about 10 women. Jean, 84, made the point that when you realize that water you have is connected to rainfall and not an infinite supply from a tap, you value it. The youngest 17-year-old in the group provided the "I want it now" youth mentality and their obsession with washing, one of the hardest attitudes to change.
"We all saw our problems as very much political as well as personal, so we talked about the social causes of water wastage and political changes that could affect this. We saw cotton and rice farming as one of the biggest agricultural issues and agreed to lobby governments to take steps to ban this kind of farming in our totally inappropriate climate. We were also very concerned about the trend towards water privatization."
The groups meet regularly, in two phases. The first phase, discussion topics 1-4, focuses on people's existing experience and wisdom and what we need to know further about water - becoming much sharper in our awareness and much more water literate. This is followed a few months later by a second phase (topics 5-8) that looks more closely at how we might act to achieve a sustainable water future.
As Mary says, "It is probably the first discussion programme of its kind in the world. We have put together discussion topics for the groups from our own reading, research and discussion with water experts. They spread across the spectrum: opinion, ownership, search for solutions and preparedness to accept those solutions."
Each group reports its findings to the Watermark Australia team. The team processes these reports, and integrates them with the thinking of a whole range of people - scientists, technicians and others. These deliberations are then enshrined in a 'Water Charter', that spells out the dimension of the crisis and practical, effective ways for water conservation on many levels - households, local communities, regions, states and nationally.
"If we have to avert a severe crisis, we have to become super-efficient water users by the next decade. Based on the UN-style, households and small business signatories to the charter commit to abide by framework rules," explains Mary.
At present, there are over 240 group convenors spread throughout the country. For these women, beating the water crisis is about knocking on doors. Meg's group knocked on 60 homes on their street, comprising young families to elderly migrants, professionals to low-income families. They persuaded as many residents as they could to agree to an audit of their household's water use.
The audit, by a plumber, looks at the efficiency of each household's water-using appliances, measures tap flow, checks wastage and provides tips on how to regulate water use. Some groups have sought business and government support to help residents pay for the big and small changes required - for example, installing effective showerheads, dual-flush toilets, rainwater tanks or grey-water recycling systems for gardens.
As self-employed research and policy consultant Meg says, "By working together we have economic power; we can organize cheaper water audits, plumbing services and hardware because we can approach local traders to provide their services in bulk in a local area. They save time and get more customers; we save money and get tanks installed and water smart advice".
Funded by five women, who believed passionately in this process of bringing change, and the Myer Foundation, Watermark Australia programme has 3000 participants. As Mary says, "Someone has to be a catalyst and 75 per cent of our group convenors are women. It suits women's preferred ethic of shared knowledge and skills and collaborative way of going about things."
Australia's per capita use of water in urban areas is one of the highest amongst 31 OECD countries, at about 320 liters per person daily. In a typical Melbourne household, about 30 per cent of this goes on gardens and a further 20 per cent is used to flush toilets. With the city's population expected to grow by 31 per cent by 2030 and declining rainfall and dam levels, many believe our present water use is unsustainable.
Most Australian cities do not recycle water. In 2000-2001, the re-use percentage figure for Sydney was 2.3 per cent and Melbourne 2 per cent. Melbournians have cut their water use by 22 per cent in the past decade under the government's carrot-and-stick approach - rebates for water-saving devices and penalties for people breaching water restrictions. But experts agree that permanent behavioral change is needed.
Notes Marguerite Marshall, a journalist who started a local environmental group, People for Environmental Protection (PEP), and also leads a Watermark group: "Much effort will be needed to bring about behavioral change through a realignment of values and the necessary shifting of paradigms, using enlightened self-interest and engaging people in the battle of ideas."
The personal lobbying has begun to have a political impact: water has become one of the main election issues. Groups agree that women as decision makers and implementers in the domestic economy can change the way households use water. They can lead by example and encourage water saving behavior amongst children and other members of the family, thereby making a difference in the larger context.