Tumpa, 14, was slaving away as a domestic worker in Kolkata. Soon she quit and shifted to Mumbai, hoping to secure a better job. Instead, she found herself trapped in one of the metropolis' red light areas. Although she was rescued by the Mumbai police and sent back to Kolkata, her family refused to take her back because she is HIV+, and Tumpa has gone to work as a domestic worker to support herself.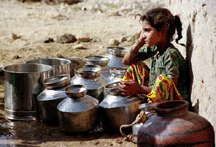 Every year, thousands of girls from West Bengal, lured by the prospect of decent earnings, find themselves in virtual slavery or subject to cruelty when they move to Delhi to work as domestic help. Some of these girls have horror stories to relate, and many say they did not get paid for months.
Narrating their experiences to Sanlaap, a Kolkata-based NGO that works for the rights of women and girl children, they say their employers promised to pay them when they returned home, but when the time comes, they are given less money. Some said a part of the salary was deducted because they had broken utensils at the workplace or lost clothes while drying or because money was spent for them during their illness.
Domestic workers are not recognised as workers and they do not come under the purview of labour laws, states Indrani Sinha, Executive Director of Sanlaap. They do not have the right to worker's compensation, holidays and minimum wages and the Child Labour (Prohibition and Regulation) Act 1986 does not cover child domestic workers, she points out.
Sinha also observes that with more middle-class women working outside the home in paid jobs, there is a higher requirement for domestic workers. And many households prefer children, as they are easily controlled. These children are required to look after children in the house, do odd jobs like cleaning and sweeping, and also help in the kitchen. Some children are treated well, although they do have a lot of work to do and long working hours. Many run away or switch to other households because of the heavy and demanding work. Sinha adds that many children complain that they are beaten when they make mistakes, that employers use foul language, and that the food they are given is often of very poor quality and quantity.
Accurate figures on trafficking of children for domestic labour are difficult to procure, as domestic work is a totally unorganised sector. The Indian State has also done very little to gather more facts and figures on child domestic workers.
There are more than 500 placement agencies spread all over Delhi today with operational offices in West Bengal, states a Sanlaap presentation made at a recent workshop on 'Domestic Child Labour and Trafficking' organised by the NGO in New Delhi. Punjabi Bagh in north Delhi alone has 50 such agencies, it states.
Citing instances, the Sanlaap presentation refers to a husband and wife team - Sushanta and Sulata - who are sole agents in Gosaba, 24 Parganas (South) for an employment agency, Kaka Domestic Sramik Service in Chirag Delhi, south Delhi. They had taken four minor girls to New Delhi for domestic work, but today neither the agents nor the Delhi agency have any information about these girls
Sanlaap also has the case histories of many girls, shared by Save the Children representative, Manabendra Roy. Take for instance, Raji, 10, a domestic worker in a Delhi household, who is beaten with a broom when she makes a mistake, while Rashida, 12, was beaten with a spoon by her employers, which broke her front tooth.
Rehana, 15, recruited by an agent of the Delhi-based Domestic Service Agency, was asked to change her name to Rita Mandal (a Hindu name) and was then placed at one Satish Gupta's residence. Gupta reported to the police that she worked for 10 months and has been missing since July 2004. The girl's father reported to the panchayat that there was no trace of the girl or the money she was sending.
What happens to these children and where do they go? Domestic child labour is a global problem. According to 'The State of the World's Children 2005' report, published by UNICEF, an estimated 1.2 million children are trafficked every year. Two million children, the majority of them girls, are sexually exploited in the multibillion-dollar commercial sex industry.
Over 121 million primary school-age children are out of school due to poverty. "They are deprived of their right to education because their families cannot afford school fees, because scant national resources stand in the way of adequate school facilities, or because they have to work to put food on the table," says the report.
Some interviews of child domestic workers have shown that placement agencies take salary for the first month of work and a registration charge from the family that hires the children. The contract also stipulates that they stay with the same family for at least one year, which means debt bondage and vulnerability to abuse. "It is a complex issue and the nexus involves the local police as well who provide protection to agencies, as the turnover from this industry is at least Rs 1,500 million per month," claims Subhash Bhatnagar, a lawyer and social activist in Jharkhand, another centre for recruitment of domestic labour.
Rashmi Singh, Joint Director, Department of Social Welfare, Delhi Government, says laws like the Juvenile Justice (Care and Protection of Children) Act 2000 have elaborate provisions for the care and protection of children aged 6 to 18 years. The Delhi Government has launched several initiatives to protect children, such as expanding the Integrated Child Development Services (ICDS); sensitisation campaigns on the Juvenile Justice Act and on child rights; sensitising families, police and social workers; regulation of adoption services; changes in foster care rules and setting up minimum standards of care in institutional services, Singh informs.
Rescue is not the only answer, there is an urgent need to create a holistic rehabilitation and reintegration programme for these children, asserts Indrani. Advocacy initiatives should be started with individuals, families, panchayats and local administrative agencies, while families should be brought together by self-help groups, which will ensure that all girls go to school. "Start from within...from home, from schools and colleges. We must involve the victims and ensure child participation in the process of campaign and advocacy and of reintegration of the child after their return," she underlines and adds that transparency and accountability of the placement service agencies is essential.