Original in Malayalam: Chillumedayilirunn Kalleriyoo by Savad Rahman
Translated in English by Sony V. Mathew
Mumbai is truly one of a kind. You might have been residing here for a decade or more but still you can�t be absolutely certain of your way. Andheri, Dadar, Navi Mumbai� the longer you travel the more you get confused. Such is the traffic and human convergence associated with this great city that, it could take hours to move from one point to another. But Kamathipura has always been an exception, in more ways than one.
Catch the time-bound city train service, or the red colored city bus 102 or the taxis painted in black and yellow; the means to reach the place has never been short of options. Under the guise of gentlemen, a clutch of strange friends will guide you, round-the-clock, to the world of flesh trade where many innocent dreams get shattered and fate plays havoc with millions of female lives.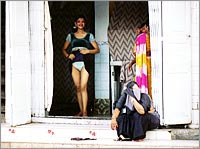 Irrespective of their economic or social differences people from different walks of life used to be a regular visitor to this place, which has been shared and owned between pan, panipoori, juice vendors and multi colored buildings adorned with lamps. So one thing is clear, the AIDS cell got it completely wrong when they recorded that most of the customers were confined to long distance lorry drivers.
The list of customers who buy sexual release in these sleazy bars covers posh-driven bureaucrats to the political big fishes to the agents of rich Arabian sheikhs and white skinned foreigners to the tourists from within and abroad and to those job hunters and interviewees. There is no other place on earth where they can cheaply vent their sexual desire. The information divulged by World Sex guide stands testimony to the said fact.
But don�t get mistaken, the average turnover that has been churned out by this flesh market is equivalent to that of the revenue generated by the Mumbai share market or the diamond market at Saveri. And more than 70 percent of the sex workers in the biggest �red street� are in their early teens. What else can give you a more staggering picture?
Apart from the courtesans who have been engaged in the oldest known respect-less job, the region has been a safe haven for those stray dogs, goons, pimps, and innocent kids. From the time of the British rule it has been known as Mumbai�s "comfort zone". History mirrors that Kamathis who worked here, as builders and craft workers, from the state of Nizam, had been the origin of civilization in this part of the world.
The way they came �.
It�s been seven years since her stepfather hoodwinked Rupa Chikdar. Before leaving he had promised Rupa to take her home every month. But he never came back. From Kolhapur to Mumbai, Rupa Chikdar has come of ages. She is now matured enough to differentiate the chaff from the grains. The monkey toy that was being presented by her stepfather was still at her drawing room, grinning at the visitors.
Like Rupa Chikdar, Anamika also ended up here as a result of a well-laid trap. A family friend offered her a lift, when she was on her way back from a party. As soon as she regained consciousness her memory bank was completely blank. It was too late when she realized the trap that befell on her. She fought her best against the evil desires of sex mongers and mercenaries. she was not ready to do any thing against husband and god. But her cries fell on deaf ears. Malabhai�s goons treated her with utter disdain. They put her in the dark room completely deprived of even drinking water. Ultimately they had threatened to kill her child. Anamika was left with no other option but to yield. She was being forced to select the path she hated for so long.
Here starts the show �.
The pimp would leave the scene after bagging the money that was guaranteed to him. Now she belongs to the �Didi� or �Madam� who bought her for a sum that ranges between Rs 25,000 and Rs 2, 00,000. It all depends upon the physical worth of the �commodity�. The �Didis� hardly bother about the money spent, as they would earn a princely sum of Rs 25, 00,000 by selling her for a period of 6 years.
In the beginning the brothel owner will order the victim to follow his/her instructions, if she continues to refute they would resort to third degree methods like applying hot metal bars against genital organs or by tormenting her kid. A fleet of experts will be at hand to train the new arrival.
Only God and death could rescue her once she was netted. In most cases, she was being betrayed by her husband or lover. Yes, the world has become a more difficult place for women to survive. In a frantic effort to escape from the ills of infidelity, dowries, insurgencies and calamities she had been forced to cave in for the evil desires.
What is common between Manisha Koirala and these girls
Recently a Hindi film titled �Market� hit the screens with Maneesha Koirala as the lead character �Muksam Banu�. Even though the film had nose-dived in the box office it successfully portrayed the revenge of a girl who was being forced into prostitution, as a result of her wedlock with an Arab. The film also allowed thousands of Nepali girls to breathe in respite, as many of them were subjected to merciless betrayal after being illegally deported to India. Through the reel world Maneesha had done what the girls couldn�t do in the real life.
Whether it was sheer coincidence or resulted from a thoughtful move by the director, the Nepal-born Maneesha was a perfect fit to the role. But the difference between Maneesha and the girls was quite stark. The actress might have been enjoying her leisure time in Mauritius or Switzerland when these scapegoats were confined to the dark cells of kamathipura, with their dreams got buried along with their clothes.
The queen of tinsel world would be startled to know that women between the age of 13 and 45 have been diminished to a sizable extent in her birthplace. These girls who are having a higher demand in India are ought to feed the lust of at least 12 men a day, who approached them for their ejaculatory stopover.
As Ruchira Gupta, the director of the documentary titled �the selling of innocents� and the founder of the women welfare organization �Apne Ap�, pointed out "these girls were being tortured to the core sans providing any food and dresses. In fact most of the customers enjoyed doing brutal rape, if the girls were not willing to yield".
Unfortunately most of the pimps who have been in the business of trading Nepali girls belong to their own country. Two Katmandu citizens Renu and Bimal ran the Jhariwala whorehouse, until it was ransacked and destroyed by the �Rescue Foundation� activists under the leadership of Balakrishna Acharya, last March. Then it was revealed that Rajaram Thokale the husband of Renu was an active member of the Village Development Committee. This was just another incident of unscrupulous behavior of the authorities.
What high tech pimps says�
Many children had been devoted to the temples by their parents, in order to plead for the blessings of local deity "Yellamma". Sadly, most of these girls were ended up as tools to satisfy the libido of insipid Poojaris and rich landlords. These so called �Devadasis� invariably became part of the malevolent red street after failing to protect their chastity.
Most of the trains coming from Belgaum used to carry at least 10 to 20 �Devadasis� per day. The situation in southern states like Kerala and Andhra was equally staggering. Hapless girls had been taken from their homes under the guise of getting employed in gulf, or in the Biscuit Company in Virley Parley or the Oceanic Products Manufacturing Company in Gujarat. A fresh inquiry might bring forth more stunning revelations about their fate. Still the hi-tech pimps say- the girls are always safe.
Nagpada police, who is in charge of Kamathipura, seemed to be bent upon preventing any illegal sex trafficking. But the real situation showed a different picture altogether. In some cases big bosses, from the Mumbai Police Department, themselves had appeared to tame the little girls who were in no mood to relent. Due to support from the top political brass these anti social elements were hardly being implicated and they in turn conspired with the criminals to widen their network
Being a mother at Kamathipura�
Neelopher was born in a reputed well-to-do family in Barelly. But her child was not that fortunate. Although being delivered in a shack room of Laila. In her hey days, Laila was a real money-spinner, now confined to the role of a grand mother as well as a maid for those women who delivered children sans any fathers�.
At Kamathipura, Neelopher did not want him to tread her path. Like any other mother Neelopher was also keen to impart her child with the best possible education. In an attempt to place him at the poor boy�s home, she did not think twice to explain the reason of her child�s orphancy as �father died due to tuberculosis�. Anyway, she succeeded in her attempt and has been a regular visitor to the school for quite some years. She was full of tears when she explained that never once she failed to please him by not getting him color pencils or cricket cards.
On Muhram or other special days, both of them together will visit the Darga of Haji Ali. But still she is afraid�.what if the boy comes to know about her past one day.
Every mother is the same. The mothers at Kamathipura are not different. They too have dreams about their children and worried about their future. They never want their children to involve in the evil surroundings. The mother who prepares �Chapathi� at the streets also keeps a bottle of boost; she wants brought up her child to be the next �sachin�-the cricketer.
The children of Shanthi and Anupama have been studying in a posh school in Dongrey. Thanks to the local social and political leaders, the Rakhi brothers of the women, who appeared as their parents in the official school records.
After being in the trap it is their duty to unembarrasingly beckon others to sleep with them. But no single individual of Kamathipura had wished to be part of this spiteful world and you cannot find a sex worker who has been working here with utmost satisfaction. It was not their testosterone surge but circumstances that shoved them to this ghastly culture.
Here, the million-dollar question remains. Why those political leaders who have been making all hues and cries to usurp power or social organization�s that have been ardently involved in giving Mumbai a facelift or any of us who boasts ourselves as strong proponents of equality and secularity, have failed to save her from the blushes.
The modern day MSW�s are very keen to work with the sex workers. Sadly their intention falls short of true integrity. They are least bothered about the victims� rehabilitation but find great pleasure in educating the girls about the need to use contraceptives. A true testimony of how far the politicization of AIDS has reached.
Once she fell in to the trap, the travails would continue with her for at least 15 years until she becomes worthless for the �Didi�. After being in the brothel darkness for a major portion of her lifetime it would be impossible for her to get back to her normal self. Circumstances would force her to pursue her malicious life, may be at a different place.
Despite the developments in the great city, despite the baseless claim of India shining, the slum has remained the same. No matter which party rules the roost. But don�t forget, at anytime any girls from any one of the third world country (with out black cat protections or �z� category security) can slip in to this horrible world. It might be you, or somebody like you, or somebody you like�.
(Names mentioned above are real, because their fate can�t be changed by a mere change of name)
February 12, 2006
(The above is a translation of the article "Chillumedayilirunn Kalleriyoo" by Savad Rahman published in Madhyamam � the malayalam daily)
Savad Rahman is a young journalist working with Madhyamam the Malayalam daily. He was the winner of last years development journalist of Asia award by ADBI, Tokyo.