"If: A collection of short stories by Neeru Nanda"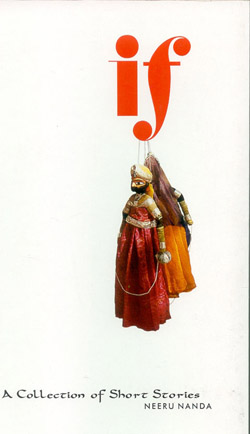 If anyone with a language skill than with an innovative concept can be considered as a writer, Neeru Nanda's short stories collection 'If' qualifies for a good writing. Nanda's writing is commendable but the ideas are either hackneyed or too contemptuous. Somehow the writer fails in her efforts to keep the readers' mind engaged. Because when you complete one story you are not eager to move to the next; on the contrary it makes you sit sad and disturbed with misery. If this be considered as the success of the writer? Well then, it is.
There are eleven stories in the book and all of them are contemporary themes only. A short story can have an open ending or a surprise twist. If the expected appear as the end the reader feels disappointed; at the same time the conclusion should not be too obtuse also.
Surprisingly, Neeru's narrative goes quite cynical in many places than being lyrical, eg. 'His Father's Funeral' and 'Room No. 38'. The first story 'The Peak' alone stands out fresh and different; the gross materialism of this world and the depressing naivety are juxtaposed effectively. Even here, in the end one cannot but feel miserable.
Contrasting to the contents, the most impressive aspects of the book are the simple but elegant cover and good quality printing. Life is not fair to many; life is not beautiful to one and all. Yet we have to live in this world. We come to terms with it or not still life goes for every one. 'If' tries to explore the sordid sides of several such lives.