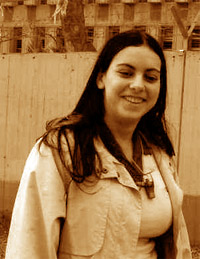 Idan Chalili, 19, is the first woman in Israel who has refused to enlist in the army. Her reason? It is against her feminist beliefs. Chalili declared in November 2005 that she will not do the mandatory military service on grounds of her feminist beliefs and conscience. Her daring act raised a lot of eyebrows; stirred a nationwide debate; but eventually won her an exemption from military service.
In Israel, every girl enlists in the military service after high school and devotes two years of her life to military duties. Only orthodox religious girls are exempt from the service. (This is because Orthodox Judaism believes that girls cannot serve in the military in the company of men.) These girls sign an official declaration in court and the exemption note is sent to them by mail. Girls who hold pacifist views have to go through a Conscience Committee, authorized to grant or deny conscientious objectors exemptions from service.
Before Chalili, no woman was granted this exemption.
Chalili, an activist with the Tel Aviv-based Feminist Women's House, a women's rights advocacy NGO, refused to enroll in the army not only because she found the army a patriarchal institution, but also because she firmly believes that she cannot serve an organization where sexual harassment is endemic.
Chalili wrote to the army in her request for exemption: "A strongly patriarchal institution like the army underlines female marginality, on the one hand, and the superiority of male-identified values on the other. It might be said that a mood of sexual harassment is endemic to a patriarchal and hierarchical organization like the army. And so, the demand that a woman enlist is tantamount to demanding that she cope with sexual harassment within an environment that encourages such harassment."
She further wrote: "Since the army is such a central institution in society, a culture of sexual harassment also is exported to and further entrenched in civic society. I, as a feminist, feel I must avoid military service and act to limit and reduce the influence of the army on civic society."
Chalili argued that "when men spend a formative period of their lives in the military they are likely to receive positive reinforcements for the use of brute power and violence, and to develop an indifferent attitude to the use of `mild' forms of violence. In an organization whose main values include superiority and control, these behaviors are likely to be encouraged in the specific professional military activities, but also in interpersonal relations. I cannot join an organization which, either directly or indirectly, encourages violence - of any form and kind - against women".
Chalili added that she could not join an organization that, either directly or indirectly, encourages violence - of any form and kind - against women. "Army service would impose a way of life on me that is deeply contrary to my values and moral beliefs. I cannot live in such flagrant denial of my conscience." However, the army authorities were not impressed by her strong views. Chalili was briefly interviewed by the head of the women's section at the main induction centre, where she spent a night before being transferred to military prison near Tel Aviv in November 2005.
On her way to the jail, Chalili was accompanied by over 50 supporters, men and women, who distributed leaflets to the public, and explained the connection between the Palestinian Occupation, militarism and sexism in Israeli society. Some of the signs held by supporters read: `We won't serve the patriarchy'; `The army teaches chauvinism'; `Feminists don't serve sexism'; `We're women who refuse to be enemies', and `The army imprisons conscience'. Slogans called out included: `Not a fighter, not a clerk, army harasses girls'; `Won't serve coffee, no, no I won't go'.
Chalili's main supporters came from NGOs like the New Profile, the High School Seniors, the Feminist Women's House and the Refusers' Parents' Forum - all pacifist NGOs that focus on social issues rather than on security in wartime. They called on Israeli authorities to uphold Chalili's human right to freedom of feminist conscience. Hundreds of letters were sent to the Defense Minister Shaul Mofaz, calling him to free Chalili and grant her an immediate exemption from military service.
Bowing to public pressure, the authorities finally released Chalili on December 27, 2005. This was the first time that the Israeli army acknowledged feministic ideology as a valid ground for military exemption. Professor Hana Nave, Head of Gender Studies in the Tel Aviv University is proud of the young feminist's courage to follow her beliefs. "Most girls who enlist in the army," says Nave, "are given worthless, belittling tasks such as serving coffee to male officers. Such tasks invite abuse against women and eternalise women's position in society as secondary to men. Chalili's refusal to enlist is actually a refusal to cooperate with traditional chauvinistic concepts."
Ya'ara Hozen, from the Feminist Women's House, finds Chalili's move as both brave and na�ve. "Her protest," says Hozen, "enfolds sort of an idealistic naivety: an innocent belief that you can change society. Now, our goal in the Feminist Women's House is to verify that Chalili's brave deed will not become a passing episode. I won't be surprised if others, young Israeli women and men, will be inspired by Chalili's fight against the army and follow her."