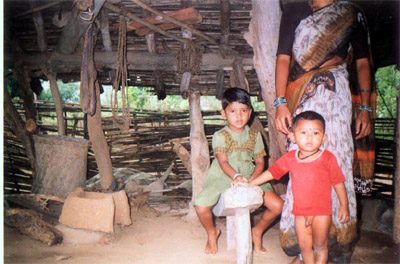 "When we were young, we used to tie ghungroos (bells) to the dhenki," says elderly Satyabhamabai Watthi, her wrinkled face breaking into a beautiful smile. "In every house you could hear the sound of the dhenki bells. All the rice you ever ate was dhenki-pounded rice."
A dhenki is a device made of wood to husk paddy, flatten rice and make rice powder. With the entry of mechanized rice mills, the traditional practice of pounding rice on the dhenki almost disappeared in Satyabhama's tiny village of Paknabhatti in Gadchiroli district, Maharashtra. As the electricity reached more and more villages, power driven paddy husking mills sprung up across the state.
But thanks to the efforts of a local NGO, Amhi Amchya Arogyasathi, the practice of pounding rice by hand is staging a slow but sure comeback, this time exclusively as an entrepreneurial venture by women. The reassuring thud-thud-thud of rice being pounded in the dhenki is also back.
Amhi Amchya Arogyasathi (AAA - which in Marathi language means 'A united we for our own health'), an NGO based in Gadchiroli district, works in the area of public health and gender. "Almost five years ago," says AAA Director Shubhada Deshmukh, "We noticed that the practice of hand-pounding of rice, which was prevalent in the tribal interiors of the district was giving way to commercial milling. We were wondering if there was a way to stem this tide."
Deshmukh says that for the first time newspapers also started reporting about the health benefits of unpolished (brown) rice. "We wondered if the commercial production of unpolished rice could be made into a viable livelihood for the women of the area." (In a dhenki, only the outermost layer, the hull, of the rice kernel is removed and this process is least damaging to its nutritional value.) For their project, the AAA chose the Korchi block of Gadchiroli district, which even then had a high concentration of dhenkis owing to a large population of Gond and Kawar tribals. Launched in 2001, the project is today being carried out in three villages - Paknabhatti, Mohgaon and Saleh. A total of six women's Self-Help Groups (SHGs) are involved in the work.
The dhenki is different from the mortar and pestle which is used for manual milling of rice elsewhere in Maharashtra. Two people are required to operate the dhenki - one to raise and drop the pounder and another to remove the pounded grain from the hole in the ground and add more grain. A third woman winnows the pounded grain, separating the rice from the bran.
"AAA provides the paddy to the women of the SHGs at Rs 600 (1US$=Rs 45) for a quintal," says Kumari Jamkatan, block level worker of the AAA, who is in charge
of the project. It takes a day for three women to pound and clean a quintal of paddy. When pounded and separated, this paddy yields some 60 kg of rice, 30 kg of bran and 10 kg kutki (broken rice). The rice is bought back by AAA for Rs 16 a kg, while the kutki and bran is distributed by the women within their families."
For each quintal of rice pounded, each woman earns Rs 120 (after deducting the cost of the paddy), and gets about 10 kg of bran (Rs 20 approx.) and three kg of kutki (Rs 24) in addition. This wage is about four times the daily wage the women earn as laborers in these parts. The AAA markets the pounded rice through its offices in Nagpur, Gadchiroli and Kurkheda town and at crafts and agriculture fairs across the state.
"Some time ago, we also got a contract from a Nagpur-based organization for supplying one quintal of rice a month on a regular basis," says Jamkatan. Currently, Jamkatan admits, the demand for hand-pounded rice is not very high. "We are not able to sell more than three-four quintals a month, which is why we are not able to develop the project into a full-fledged livelihood option for and by the women, as we wish to. But as more and more people are learning about the benefits of brown rice, the demand is rising, if slowly. Also, the women like this work as a way of supplementing their income, even if it comes their way just once or twice a month."
The women involved in the work find it more remunerative and convenient than manual labor. "There are many advantages in this work," says Mohgaon resident Rohlinbai Madawi, "We can do it at our own home, and it is also less strenuous and more paying than manual labor."
"We have grown up seeing our mothers do this work," says young Malatibai
Madawi, "But when the mills came, we thought it would be cheaper (the rice
mills charge Rs 20 to mill one quintal of rice), and we would use the time
saved to earn money. But if this work grows, we can earn better doing our
own work?"
"What we want," says Jamkatan, "Is that the SHGs should themselves handle
the production and marketing of brown rice and take orders directly. If the demand keeps growing, this might become a real possibility in a few more years."
Meanwhile, one more positive fallout of the dhenki project is that many families in the three villages and other nearby villages have become aware of the health benefits of their traditional nutritional habits and gone back to eating hand-pounded rice. "We used to get our rice from the mill, but we have now started pounding our rice at home," says Bhiolal Watthi. His family's old dhenki has been installed again. "If it is good for our bodies, why not?"
"There is no fragrance like the aroma of hand-pounded rice when it is cooking," says Watthi. "Now rice tastes like rice again."