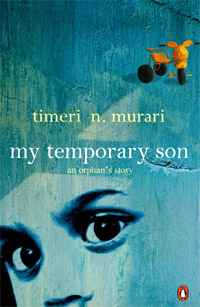 Believe me, I don't feel ashamed to accept that I cried when I was reading the last paragraphs of the chapter 'The Final Goodbye' in Timeri N Murari's non fiction 'My Temporary Son'. The fact is that it is long since I was absolutely moved by a book; the books have been interesting, irresistible and engaging. But this was one book, which does not belong to any of the above category but still made me read.

'My Temporary Son' is a real life narration of an aged couple Tim and Maureen whose life suddenly takes a change with the temporary entry of an abnormally sick, fragile orphan kid who had to undergo series of serious surgeries for surviving. Anachronously, the boy is named Bhima. The baby boy was born with his bladder outside the abdomen and abandoned by its natural parents in an orphanage.

Tim's wife Maureen is a social worker who helps foreigners in adoption and its systems. So it was not uncommon for the couple to provide transit accommodation for the kids in their ancestral palatial home at Chennai. Bhima's entry is no different but a little longer because of these medical interferences. Tim who is generally indifferent to such short diversions was totally drawn into the vortex of love and affection towards Bhima by a chain of incidents. The childless ageing couple suddenly realizes that their love for this boy was overwhelming because of this baby's pranks and quiet resilience to live notwithstanding the oddities of fate during his stay in their home for the period of eleven months. When the time comes for them to part with Bhima, there was a cauldron of emotions. How Tim and Maureen overcome because of their intense love for the kid forms the end of this non fiction.

'My Temporary Son' is in one way a linear narrative with tangential paths. The book is not something, which one could complete just in one sitting. Murari's writing is just reliving of his whole period of life from the birth of Bhima, the discard, entry, enjoyment of his growth and exit. He takes us with him in his journey with episodes strewn in between both relevant and irrelevant. They include Murari's childhood, growing, preferences, love affairs, likes and dislikes, opinions, his family members, feuds, friendship, happiness, frustrations and what not.

The book also describes the most convoluted procedure of adoption and the exasperating rules and regulations prevailing in India. It projects the shocking state of the orphaned children in our country, apathy of the officials, indifference of the public, concern on the ever enlarging population, above all the deplorable conditions of living in India irrespective of one's financial background. The book may be a useful guide for those who want to adopt a kid from India (will anyone after reading this book?) with the model legal documents and procedures as Appendices.

Timeri Murari's language alternates between simple and complex. This is probably because of its spontaneity. The emotions are brutally honest and painfully straightforward. The characters Tim, Maureen, Bhima, Sarala, Shaila, the lovable adopting couple Bettina and Karl and their family communicate and interact with the reader in flesh and blood through the pages of the book. One cannot but empathize them very honestly.

Tim writes ' that love had more substance and sustenance than food and drink; it was the buoy that had kept them afloat in the freezing waters of old age'.

I am sure after reading the book one will agree that this statement holds good at any age of a true human.