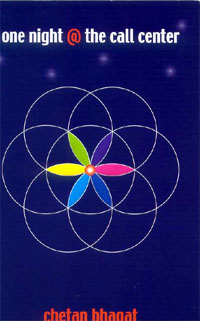 If some one thinks that Chetan Bhagat's 'Five Point Someone' is a just a flash out for writing, they have to change their views. His second book 'One Night @ The Call Center' establishes that Chetan Bhagat is one of best storytellers of the new genre. The nearly 300 page book is extremely racy and also engaging. It is all the more interesting because the novel is centered on the contemporary world of India's new generation.
The novel starts with the meeting of Chetan Bhagat and a young lady in a train and she tells him the story of a night at the call center in Delhi on the condition that it would be his next book. The story is viewed through Shyam, a call center agent and a tame team leader and it revolves on him, his colleagues Varun, Esha, Radhika, his girl friend Priyanka and an aged Military Uncle. Shyam suffers from the break up of his affair with Priyanka apart from the threat all of them face on the uncertainty of their future at the center.
The happenings of the night carry the romance and break up interludes of Shyam and Priyanka as flash back. Each character has a (sob) story to bemoan. But, the narration runs interestingly because it has the natural flow and the high sense of humor (at times black) of Chetan Bhagat.
With all these the novel ends rather cinematically; a last minute heroism, change of mind, chase in the car and bike etc. Does Chetan expect the novel to inspire some Bollywood filmmaker to make it into a movie? In fact, it does have all the ingredients of a 'Dil Chahata Hai' stuff.
The novel makes me wonder on certain things. Are Americans so dumb even to seek help over the phone on how to operate an oven, dishwasher or defrost a refrigerator? Even in India we now have fridges that do not need defrosting. Further, Americans have been using these gadgets even before Indians know about it. Do they still get doubts on these?
Isn't it odd and funny?
No job is an easy job; Chetan tries to tell the Call Center jobs are no better notwithstanding the attractive pay pack and cozy ambience. By the way, in which job, the youngsters can just keep gossiping, bitching, going out to an uppity night club for relaxation just because their computers are down? Everything in this world comes with a price tag, Chetan. Here the benefits are better, that is it.
If you want to really have a peep into the new generation, their jobs, life, attitude, values and their dreams please do not miss 'One Night @ The Call Center.'