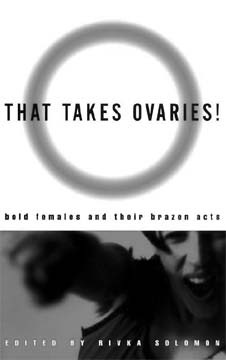 What would you say about Kathleen, a woman who reduces a would-be burglar to tears by lecturing him about African pride and doing the right thing - all the while standing in her underwear? Or about Denise, a teenage cashier who confronts a gun-toting gang-banger in a fast-food joint? Or Rachel, a high school junior, who organizes 100 high school girls to take on the boys who harass them?

That "they all have balls"? That theirs are individual acts of defiance that do not really matter in the larger framework of women's activism?

You'd be wrong on both counts! For US-based writer-cum-activist Rivka Solomon, who has brought together diverse narratives like the above in a best-selling book - 'That Takes Ovaries! Bold Females and Their Brazen Acts' - all of these women have ovaries. And their courageous acts do matter!

'That Takes Ovaries', to be published in India as well, soon, is an exciting collection of real life stories from women and girls about the bold, gutsy, audacious, courageous, in-your-face things they've done. Already published by Random House (2002) in the US, the book contains 64 short and true tales that range from the playful to the political. In these, women and girls skysurf out of airplanes, jump off a moving train to see the Alps, risk their life to end trafficking, confront a crowd of
catcalling men, sneak in to see the Pope...or are involved in other spirited acts.

"I compiled this book because I wanted to celebrate the fun and to encourage more women and girls to be risk takers," says Solomon. "If a woman reads about how another girl does something gutsy - like grabbing the hand of a molester who is groping her butt or tracks down wild guerrillas in Africa - then she might think, 'Hey, if that woman can do something so outrageous, so courageous, then so can I!' If women live more boldly, not only will they have more fulfilling lives, they'll also be able to challenge 'the system' - the sexism, classism, racism, anti-Semitism, homophobia we live with (and usually try to ignore) on a daily basis."

Quite obviously, the phrase, 'that takes ovaries', is derived from 'that takes balls', the words of praise usually reserved for a man who has done something tough, fearless, and maybe a little crazy.

Today, 'That Takes Ovaries' is more than just a book, not just in the US, where it took off, but also in India. Because women and girls everywhere have triumphant stories to tell, the book includes guidelines for how any reader, anywhere, can organize and lead an 'Ovaries! Open Mike' event. The
idea is to invite women and get them to share stories of ovarian courage.

Says Solomon, "The book and the open mikes are part of a national grassroots movement for empowerment." Men are invited to join too, and brag about the ovaries in their lives - their mothers, sisters and daughters. While the guidelines can be accessed at www.thattakesovaries.org, the open
mike sessions give many women an exhilarating opportunity to speak of their bravery and audacity. And this can be done to raise money for Equality. Now (a group promoting human rights of women and girls around the globe), or to call for an end to violence against women, like a women's group in
Kolkata did, recently.

The Random House book also documents the story of Indian activist Ruchira Gupta who takes several risks to make a documentary on the sex-trafficking industry. The Indian version of the book is to be published by Harper Collins; Solomon hopes the book will be ready in India this year or the next, and it will include 'new' stories collected from Indian women. Kolkata-based activist Mira Kakkar and journalist Anuradha Sengupta are co-editing the Indian part along with Solomon.

Meanwhile, Kolkata has already had its share of 'Ovaries! Open Mikes'. The Kakkar-led first session in her living room was such a success that she organized a public event later, sponsored by Swayam, Seagull and Thoughtshop. The third open mike organized by Kakkar - who is now the India Co-ordinator for 'that takes ovaries" - brought in about 90 participants.

When a debilitating illness, Chronic Fatigue Syndrome (CFS), forced Solomon to quit a career in international politics and crawl into bed because she was too weak to function, she taught herself to be a writer. She secured a book contract with one of the largest publishers in the US, and spent the
next four-and-a-half years collecting stories, writing and publishing 'Ovaries' - all this, while her illness tied her to her bed.

Working through email, Solomon requested submissions of courageous stories from women everywhere. What started with a dozen women grew into a popular email-forwarding item. But for days and sometimes for months, the editor herself was too sick to function. When Solomon developed a second disability, Repetitive Strain Injury, she was on the verge of giving up. But she was under contract to finish the book. So, being quite ovarian herself, she found six young women assistants to help her key in the content. And that's how 'That Takes Ovaries!' was written.

Thirteen years after contracting her illness, Solomon still suffers from it. In fact, she came up with the idea of the open mike sessions partly because she knew she could not do a usual author-book tour.

What is it then that keeps her going? Solomon's answer comes pat: "I get a real kick out of seeing a woman, any woman, being bold. Isn't it a rush (of feeling) to see a little girl walk into a room full of people and take charge? Or witness a teenaged girl take on some outrageous risk, and pull it off? It is just exciting to be around that stuff."

'That takes ovaries' has also been adapted for the stage. Entitled 'The Ovaries!' the play had a four-week run in Washington DC in March 2003 at Horizons Theatre. Now, Solomon is looking for other interested producers, theatre companies, celebrity and community-based actors who want to do
the play, or organize a stage reading.