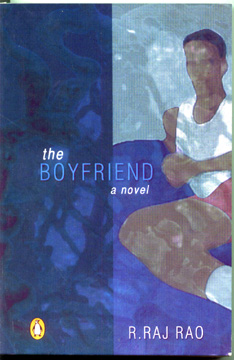 Is sex meant for pleasure or procreation? Well, the major part of the world had conceded to the fact that it is also for pleasure, some traditional and hypocritical cultures like India still consider it only for progenies and the growth of mankind and not for simple pleasure. The concept of same sex love in India definitely had hit the headlines to some extent in recent years. There were books written on gay life in the Indian context by Indian writers. But, the recent book of R Raj Rao 'The Boyfriend' differs from others in several counts.
The novel tries to explore the life of a single, educated, elite, middle-aged gay man in explicitly. When sex it self is considered as a question of preference as for as gays are concerned, here the protagonist Yudi (Yudhishtar), a freelance journalist goes for young working class, in particular, for mating. Yudi after a lot of encounters with hustlers really falls in love with Milind Mahadik, a teenage Dalit. There after the story spins around their happy and sad moments for a while till it reaches a breaking point. The Dalit boy is practical, bisexual and above all a ruthless mercenary. Yudi is cranky, witty, impractical, whimsical and ultimately stupidly emotional. His love for Milind is, in fact, unrequited like Gauri's love for him. Gauri, is another woman character to juxtapose 'normal' angle to the novel. She is a society woman, a painter and a divorcee. She is a female version of Yudi but with normal sex orientation. Gauri serves as the platonic friend of Yudi.
The novel had explored and exposed the gay subculture life in Mumbai threadbare. The enticing aspect is those who are not too familiar with Mumbai, after reading the novel will know that how far and how near are the places, the ordeal of commuting and the squalor and style of living in the most unenviable cosmopolitan city. Sentences like 'Lies were what thieves spoke; gay love in India thrived on lies',' if man's life had gone awry, there was no reason why 'the backbay' could not be reclaimed or reformed', 'Was virginity merely a thing between man and woman?', 'In India marriage is like ablution like washing one's arse and people marry involuntarily', ' for heterosexual woman nothing was more erotic than two men in bed' show the author's blatant views on sex.
Surprisingly, Raj Rao views human emotions at times with either irreverence or contempt. The humor is there but wry. The language is lucid but coarse. Four letter words are free flowing even when better phrases are available to describe coitus. The novel is telling but hardly titillating.
Notwithstanding the fact of an unconventional theme, unabashed language and forbidden love tale, the novel is strongly absorbing. The reason is simple: reality and conviction may be shocking but cannot be silenced. The basic human need of love and affection runs undercurrent. That is why Yudi concludes by telling 'Life is beautiful'.