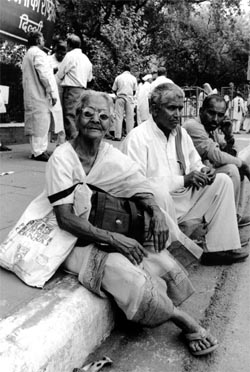 Shanta Devi was born on June 18, 1929 in Burma to Shivlal Pandey and Lakshmi Devi. When Shanta was only one year and three months old, her mother deserted the family. When Shanta was five, her father remarried. Her stepmother ill-treated her and she found a widening gulf between her father and herself as well.
Shanta grew up watching the prejudice with which her upper-caste Brahmin family would view other castes. Even as a young child, this deeply disturbed her. Her father was very conscious of the fact that he was a Brahmin, an upper-caste person. He always maintained a distance from the workers in his dhaba (wayside eatery) and other people he considered lower caste/class. Shanta would help the workers cut vegetable, wash utensils and clean the storeroom, and would often give food to the needy people in the neighborhood. She would even steal a few paise from her father to give people who really needed it.
Shanta was not interested in her studies those days and when she failed in Class 4, her father pulled her out of school.
In 1942, during World War II, Shanta and her family fled Burma and moved to India as refugees. They settled down in Dehradun and started a new life. At the age of 17, Shanta was married off to a man 15 years older than her. The couple shared nothing in common; neither their world-view nor ideological beliefs. She believed in honesty, dedication, selflessness and egalitarianism.
Her husband, on the other hand, owned a dairy farm where he mixed water with milk. He also became addicted to alcohol, gambling and robbery. In time, he lost all his property. Shanta always opposed her husband's crooked ways, and has even helped the police nab him and put him behind bars. She had not a day's happiness in her married life. Ultimately, in May 1962, her husband died, leaving her alone to fend for herself and their seven children.
She started tuition classes for young students for Rs 2 (1US$=Rs 44). To earn more money, she took up stitching and knitting at night. In fact, even during the day, when she would walk five-six kilometres to work, she would knit as she walked. Often all she would eat was a small piece of jaggery and some tulsi (basil) leaves.
As a single widow with seven children, she had to face many problems. She could only afford to live in cheap accommodation that had community toilets. These places were oftentimes unsafe. Many people tried to exploit her situation, and she feared deeply for the safety of her daughters. The hardships, though, did not break her. They only made her stronger. She would always find a reserve of strength to deal with every situation she was confronted with.
In spite of her circumstances, she was able to give her children an education. Even the children lived on two square meals a day, which were proportionately divided between them. They knew better than to ask for seconds, for there would be no extra food cooked. Shanta herself survived on only one chappati a day. All this sacrifice paid off. Shanta's children studied well and are social activist like her now. They continue to be a very close-knit and affectionate family.
Even as Shanta worried about her children's education, she felt the need to complete her own studies as well. At that time, she did not even have the Rs 2 required for the admission forms. She managed to scrape the money together somehow and wrote to a letter to Mahadevi Verma, a prominent writer and mukhya sanchalika (head), stating her eagerness to complete her studies and that she had arranged the money with great difficulty. Verma sent Shanta the admission form and also returned the money.
Shanta Devi successfully completed her high school from Prayog Mahila Vidyapeeth, Allahabad, and started teaching from 1960 onwards. It is a record that every child Shanta Devi has tutored or taught has passed with a first division.
In 1971, she moved to Nainital from Dehradun and stayed with her daughter and son-in-law. Her son-in-law had a transferable job, so the family moved to Meerut in 1972-73 and then to Delhi in 1976-77.
Her move to Delhi gave Shanta's work a new direction. Her 11-year-old granddaughter used to visit Bal Bhavan (a recreational centre for children, especially economically deprived children). In those days, Ankur - a voluntary organization that provides non-formal education (NFE) to children who do not have access to formal education - used to run one of its centers in Bal Bhavan. Shanta's granddaughter told her that Ankur also "teaches poor children as you teach them at home. Why don't you go meet them?" Thus, in 1979, Shanta spoke to Faizal Alkazi, the director, and joined Ankur the next day as a teacher of NFE for slum children.
From 1979 to 1983, she worked in various NFE centers in various parts of Delhi, giving two hours to each centre. In 1983, she was made a part-time coordinator for four NFE and adult literacy centers. In 1984, she was promoted to full-time coordinator for eight centers.
Besides this, Shanta spent two hours every evening at the women's adult literacy centers, NFE centres for children and youth adult literacy centers run by the government. She did the extra work to accomplish her main aim behind her association with education - create awareness among women, children and the youth. The Education Department recognized her as the 'Best Educator' in 1983.
When her children were all grown up, Shanta threw herself full-time into her work. She fought for the rights of people living in the slums, laborers, factory workers, rickshaw pullers, auto-rickshaw drivers, street children, hawkers and vendors, fish workers, blind children etc. She gives strength, support and confidence to everyone who comes in contact with her.
Today, even at the age of 75, and having completed 26 years in Ankur, she still actively participates in all protests, demonstrations, seminars, conventions and workshops organized by the various groups she supports. Not without reason is she known as the "dharna (protest) lady" and "Shanta toofani" (thunderous).
With good reason, too.
After the Gujarat genocide, the then prime minister of India put out a statement that had there been no Godhra (when some Muslims allegedly burnt Hindus alive in a train compartment), there would have been no Gujarat (a State-sponsored genocide of the Muslim minority population in the state).
In response to this, while addressing a massive gathering, Shanta said: "Agar tu na hota Attlu (Atal Vajpayee), to Godhra na hota." (Without you, Vajpayee, there would have been no Godhra.) This slogan spread through the country and abroad through the media and the Internet.