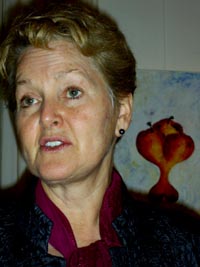 Swanee Hunt, 55, was happy to return to Vienna recently minus protocol or security. The former US ambassador to Austria strolled the streets of the imperial city in the company of old friends instead, armed with little except copies of 'This Was Not Our War: Bosnian Women Reclaiming the Peace', a book that began here and was finally published in 2004.
At an event organized by Women Without Borders and the Alpha Women's Club of Vienna, Hunt presented the book along with a film on Bosnian women talking about their personal experiences during a war that was not of their making.
"This book isn't ultimately about Bosnia. It's about the way we think of the imprecise art of war-making. As US exploits in Iraq remind us, we repeatedly enter war without adequate intelligence. What we learn from the Bosnian carnage is that women - whether the crisis is in Croatia, Congo or Korea - have their fingers on the pulse of their communities and must join the war-makers around the decision-making table."
When President Clinton appointed her ambassador in Vienna in 1993, Hunt had little idea how deeply involved she would get with the women of Bosnia. "I had no intention of writing about the women, many of whom I met in my diplomatic or humanitarian role in the mid-1990s, when the relationship between Washington and Vienna was solid and did not need extensive tending. But the Balkans, a few hundred miles south of Vienna, were ablaze. I could not ignore the weary pain written on the faces of the 70,000 refugees who had spilled over the border into Austria and whose testimony of atrocities our embassy personnel gathered."
In 1994, Hunt agreed to be strapped in between 50,000 pounds of flour supplies urgently needed to feed the 2,000,000 people under siege for over two years in Sarajevo, inside the belly of a cargo plane, and flew down to Bosnia. What she saw for herself was in stark contrast to the accounts she read in the media.
Most chroniclers missed the story lived by well over half the adult population, of women trying to hold family and community together against overwhelming odds. Alma Keco, Bosnian war victim, confessed, "It's very hard to put into words how war creates craziness...with no one asking your permission."
Hunt felt that the cultural complexity was obscured, as the barbarity of the Bosnian war was thrust on the world by the international media. Many journalists oversimplified the story resulting in many easy but wrong assumptions, as is evident from the story of Fahrija Ganic from her time in upstate New York as a refugee.
"Since skin is my medical specialty, I decided to work as a cosmetics consultant, handling brands such as Dior, Clinique, Clarins. I would dress nicely every day for work, regardless of how I felt. That was my way of fighting back, showing I was alive and not broken. My clients, rich ladies, would ask, 'Where are you from? Paris?' I'd answer, 'No I am from Bosnia.' They'd say, 'But there's a civil war going on there?' I would explain that it was not a civil war but a war of aggression. The women would say, 'But aren't you fighting Muslims over there?' Then I'd say, 'I'm Muslim.' They were always surprised. Most people I spoke to in America thought all Muslim women were uneducated, repressed and covered in black cloth. I'm obviously the last person to fit that ridiculous notion," says Fahrija.
With the help of the then First Lady Hillary Rodham Clinton and former Secretary of State Madeleine Albright, Hunt organized the first conference of the Vital Voices Initiative - a global network that connects women worldwide - in 1997. Some 300 participants from Central and Eastern Europe, the US and the European Union met in Vienna to strengthen the role of women as pillars of democracy, with Hillary Clinton announcing US$ 3 million for follow-up projects.
The Initiative asserts that a woman's voice is vital for a fully alive democracy and has now expanded into a global partnership that networks with and supports women from London to Latin America. Hunt's work with war and women in Bosnia also led to Inclusive Security: Women Waging Peace - another worldwide network that she started on her return to the US - has already helped some 400 women experts and over 3,000 policy makers continue to look for fresh solutions to stale conflicts.
Back in the US, Hunt started the Women and Public Policy Programme (WAPPP) at Harvard University in 1997 to address public policies that affect women, also learning from women who already shape public policies.
"One Condoleezza Rice, one Indira Gandhi is not enough. To change patriarchal politics, a critical mass of women have to be present at all discussions about equal opportunities and more security in the world," Hunt says.
As director of the programme, Hunt promotes research and training at WAPPP and links students and members of Congress concerned with gender issues. Research at WAPPP reveals that women make up only 14 per cent of the US Senate and 13 per cent of the House of Representatives. Men hold the top position in 98.8 per cent of the Fortune 500 companies. Women work 35 hours more than men every week, but own one per cent of the world's lands. Women make up 75 per cent of the refugees and internally displaced in the world. Less than 15 of the 2,000 religious leaders at the Millennium World Peace Summit of Religious and Spiritual Leaders were women. To address these disparities, WAPPP explores gender business practices, theories and initiatives that will protect women at the workplace and in the informal economy.
Raised in luxury in Dallas, by an ardent anti-communist father who devoted the last 20 years of his life to, "saving America from the mistaken enemies of freedom", Hunt's interest in the condition of all human beings nearly led her to become a Southern Baptist missionary. Today, she has converted her share of the family wealth into the Hunt Alternatives Fund, a private foundation. The Fund has already contributed US$ 50 million to make a difference at the local, national and global level through its ongoing ARTWorks for Kids activities and Prime Movers, a national programme that supports leaders who engage the masses to change public policies for a more just society.