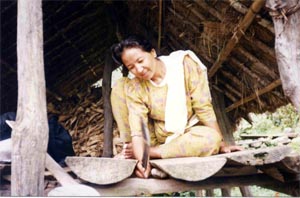 When Chhing Lamu Sherpa (born 1960) went to school for the first time, she had to face ridicule - she was 17 years old! Her sister's paralysis had prevented her from going to school for a long time. Later, Chhing even fought her relatives and the community when they tried to engage her to her sister's fianc�. She eventually managed to convince them that she should be allowed to lead her own life. Putting in a lot of hard work, she was able to obtain her school-leaving certificate at 23.
The determination that took Chhing to her first village school in Phinjoling village in Udaipur district of eastern Nepal also helped her make a success of her life. Not only was this farmer's daughter the first girl in her village to complete high school; she also went to college, earning a graduate diploma from UK's Reading University.
Chhing is a role model for her village's schoolchildren, not only for her relative erudition but also for supporting her brothers and sisters through their education. Most of all, she is lauded for the work she does with mountain rural communities like her own.
For two decades now, Chhing has worked at the village and district levels in remote areas of north-eastern Nepal, including trans-boundary work in Tibet and India (Yuksam village in west Sikkim), helping groom young people for leadership roles and training them in conflict mitigation, strengthening institutions, environment management, and gender and ethnic sensitivity.
Chhing started out in 1982 as a junior instructor in a government-run women's training centre, training women workers and advising housewives on managing their kitchen gardens.
Five years later, she joined ActionAid (an INGO) as senior community organizer and gender development coordinator. As part of her job, Chhing lived in the homes of members of various communities. She drew attention to the disparities between the so-called lower- and upper-castes, and initiated group action to correct these disparities.
Chhing left ActionAid to join the Makalu-Barun National Park and Conservation Project, wanting to learn about environment and conservation issues. She rallied local women around the conservation and development of the area. Today, local groups play a vital role in conservation, along with the marketing of Allo, a traditional type of cloth, in Kathmandu.
While working in the park, Chhing would sometimes get lost in the forests, with lots of lichens and no food for company. She remembers going on 20-day field trips with her colleagues, punctuated with little or no breathers. She intervened in community disputes, once managing to persuade two groups, Christian and Buddhist, to bury their hatchets and built a toilet together.
In 1994, the young men of the area, especially Sherpas - an ethnic minority often subsisting as expedition guides - motivated her to form Mountain Spirit, an organization that works with the youth. She helped mobilize about 2,000 community members and 75 youths to work as trainers. Seven years later, Chhing transferred Mountain Spirit's leadership to the youth she had enlisted.
Since 2004, she has been employed by Plan Nepal, an NGO working on child- entered community development, as a district programme manager. Initially criticized for travelling with male colleagues, she has today been honored by organizations like the Nepal Sherpa Association for her contribution to the social sector.
Chhing's forte is the use of participatory and appreciative enquiry approaches in programme design and implementation in situations of conflict mitigation. She has used her expertise through several networks, including forums for indigenous people and NGOs.
In 1996, the US Ambassador to Nepal, impressed by Chhing's work with Makalu-Barun, invited her to the US to speak to women's groups about her work. Chhing is also a member of many social and peace-building forums in Nepal. She was a board member of Tewa, an NGO working with women. She has contributed to SAGUN (Search for Harmony), an NGO working for community empowerment. And, finally she is a founder-member of the Nepal Participatory Action Network, and has served on its board.