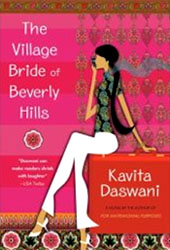 Pros: A lucid depiction of a young Hindu bride's assertion of individuality against traditional attitudes of her in-laws & husband.
Cons: Sounds a bit Moralistic.

Place: L.A. (USA) & Delhi ( India)
Time: Contemporary USA
Cast : Priya, a newly married Hindu Girl, Sanjay, her husband, Her In-laws, Hollywood Insider Magazine Colleagues, Steve, a Marriage Counselor Kaki, Priya's morale-booster.
This is Kavita Daswani's second novel. She had made her debut in the literary scene of the novelists of the Indian diaspora in 2003, by publishing For Matrimonial Purposes. Her family is originally from Bombay, but she grew up in Hong Kong and now she lives in Los Angeles, USA.

Story Line
The Village Bride of Beverly Hills is an enchanting novel. The author has a distinct style, and she narrates her heroine's encounter with cross-cultural conflicts in a very hilarious and charming manner. As a newly married Hindu bride Priya has to face her in-laws' traditional Indian outlook, her husband's `Yes Mom` behavior, and her American colleagues' Western approach to her problems.
Priya found herself in a whirlpool of tradition, and her wish to live as a dignified individual. Too many restrictions by her mean and critical in-laws and her husband Sanjay's unsupportive attitude caused her lose her peace of mind. But Priya is assertive. She tells her husband, 'Don`t think that I am some kind of a village bride, because I am from India and you live in America'. Fortunately, Priya found a friend and sympathizer in Karishma, an Indian lady married to an American marriage counselor, named Steve. But Sanjay refuses to cooperate at all. In a state of helplessness she decides to leave her husband's house and her very good job with Hollywood Insider magazine. She flies back to India.
On landing in Delhi, her home Priya confides in Kaki, an elderly lady in her family. Kaki proves to be her morale-booster. She advises Priya to face life boldly, and not to submit to any body's wishes. Sanjay feels guilty and misses Priya so much that he too flies to India. Kaki frankly tells Sanjay that at the time of marriage he had found a good wife easily but now Priya's return may not be so easy. Sanjay apologizes and even touches Priya's feet, an unusual thing in a Hindu household.
Priya and Sanjay spend a lot of time together and begin to understand each other much better than their just one meeting, just one week before their wedding. At the end, Priya forgives Sanjay and the couple happily flies back to USA along with their first baby born in India.
Priya remembers her Kaki`s words,' Never hold an ill thought for any one, think only of each other's happiness and all the world's riches will be yours'.
A very interesting feature of the novel is the use of Hindi words in interesting and meaningful situations. We come across words and phrases like: Chup, Lassi, Masala Omelet, Bhabi, Biwi, Bas, Beti, Hookah, Pan-puri, Rikshaw, Idli, Sambar, Pista Milk, and Datar Ceremony. The last most entertaining and even educative film Sanjay and Priya watch together is Akele Hum Akele Tum. They cry and hug each other with emotion of pure love.
The Village Bride of Beverly Hills has great potential of being shot in to a film by either Hollywood or Bollywood soon. It makes a very enjoyable reading, because it sounds very much like a true story. It reveals the tragedy of hurriedly arranged marriages by Indian parents, under the assumption that their daughter will be happy overseas in general ,and USA in particular. They hardly realize that in-laws in a traditional Hindu joint family can hardly shake-off their traditional-mean and critical attitude, no matter where they reside. The novel is entertaining ,as well as educative. It is a must read for Indians in the country, and the diaspora.