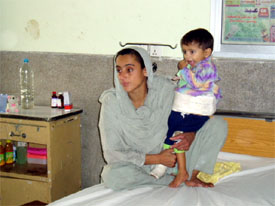 On the face of it, the Mayo Hospital in Lahore, one of Pakistan's largest hospitals, could not have managed the earthquake disaster more effectively. With a round-the-clock computerized control room monitoring the latest medical condition of the quake victims, and a special workshop set up for prosthetics, the hospital's Additional Medical Superintendent Dr Manzoor Alam Chaudhry claims to be "on top of" crisis management.
Hospital ledger figures record a gratifying rate of success as far as the quake patients' treatment is concerned. "We're treating each one of them as SIPs (Specially Important Patients) and have put the same sign on each one's bed," explains Chaudhry, standing in the control room with a team of three coordinators, going through the day's roster. "We received a total number of 307 patients, seven of whom have now expired. Right now, the Mayo Hospital has 91 patients, 30 of them are women, 40 are males and 21 children," he says.
But that is where the medical expertise ends. The doctors' achievements are anatomy-related: providing external fixators for fractures, treating major concussions or offering prosthetics to patients who have lost their limbs. This cannot heal psychological scars. Some of the patients' mental state is so fragile that it is difficult to converse with them, unless accompanied by a doctor. More than a month after the devastating earthquake that shook parts of Pakistan and India (on October 8, 2005), recollections of their normal life dissipating into oblivion are only too fresh.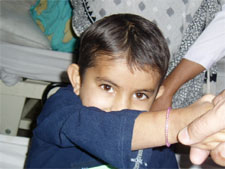 Hajra Yousaf, 5, from Muzaffarabad stands timidly against her mother's bed, staring at her blank face. Hajra's mother, Saira Bibi, has lost two sons and many other family members. Her husband is also admitted with a fractured leg at the Mayo Hospital. They were referred by the Combined Military Hospital in Rawalpindi and have been there for nearly four weeks now. Hajra survived miraculously with minor wounds, but her mother has compound fracture of the left arm and leg.
Saira barely talks to anybody and has not even so much as smiled at her child or husband. She has reacted well to the physical treatment being given to her, but any mention of the word 'Muzaffarabad' makes her uncontrollably tearful. "There are many cases like Saira who are given special psychiatric treatment. Some of the teenage children brought here, who have lost their parents, are the worst affected," says Rashida, Head Nurse at the Women and Children's Ward.
According to a report by the United Nations Children's Fund (UNICEF), half of the 74,000 people killed in the earthquake were children. The total official death toll now stands at 74,000 but international donors estimate the number to be more than 86,000.
Aneesa Mukhtar, 15, from Bagh, 150 km from Islamabad, a town totally razed by the quake, is also admitted at the Mayo Hospital. She is still waiting for her parents to be identified - among the living or the dead. Her head still in bandages, Mukhtar suffered head injuries and was brought to Lahore by a relative. Unable to speak in Urdu, Mukhtar communicates with a shy welcoming smile. The woman lying on the next bed, who herself has lost four children and a husband, looks with concern at Mukhtar who, nearly a month after the quake, nurtures hope of her parents' survival. "She keeps on saying that she'll go back to look for them," explains the sympathetic woman wiping off a lone tear from her cheek.
Narratives of loss are endless, as are the tears accompanying them. Following the directives of the federal government, nearly 860 quake victims have been admitted at five hospitals affiliated to medical college in Lahore, states a press release issued by the Punjab Provincial government. So far, 522 patients have been discharged after their required treatment. Only 338 patients are currently getting in-patient treatment at the city hospitals.
These quake victims pass their days talking to various people visiting them with reassurances of support. But as night falls and the visiting hours end, they are left alone with painful memories of a life that is no more. "The result of injuries, aches, pains - and specially amputations - is devastating. These people are facing severe depression, anxiety, fears, phobias and persistent stress. This is turning some of them into psychiatric patients. Early recognition and treatment of psychological and emotional problems is required to prevent psychiatric illnesses," concedes Dr Haroon Rashid Chaudhry, Head, Department of Psychiatry at the Fatima Jinnah Medical College and Sir Ganga Ram Hospital in Lahore and zonal representative of the World Psychiatric Association.
In (Haroon) Chaudhry's opinion, many patients responding successfully to medication are now showing signs of relapse. "Due to the current zero-activity and zero-occupation pattern of the victims, the result is - and will be - a strong epidemic of schizophrenia, manic depressive disorders, obsessive compulsive disorder and florid psychosis," he says.
In the middle of the night, a doctor at the Services Hospital in Lahore is called on duty to examine Rabia Bibi, admitted at the Women and Children's Ward. Having lost her children and husband in the quake, she is the sole survivor from Balakot. Her heart-piercing cries, taking her children's names, can be heard in the adjoining wards. It takes two nurses to pin her down, while the doctor tries to give her a shot of sedative. A few minutes later, as the sedative begins to take effect, Rabia's wails become weak but coherent enough to make out their meaning. She is calling out to her children.
By arrangement with Women's Feature Service