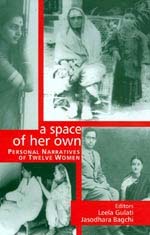 Over the past decade or so, the concept of 'mothers and daughters' has been increasingly gaining space in women's studies. There have been debates and discussions about how the mother-daughter relationship impacts, empowers or disempowers women. It is in this backdrop that 'A Space of Her Own: Personal Narratives of Twelve Women' edited by Leela Gulati and Jasodhara Bagchi sets out to illuminate the inner worlds of 12 women - especially their memories of mothers, grandmothers and other family women. Most of these women are themselves academics, many in women's studies, and they are - in a sense - turning the spotlight on themselves.

Included is a fascinating array of details - from backgrounds as different as sociologist Zarina Bhatty's upbringing in feudal Muslim Lucknow; educationist Mary Roy's in a westernized Malayali Syrian Christian ethos; writer and academic Nabanita Dev Sen's in an aristocratic, literary Kolkata family; and schoolteacher Sushil Narulla's in a refugee family from Pakistan, painstakingly "striking new roots" in New Delhi. Details are of the essence as the drama of life unfolds in the pages of this book.

As women trace the stories of their foremothers, we learn how their own selves have been influenced by the older women. For instance, Zarina Bhatty's aunt was called Vakilan ('female advocate') because of her argumentative nature as a child. When pushed into an unwanted marriage, Vakilan desperately appealed to neighbors to support her - and later left the marriage to set up an independent life.

Vina Mazumdar, a pioneer of women's studies in India, traces a daughter-in-law of the family who publicly challenged sati, even as she climbed the funeral pyre, claiming that while the act might bring her individual salvation, it would dishonor the entire family!

Sushil Narulla's mother emerged during Partition from wifely seclusion to become the family negotiator with police and bureaucracy in refugee camps. Feminist scholar Jasodhara Bagchi's mother threw open her house to Muslim strangers from East Pakistan when the Pakistani army invaded in 1971. Families tend to transmit such stories over the generations, providing alternative models for girl children.

Theatreperson Vijaya Mehta describes how writing plays and enacting diverse women's roles helped her better understand her own mother and grandmothers. She argues that while women today have more choices, "the strength, wisdom and endurance with which my mother and grandmothers coped with life make them perhaps stronger than us modern women. They were governed by their social norms and ethical codes of conduct as we are by ours. They found an identity, distinct and centered, something that we also strive for."

Dev Sen says about her mother Radharani that she was "the wind beneath my wings". Widowed at the age of 13, Radharani flowered into a poet, and broke tradition by remarrying, at the age of 28. Muses Dev Sen, "My mother was my best friend and she was also my worst enemy. I am what I am today only because of her; and what I am not, what I could not be, is also because of her." After her marriage to Amartya Sen broke up, Dev Sen returned to her mother, and "became totally dependent on her advice for every little thing - practical, emotional, intellectual". Her mother initially blamed her for the marital breakdown - yet, a new confidence sprouted within the younger woman: "It was a moment of finding out more about myself, the self no one had told me about before."

No narrative is free of pain or grief - sometimes so intense as to be unbearable. When Sushil Narulla was expecting a baby, her mother paid her a visit: "She came all the way and, in rigid adherence to custom, refused even a drink of water at my house. She went back in the heat. At the bus station, her purse was stolen and she could not board the bus. She walked back in the mid-afternoon sun, reaching home totally dehydrated and with high blood pressure. Before any help could be summoned, she succumbed to a heart attack...Strong and brave, she had been our emotional anchor in our darkest years."

The book throws into bold relief experiences of discrimination and violence, as well as struggles to overcome the impact of such negativity. In writing of her mother, Mary Roy recalls: "My sharpest memory of her is when I was a four-year-old child and she was a young and beautiful woman. Standing in the living room dressed in white, with blood flowing from the wounds on her head. Scars inflicted by her Imperial entomologist husband wielding the Imperial curtain rods with which he beat his wife." Roy recalls her mother's virtual inability to nurture, stemming from the extreme violence she was suffering.

Roy's own marriage was an attempt to "escape from the hell that was life in my own family". Her husband turned out to be alcoholic; but she left before it was too late, before "I got caught in a situation from which I could not escape". She survived as a single mother, carving out an impressive independent life, bringing up her children Arundhati and Lalit.

Several authors celebrate non-traditional ways of living. Two narratives - by Dev Sen and writer Saroja Kamakshi - come from households exclusively of women. Another writer, Priti T Desai (who co-edited the book 'Daughters Write on Fathers'), resolutely remained single, as did her three sisters - so disillusioned were they by their mother's inability to escape a humiliating marriage.

Such memories have helped the authors locate themselves within the flow of history. They draw attention to the shifts - as well as the continuities - that mark our lives as women. Many of these women have achieved professional success and significant expression of their talents. Social scientist Maithreyi Krishna Raj's rendering is poignant and poetic, placing the individual ultimately firmly at the centre of her own destiny: "Wings come to those who fly."

Not all the contributions are equally evocative. Memories colored by deep emotion are never easy to record. Academics might err in introducing heavy-handed analysis where a lighter touch is required. While Bagchi and Mazumdar's narratives sometimes make this mistake, Krishna Raj and academic Leela Gulati are among those who have evolved relatively fluid expressive styles.

The editing is well done, the book well produced. The sub-heads are particularly useful, guiding the reader through the maze of stories. At times the stories read a little glib - glitter and gloss are, unfortunately, present in several places - yet there is enough of sheer honesty, heartfelt confession and searching analysis to merit a good read. On the whole, this is a worthwhile effort - a writing of history "from within" - and a fascinating mosaic of simple, evocative her-stories.