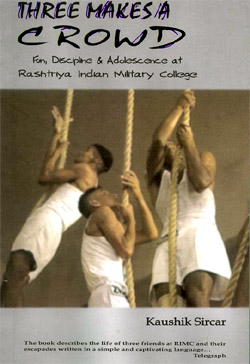 The unprecedented success of 'Five Point Someone' by Chetan Bhagat seems to have motivated several other writers to share the campus life experiences of varying nature. Kaushik Sircar relives and reminisces his past in Rashtriya Indian Military College at Dehradun through his book 'Three Makes a Crowd'. This book cannot be termed exactly as a story because the narrative technique is more in the form of compilation of independent events.
Here also there are three friends Arnab, Saurav and Bhaskar and one could find similarities of incidents and characters with the catalyst book 'Five Point Someone'. Nevertheless, Sircar needs appreciation for following a very simple language for description and on many occasions the conversations easily slip into Hindi. The charm of the book lies in the guileless expressions of naivety of the young protagonists, their feelings and above all their pangs and pleasures of growing up. Adolescence, an integral part of growth both physically and mentally has been recognized in this book rather candidly.
Since there was no story line and strong female character to give the romantic angle or impact, the book gives an impression of reading a diary of an individual with mixed events ranging from interesting, emotional and hilarious to insipid without binding glue.
Nostalgia and surfacing of emotions after decades during union in the school were expressed in the last chapters. The author very poignantly referred to the changing world where technology and comforts have intruded and destroyed the charm of natural and independent growth of children.
Even today, hostel life and growing among the same age group with fun and rigor are definitely experiences to cherish. Those who missed this are losers in life in someway. Isn't it Mr. Sircar?
Three Makes a Crowd by Kaushik Sircar
Srishti Publishers & Distributors, Rs. 100, pp.124