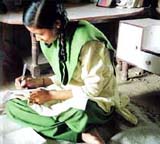 Neeru Sharma, 12, has a polio-related disability. The government school she studied at threw her out, unwilling to cope with her disability. Today, she studies at the Pardada-Pardadi Girls Vocational School (PPGVS), is in Class VI and juggles her lessons with computer sessions and vocational training, which earns money for her family. Teenage siblings Aarti, Pooja and Jyoti were rescued from their abusive alcoholic father's custody by a local NGO. Their mother, Hemvati, resolute about educating them, enrolled them in PPGVS. The girls know they have been given a new lease of life.
The sleepy town of Anoopshahar, where PPGVS is located, is a five-hour drive from Delhi in the backward district of Bulandshahar, Uttar Pradesh (UP). This town is currently the crucible for a unique social engineering project that may well transform the fate of the girl child in India.
Run by the Anoopshahar-based Pardada-Pardadi Educational Society (PPES, a registered society), this novel experiment aims to socially and economically empower the disadvantaged rural girl child by providing her skill-based education at PPGVS, which is affiliated to the UP Board and has classes from 3 to 10. The 300 girl students at the school - which currently caters to over 43 villages - are from the economically and socially weaker sections. Some students traverse a distance of 20 km to attend school. Therefore, PPGVS provides students with bicycles after they have completed a year in the school.
"We use the phrase Pardada-Pardadi as an analogy for ancient Indian wisdom and knowledge that helps realize the full potential of an individual," elaborates Sam Singh, 67, a non-resident Indian, who founded the school in 2000. (Singh now lives in Bulandshahar, though he retains US citizenship.)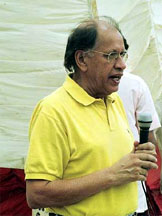 Spurred by his own humble, rural background, Singh was determined to address issues like gender sensitization, illiteracy and social reform through a model school in his own village. And though he was comfortably settled in the US - as marketing chief of the textile giant Dupont in the 1990s - he returned to India to create educational opportunities for his village folk.
"My vision," says Singh, "is to empower women so that they can be become equal contributors in the growth of the nation. PPGVS' value-based curriculum helps the girl child become economically and socially enlightened, which addresses the twin issues of poverty and illiteracy."
One of the main reasons why Anoopshahar was chosen as the site for this five-acre school - built upon land donated by Singh's family - is because UP is one of India's least developed states. It is also the most populous, with a remarkably low female : male (898:1000) sex ratio, as compared to the national average of 932:1000. Also, it has a female literacy rate of 43 per cent as against the national average of 50 per cent. With a primarily agrarian economy, Bulandshahar also presents a crisis of work opportunities.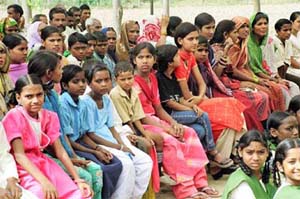 In this scenario, the town's girls have to work in the fields, rear goats or collect firewood from the jungle. "Lives for these girls is miserable as child marriage is rampant here," says Renuka Singh, Director (India), PPES. "Girls as young as six are married off, while some even become mothers at 14 years of age! To top it all, there are no health facilities provided to these girls, due to which infant mortality is high too."
PPES is thus striving to provide "education with a difference". Next year, the first batch of 14 girls from PPGVS will be appearing for the UP Board Class X exam. "This is a matter of great pride and honor for us," says Garima Singh, communications manager, PPES.
Apart from the academic curriculum taught by PPGVS's 30 teachers, the outfit also provides vocational training - like creating, producing and marketing home furnishings of international standards - to help the girls create economic wealth for themselves. The girls also learn about social, legal, psychological, financial and health issues. Computer education is another crucial part of PPGVS's curriculum. As part of the school's training, leadership skills are also promoted. Girls are given the responsibility of managing varied tasks like general discipline, vocational training and the kitchen. Senior students are being trained to become future teachers at PPGVS.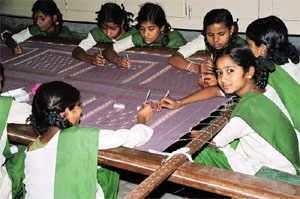 The school gives multiple economic incentives, so parents will allow their daughters to attend school. The biggest incentive is the vocational training programme, where the girls are taught crafts like appliqué work and quilting. Mornings are spent with girls taking classes in Math, Science, English and Social Studies. Afternoons consist of vocational training in home furnishings and textile work.
Over the course of a few months, students develop marketable skills. Their handicrafts are then sold at a slew of outlets, including the Central Cottage Industries Corporation, or are exported. Products are also sold on the PPGVS online catalogue and their shop in Plaza Mall, Gurgaon (Haryana) and a retail boutique in Meerut, UP. The school's marketing department also develops samples, and places orders with the school - with an agreement on timeline, wages and quality standards. Because of the synergy between production and marketing, PPES feels it has evolved a model that is both sustainable and replicable throughout the country. Also, once the girls graduate, PPES employs them in its crafts centre.
Asked whether the school's model is in compliance with child labor prohibition laws in India, Sam Singh is categorical - as long as the project is holistic, and takes care of the girls' education, life skills and employment, it cannot be deemed exploitative. He also points out that meals, uniform and books are provided free of cost.
PPGVS also establishes a bank account for each student who enters the programme. For every day a student attends school, Rs 10 (US$1=Rs 45) is put into her bank account. The products crafted by the students fetch Rs 30 per day at market price. Of this, Rs 10 is channeled into the girls' account, while the remaining Rs 20 is funneled into sustaining the school's model. By the time a girl completes the programme (about 7-10 years), she should have approximately Rs 36,000 in her bank, assuming she has attended school most days of the year. To discourage child marriage, PPES has stipulated that a girl can access her account only when she graduates.
With such incentives in place, the school's dropout rate has also plummeted from 68 per cent in the first year to 25 per cent in 2005.
To further develop the girls' confidence, they are encouraged to travel and take part in inter-city projects. Recently two girls from PPGVS were a part of the 'People's Summit Against Poverty' in Delhi, which had luminaries from many fields participating. The school's students had earlier raised Rs 15,000 for the tsunami victims from some villages in UP. Action Aid has also invited two students and two teachers from PPGVS for training in disaster management.
"The idea," explains Sharmila Bhagat, Director, Ankur, an NGO that works closely with PPES, "is to impart holistic education to the students. We believe in child-centered education, which empowers the girls to grapple with real life problems confidently."
By arrangement with Women's Feature Service
All Images Courtesy: Education4Change.org