The tiny west Indian state of Goa is drowning in garbage - almost literally. If you live in Goa's villages, chances are you burn your garbage in your backyard. Or worse, load it into your car and take it to one of the cities or to a national highway to furtively dump it. And if you live in a city, the town municipality piles it into overflowing trucks to dump it in one of the nearby villages. The government, in short, has no concrete garbage disposal policy.
Matters came to a head when the wall of a dump in Curca, a village about 10 km from the capital Panaji, crashed after a deluge on July 24, 2005. This caused the garbage to flow into the village, and has led to outrage in villages across the state. The message: Not in my backyard.
The municipality trucks try, nonetheless, to sneak into villages to dump the garbage. But they are now met by militant villagers who puncture the tyres and even beat up the drivers and send them packing. On one occasion in Revora, a north Goa village, the villagers rounded on municipal and police authorities - even injuring them - after garbage from Panaji was brought in and off-loaded in their village.
Local politicians, ever quick to smell an opportunity, have been convening gram sabhas (village meetings) to pass resolutions against dumping garbage from elsewhere in their villages. Last month, the Assagao panchayat in north Goa filed a writ petition in the High Court to prevent the Mapusa Municipality Corporation (five km from Assagao village) from acquiring 200,000 sq km of land for a garbage plant and dump. The Assagao sarpanch (village head) made dramatic declarations at the gram sabha: "I will sacrifice my life for the love of the village."
Despite these displays of aggression, the government is yet to identify a landfill site to dump garbage generated by the four cities of Panaji, Mapusa, Margao and Ponda. "Another Curca-like situation is likely to develop," warns Patricia Pinto, Panaji Councilor and President of the NGO People's Movement for Civic Action, which campaigns on public issues. The only municipality with some kind of plan was the Margao Municipal Council in south Goa, which had tied up with the NGO Goa Foundation for garbage treatment. However, this one-year agreement ran out in September 2005 and a three-month extension has been given, but no alternate plan is in place.
Florence Lobo, a local activist, and the residents of Patto, a residential-cum-business area in Panaji, filed two petitions in the Panaji Bench of the Mumbai High Court on the municipal authorities' inaction on garbage dumping. The petitions have been converted into public interest litigations and are pending hearing. Goan Urban Development Minister Joaquim Alemao had announced grandly soon after the Curca incident: "The government plans to set up mini garbage plants in the cities of Panjim, Mapusa, Margoa and Ponda."
However, four months later, no such plan is in place. Down the years, the government has only come up with quick-fix solutions to the garbage problem. Curca, for example, was identified as a temporary dumping site 15 years ago. But now it has become home to 1.75 metric tones of garbage, which is causing allergies and sickness among the villages. In nearby Bicholim, a teenage college girl died of dengue, the first such documented case in Goa, and this also is being attributed to garbage contamination of water.
In a tourism-driven state like Goa, the problem has an added dimension. Nearly 750 flights bringing in 200,000 tourists are expected to come in this year. These tourists will generate thousands of tons of garbage. And now that the village folk will not allow garbage dumping in their backyards, the government will need to formulate a plan to deal with this extra garbage. Former Speaker Tomazinho Cardozo says, "During a visit to Bangalore, when I was the speaker in the 1980s, I had seen solid waste management plant operated by a private citizen at a very cheap cost. He gave me a proposal to start one here and I had forwarded it to the then Chief Minister, Pratapsingh Rane (also the current CM). Nothing has come of it."
Shedding light on the lack of concrete action is the comment made (on condition of anonymity) by a businessperson, who approached the government with a proposal to set up a solid waste management plant: "The cost of the plant is Rs 30,000 (US$1=Rs 45), which is peanuts for the government. But someone in the government asked me to hike the cost to Rs 90,000 so that they could make money."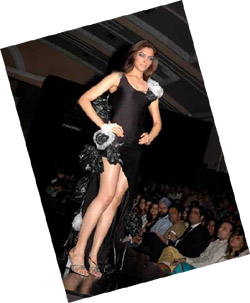 Well-known fashion designer Wendell Rondricks, who has been at the forefront of the campaign for a proper waste management policy, says, "The frequent change of governments in Goa has put governance on the backburner. People's problems become secondary as politicians plot to defect and pull a government down." In the ongoing Blenders Pride fashion tour, Wendell shocked audiences by bringing garbage onto the ramp, so to speak. "In my white collection, I designed a black gown with plastic garbage bags stitched on to it." He was hoping to shame the government into doing something.
Recently, Goan celebrities, including Rodricks, got together in Panaji to voice their grievances against the government's attitude. They were particularly concerned about the cultural programs planned on Panaji's Miramar beach on the sidelines of the 36th International Film Festival of India, to be held in November. These events generate loads of garbage. Not surprisingly, while the government changed the venue to avoid traffic problems, the garbage problem - especially the plastic bottles and biodegradable garbage from food stalls - has been completely ignored. Goans have increased the pressure on the government and are taking steps to tackle the problem on their own. Villages all over Goa have formed Citizens Action Committees - the latest being in Bastora, a village in South Goa - to prevent dumping of garbage in their areas. Some individuals and colonies have set up their own vermicompost plants. Patricia Pinto led the way by setting up a plant - which takes cares of 25 kg of garbage from nearby houses every day - in her residence. Citizens have also started segregating garbage. But the government continues to remain paralyzed.
The pity of the matter is that Goa is so tiny (at 3,705 sq km) that it needs only one or two garbage dumps and a solid waste management system to process and deal with the garbage. Since the furor, the government has asked village panchayats to come up with a garbage solution. So far, nothing has come of that either.
By arrangement with Women's Feature Service