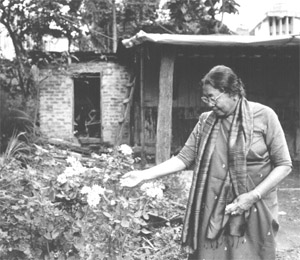 Maya John Ingty (born in 1932) plays a unique role in the conflict-ridden Northeast region, bringing together powerful Christian and secular organizations to work for peace.

Several states in the Northeast have been torn by conflict and strife, both internal and with the security forces. This conflict has left the economy and society in a shambles. The region has a high number of school and college dropouts and there are a number of young widows who have to fend for themselves and their young children.

Ingty, the first woman from the Karbi tribe to complete a Masters degree, has been involved in social work right from her college days. In 1956, she was appointed Special Officer (Social Welfare) through an application and interview in undivided Assam, when Shillong was the capital of Assam. Meghalaya was formed as a separate state only in 1972.

Although Ingty continued with her government job for some time, her heart was in grassroots activities. So, in 1958, she quit her job and joined the Union Christian College (UCC), where she mobilized a group of women and formed a women's association. The association conducted several health programs and started a primary school in the village. It continues to do very good work in the area.

Ingty has conducted many workshops and discussions on topics related to women's development. Much of this work has been conducted with people who work in the midst of conflict. She regularly visits conflict-ridden areas of the Northeast region and attempts to support women and women's groups who are struggling to bring peace to their villages.

Ingty is strongly driven by her conviction that working for social justice issues should not be determined or limited by caste, creed or religious divisions.

She is also involved with mobilizing the youth and women towards education and employment as a means of drawing people away from the culture of the gun. Towards this end, she uses group discussions, skill-building and alternative ideas for sustainable development.

Ingty, now 73, is well-known in the region and is often sought out for good counsel by people from various communities. Her genuine warmth and outgoing personality make it easy for people to connect with her. In 1967, Ingty chanced upon a young boy at the UCC school. The boy had a bleeding nose. Ingty promptly went and fetched leaves of a plant (locally called Nephuga), which she then crushed and applied to the boy's bleeding nose. Years later, a young paratrooper came up to Ingty when she was visiting the local bank at Shillong. He introduced himself as the young boy who she cured with the "wonder plant" and that he would always remember her as a friend of the village people.

Ingty is also a respected member of the Church and plays an important role in critiquing the regressive positions of the Church. She has been instrumental in pushing for greater commitment to social issues by the Church and for involvement with other secular and non-Christian organizations to work for peace. As Secretary of the Diocesan Board of Participatory Development, she has undertaken several programs to help young people develop self-employment skills. She firmly believes that this will lead them away from the gun culture.

She has initiated programs for young people in natural resource management; weaving and tailoring; vermicomposting; fishery; and helped train people to be barefoot veterinary doctors, automobile drivers and electricians.

With no training, and often times, without the support of a forum behind her, Ingty has been working in the villages with marginalized people since 1956.
She has also been active in ecological and conservation programs. It was through her initiative that vermicomposting training was imparted in Tinsukia (Upper Assam) under an eco-friendly waste control programme. Since then, a good number of young people have been trained in this process and have taken up organic farming.

In her individual capacity as well, Ingty has been a member of important peace missions and committees in the strife-torn Northeastern region.
By arrangement with Women's Feature Service and Sangat