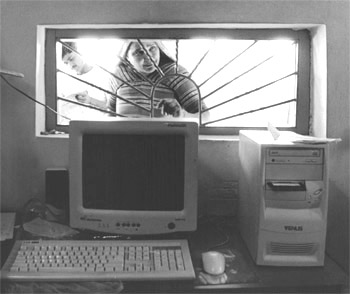 Over the past four decades, Hakkuben Theba (born 1966) has made a long and arduous journey. From being born into a poor farmer family in a conservative community to being a destitute widow, Hakkuben has emerged as a strong community leader, who inspired more than 3,000 women to join a women's collective.

To begin with, the odds were stacked against her. Hakkuben's parents married her off when she was only 14 years old. She then gave birth to three boys and a girl, and lost three of these children to various ailments. In 1998, her husband died as well. It was after this that her brother-in-law and his wife encouraged her to make an effort to be financially independent.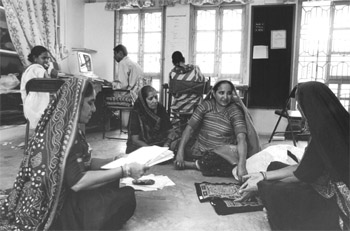 This was the turning point in Hakkuben's life. She was eager to follow their advice, and as luck would have it, she came into contact with - and joined - the Kutch Mahila Vikas Sangathan (KMVS), which had been working in her village, Dador in Kutch district, since 1991-92.

Hakkuben has had no formal education. However, while working with the KMVS team on the education of adolescent girls, she took part in implementing the program and attended classes. This helped her learn the basics of reading and writing. Until then, no one in her family was even literate.

Not allowed to step out of the confines of the walls of her house, or express her opinions even within the family, Hakkuben emerged from the veil only because her curiosity to learn became insatiable and bold. Village elders disapproved of her behavior and attitude, calling her arrogant and wayward.

Hakkuben belongs to the Theba, a small, conservative Muslim community. They marry their daughters within the community, are very proud of their culture and heritage, and do not encourage or practice dowry. This is one of the many reasons why there is absolutely no case of domestic violence, another being that people from the community do not drink alcohol. They are close-knit, usually frowning upon women and girls working outside the home.

However, because she was staying separately with her children, there was no one to physically restrain her. She began attending some of the training sessions of the grassroots collectives of rural women that KMVS had begun organizing. They have now taken the shape of a community-based organization, the Saiyere Jo Sangathan. Gradually, her natural intelligence and leadership skills drove her to organize her village group, initiate natural resource management work with the village as a whole, gain the respect of the men and the village elders, and convince everyone that women need to be liberated. She faced the most opposition to the awareness generation programs for rural women that she began.

Hakkuben has inspired more than 3,000 women within her geographical domain,
and now leads an organized collective that works to ensure that the Sangathan's resources (human, knowledge, skill, organizational, programmatic and financial) are all employed towards making women members' and their families' assets (craft-skills, land and cattle) truly productive. The main areas of intervention are micro-credit and enterprise, ecological restoration, handicraft and health.

The collective works towards developing the traditional livelihoods of the community as viable and sustainable sources of income, and to ensure livelihood security of the community even during times of drought. This not only reduces the community's economic vulnerability, but also uses the new-found strength, confidence and abilities of the Sangathan members to regenerate their natural resources and livelihoods.

Hakkuben has formed a team of leaders, registered an independent organization run by rural women, and has become an inspiration to a number of young girls in the area. She set an example by being the first woman in her community to pass her land on to both her daughter and her son, as mark of departure from the patriarchal traditions of the village and the community.

She has left her mark on ecological regeneration, providing leadership specifically to communities and women in that sphere. Hakkuben has also brought about significant empowerment to women through natural resource management, working closely with the KMVS team to identify rural leaders, and attending training programs organized by the KMVS to build her capacity and skills. She has also handheld the identified leadership by training and capacity-building on specific issues.

Hakkuben's methodology is simple: for over a decade now, she has followed the Gandhian principle of non-violence, taking on the oppressor first, and then creating confidence within the existing environment for change. In one incident, when villagers were farming on common grazing ground, she raised the issue with the villagers, and promptly earned the ire of the village elders. She calmly explained to the villagers the implications of using common property resources, and convinced them against using the grazing land for farming.

In the process, Hakkuben has contributed immensely to the transformation of the physical, mental, and environmental oppression that women have faced in the patriarchal and perennially drought-prone area. And that required a high degree of innovativeness. For example, the team had dug a well in the village as a water source. Hakkuben realized that maintaining the well would be a problem, as it was a common property resource. Her solution: Rs 3 per family towards creating a maintenance fund. She also employed a caretaker for the well, and regulated and monitored the services.

"I come from a peaceful family, yet have suffered due to the fact that I was not educated. I am now leading a satisfied and contended life but would like to create a platform for the next generation of women, so that they can learn from our experience and their life becomes easier," she says.
By arrangement with Women's Feature Service and Sangat