Three panchayat elections in 12 years have resulted in a million women being elected as grassroots leaders. In several states, elected women representatives have even crossed the 33.3 per cent reservation quota for women leaders.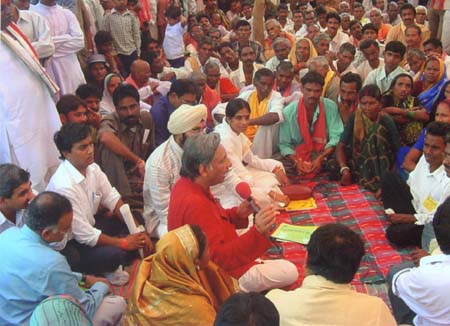 But how is Panchayati Raj (local governance) working in India? Are women sarpanchs (heads of village councils) still remote-controlled by their husbands or male relatives? Do women leaders really have the power to change things in their villages? The Union Minister of Panchayati Raj Mani Shankar Aiyar's numerous panchayat baithaks (discussions) are trying to do precisely this: Do a reality check on Panchayati Raj.

Aiyar started the baithaks as soon as he tookover as minister in 2004. Aiyar has held seven round table conferences with state ministers of Panchayati Raj within 150 days and has come up with 150 `action points'. Chhattisgarh is one of the chain of states he visited to rejuvenate and evolve Panchayati Raj institutions.

A peep into some of these interactions with the villagers in Chhattisgarh...

At a meeting in Rajnandgaon, Chhattisgarh, Aiyar is flamboyant and unconventional in his style. He quits the comfortable stage and sits on the floor amidst the villagers. "I haven't come here to give any speech, but to hear you and know how Panchayati Raj is working for you," he says, asking the woman sarpanch, Shiv Kali Bai, to speak on the work she has done in her village. The sarpanch remains silent and the crowd waits restlessly, until a soft male voice is heard describing the work done.

"Who is that?" Aiyar asks.

"The sarpanch pati (husband)," the crowd says in unison. Aiyar invites him to sit next to his wife. The man sits down and claims he does all the work in the village, as he has been the sarpanch for 25 years. His wife was elected sarpanch on a reserved seat. "My wife is not educated, so I do all the work."

"In the last 25 years, you have been a sarpanch but you didn't once think of educating your wife? What work would you have done for village education!" asks the minister. The crowd breaks into spontaneous applause.

"Is there a woman panch (panchyat member)?" the minister wants to know. A young woman emerges from the crowd. Dressed in a blue saree, she stands confidently in front of the minister. When asked about the biggest problem of her village, she says, "There is just one primary teacher for 140 students." The state officials present at the baithak try to stop her and start giving explanations, but Aiyar encourages the woman to continue. She says that the women of the village have often petitioned to the panchayat head, asking for a teacher, a small clinic, toilets and water facilities, but they have not received any response. The women have also demanded a stop to child marriages. "These are issues that involve the family and community as a whole. But the panchayat does not care to discuss these issues," she says.

"Why didn't you stand for the sarpanch's post? You are young, educated and capable?" he asks the woman in the blue saree. The woman looks down and remains silent. The crowd speaks for her, "She is the sarpanch's bahu (daughter-in-law)."

At another tribal panchayat in Gundaderi village, the woman sarpanch, Nirmala Devi, speaks about her village and its problems. She asks for the minister's help in building a clinic in the village, where people have to travel 10 kms to see a doctor. When she is finished, the minister turns to the crowd and says, "Look at your sarpanch in her beautiful saree, she is so competent." Then holding her hand aloft he adds, "I want you all to be proud of her." The crowd again bursts into applause.

Bhoj Rani, janpad adhyaksh (people's representative at the block level) now stands up to say her piece. "The government sanctioned 760,000 for a janpad panchayat, but I was not informed. Even after 58 years of independence, I don't seem to have any rights." Her words leave many officials red-faced.

In several panchayats across the country, women have often been re-elected on a general seat. People have realised that when women become leaders, they challenge status quo and address basic issues of water, food security and education. The last round of panchayat elections has thrown up women who are more aware of their rights and duties, and determined to stand up and deliver as leaders.

However, despite their growing confidence, women still have to fight the overwhelming cynicism and scepticism about their abilities as leaders. "In every village, there are always a large number of women ready to enter a political system," says Aiyar. "But their effectiveness in running the government depends upon the powers they get, not on their capacity as panchayat leaders. For, it is this process - of getting these powers and responsibilities that becomes the single-most important capacity building exercise. It is like throwing a child into the deep end of the pool to make her swim. There will be some who will sink but many will swim. Now this is really the only way institutions of local self-governance can be formed."

Aiyar is quite dismissive about literacy being a must for good leadership. "Look at our Parliament. The Members are so different, in their characteristics, abilities, backgrounds and ambition. The same will be true of Panchayati Raj institutions. All over the world, the most important thing about democratic institutions is not their efficiency but their representativeness. You get a larger kind of efficiency, an efficiency that is not mechanically measured, but rests on changing the very nature of society. We should look upon empowerment of women through panchayats in this light."