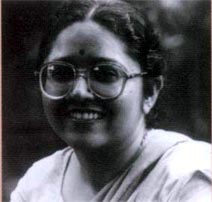 Tripurari Sharma has been at the forefront of theatre-based activism in India for almost 30 years. Her approach of collectively evolving a play through group interaction has helped bring theatre out of the closed spaces it inhabited and into the lives of women in India.

Sharma, born in 1956 in Kurukshetra, Haryana, initially chose theatre as a means of expression to shrug off middle-class conventions and to seek an identity. She soon realized that it was more than that - it was an intimate way of revealing and connecting the lives of women audiences and sharing their perspective with the world.

Sharma graduated in English literature from Miranda House College, Delhi University in 1976, and the National School of Drama in 1979. Those were the post-Emergency years. (Then prime minister Indira Gandhi had imposed an internal emergency in the country, repressing all freedoms - including freedom of expression - in 1975.)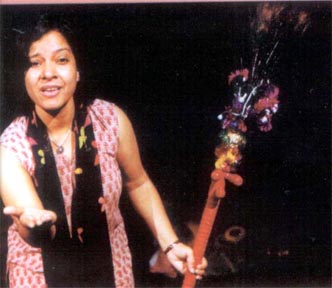 Sharma was the secretary of the student's union in Miranda House College at a time when there was an atmosphere of working towards social change. Street theatre had emerged as a strong medium for highlighting women's issues and an exclusive forum where women audiences could relate to the issues. It was an intimate way of revealing and connecting the lives of women audiences and sharing their perspective with the world. An example of this is a play on eve-teasing, which was performed in colleges only by women participants. These plays, therefore, served as devices to bring out and evolve a women's perspective.

In the charged atmosphere of the mid- to late-1970s, socially relevant theatre and the women's movement had begun to show the way forward. A number of issues that just could not be discussed found expression and acceptance through theatre. Sharma saw theatre as a means to share and talk about the lives of women. Her travels across the country, performing plays, conducting workshops and working in close coordination with the local people helped in the concretization of her approach - to evolve plays collectively.

Sharma was exploring the potential of theatre as a tool for discussion on social issues when she met the artiste Lakshmi Krishnamurthy, who suggested that she set up an organization that would provide an organizational base to all her work. Thus, Alarippu (which means blossoming) was born in 1983.

There were several difficulties along the way. To begin with, it was not easy to convince her group about her method of collectively evolving a play. There were severe financial constraints and hostility from close friends on her perception of certain issues. When Sharma started working, there was also no space where women could show their work. In the bastis (slums) they visited, they had to perform in cramped lanes that provided little space for movement. It wasn't easy to keep the process growing; but no challenge was greater than her conviction.

Alarippu and Sharma have also been associated with the Mazdoor Kisan Shakti Sangathan, a Rajasthan-based NGO, and its campaign on Right to Information, from the very beginning. They toured villages in Rajasthan, devising and performing plays. The impact of the performances was tremendous in terms of consciousness raising, pressuring the government to enact the Right to Information Act.

She has conducted a series of theatre workshops in places as culturally diverse as Uttar Pradesh, Bihar, Madhya Pradesh, Assam, Tamil Nadu, Kerala, Rajasthan, Bangladesh, Pakistan and Sri Lanka. Her method is to deal with locally relevant social issues through plays that are devised through group work. She has compiled some of these experiences in `Searching for a Voice'.

Sharma's workshop activities are devised in a congenial, non-threatening manner. Instead of lectures and theories, there is a simple sharing of their daily lives. The learning and analysis is left to them. To women, denied the space to express themselves and bearing the burden of unexpressed pain, these workshops are life-affirming. In the workshops, as the women share their experiences, they realize that many other women are living with the same pains and worries. Many women say that the workshops have led to fundamental changes at the personal level.

Sharma's scripts and plays are today an integral part of the secular consciousness of India. Her approach to the issues of peace, women's rights, human rights and the right to information have helped break the traditional barrier between high art and grassroots communication. Her plays - `Bahu', `Birsa Munda', `Aks Paheli', `Banjh Ghati', `Sazaa', `Kath Ki Gadi', `Reshmi Rumaal', `Pshak' and `Daiyre' - exemplify this point. She has also been associated with several movies that mark the parallel stream in contemporary Indian cinema, among them `Mirch Masala', `Sanshodhan' (on women and the panchayati raj), `Hazaar Chaurasi Ki Maa' (a film based on Mahashweta Devi's book of the same name).

Sharma has also coordinated a four-year project on women's portrayal in the traditional performing arts, which involved working closely with performers of various folk dramatic forms, like nautanki, tamasha, khyal, pandvani and surabhi. She has worked to build new scripts with the groups, keeping within the parameters of the traditional forms.

Sharma feels that times have changed and that life in villages too has changed. Women are making history each day and striving hard to bring about changes even in their daily lives. The traditional forms are not able to assimilate these changes or give space or recognition to these endeavors. Her efforts, therefore, are directed at making space within traditional forms for these changes.

Sharma speaks of a nautanki she organized in Kanpur, where the man in the play marries two sisters. The characters thought that in the end the husband should return to his "good wife", not the second one who "lured" him. Alarippu members felt that both women should bid goodbye to the husband. The characters in the nautanki thought the audience would not accept this ending. After much discussion, they decided to go with it anyhow. The audience, to everyone's surprise, accepted the ending readily.


This kind of theatre, therefore, also helps to open up discussions on issues that remain unaddressed.