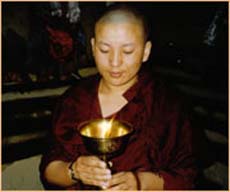 Choying Dolma, 34, packs a week into a day's schedule. She has a recording session in the morning, followed by a photo shoot with an upcoming model. Then she has to take her mother for dialysis. In the evening, she is a special guest at a beauty pageant. And in the middle of all this, she worries about the Nuns' Welfare Foundation - her own special dream.

Ani Choying Dolma ('ani' means nun in Tibetan) - the 'singing nun' from Nepal - founded the Nuns' Welfare Foundation, a non-profit organisation to promote the education and welfare of Buddhist nuns, in Kathmandu with the money from her singing career. Besides traditional Buddhist training, the school provides free accommodation and education to young novices, hoping that when they graduate, they will, as teachers, health care workers and community leaders, impart their knowledge to the community. The school now has 34 students, many of them girls taken in from homes where they were ill-used.

Dawa Sangmo is one of the girls taken in by the foundation. Two years ago Sangmo, then 10, was an abandoned child in Kathmandu. Even when she was part of a family, Sangmo says she was beaten up frequently, by her mother and grandmother, not sent to school and made to do the housework. When the foundation found her, she was a cowering child living on the charity of distant relatives, who had brought her to the capital from Solukhumbu, the northern district where she lived. Now she goes to school, has found playmates among the other girls there and is learning to trust adults again.

As a young nun, Dolma had seen monks studying for advanced degrees in subjects like medicine in their monasteries. She was troubled by the fact that nuns did not follow this pattern. The nunneries taught classical Buddhist scriptures and how to perform ritual ceremonies, but there was no secular education. Some nuns, says Dolma, cannot even write their own names.

"Education for women has traditionally been neglected in Asia," says Dolma, who has studied up to Grade 5. "Women's roles have been strictly defined in ways that do not make educating them seem important. Nuns, as well as laywomen, are suffering from this discrimination. Although this situation is beginning to change somewhat in Nepal and India, most nuns - especially those from remote areas - still come to Buddhist practice with little or no formal education."

The Tibetan community in Nepal lives virtually on the razor's edge. They are mostly refugees from China-occupied Tibet and many of them have no citizenship documents. The government does not allow them to work or own property in Nepal. Some nuns are forced to join the order due to sheer poverty. Many are illiterate and have few skills, and are therefore excluded from decision-making processes. They are unable to help with fund-raising to keep the nunnery going or open a chapter in a new district.

Dolma says that besides secular education, it is also important for nuns to acquire livelihood skills so that they can be finally in control of their lives. Many girls become nuns when they are minors and do not know what it means to truly have a vocation. However, Tibetan Buddhism allows monks and nuns to leave the order whenever they choose to. "If a girl in my school wants to give up being a nun, she can always go back to an ordinary life," Dolma says. "The difference would be that she would be able to support herself. On the other hand, if she wishes to continue being a nun, we would like her to go to the place she came from and impart her skills to the community there."

Dolma herself decided to become a nun when she was 10. Her father, a sculptor, had a second wife. Dolma's childhood emerges as one fraught with injustice and discrimination. "In Nepal, daughters are looked down upon," she says. "They are brought up to do household chores and then get married. I saw my mother sacrifice her wishes for her husband and children. I often saw her crying and it used to fill me with grief. I felt so helpless! I thought, what is it that boys can do and we cannot? Physically, they may be stronger, but mentally and emotionally, we are tougher. Whatever men can do, we can do better."

Dolma decided she would not marry, and would be a nun instead. In the Tibetan community, most families have at least one child joining the holy order, so Dolma's parents welcomed her decision. "It must have been my karma that I was sent to the Nagi Gomba under Tulku Urgyen Rinpoche," she says. She was only 13 years old at the time. "The gomba (monastery) gave me the space and time to be a child. Nobody forced me to do anything. My guru was diabetic, so I became his nurse and learnt how to give him insulin shots. I did it because I loved him, not because I had to."

During prayers, nuns routinely sing chants. One day in 1996, an American guitarist from Minnesota, Steve Tibitts, a friend of the rinpoche (teacher) and a regular visitor, heard Dolma singing. "Here, let's record that," he said and took the recording away with him to the US. She had forgotten all about it when Tibitts returned a year later, bearing Dolma's first album, 'Cho' (which means 'cutting' in Tibetan, symbolising the cutting of the ego).

Dolma soon found herself being invited to sing at concerts. First it was religious concerts in Europe and the US, and then she was giving solo performances in Hong Kong and Singapore. "I found I was earning a lot of money," she says. "I was glad, because there were so many things I wanted to do. My mother was ill; both her kidneys had failed and she needed regular dialysis. I decided to return home and care for my family. It was an unusual thing for a nun to do, but then I have always been unconventional."

Although she started out singing Buddhist chants in Tibetan or Sanskrit, since 2004, Dolma has also been singing Nepali songs written especially for her. Her first album 'Moments of Bliss' was a smash hit. She has followed that up with a second album this year, 'Smile'.

Dolma, who says she also draws inspiration from Mother Teresa and the Dalai Lama, has just completed a series of concerts in Switzerland, Italy and Germany; and in September, she is scheduled to sing in Hong Kong.

Dolma knows that she cannot accomplish her dream of education for all nuns on her own. She quotes a Tibetan proverb asking for help: "If I tell you my dream, you might forget it; if I act on my dream, perhaps you will remember; but if I involve you, it becomes your dream too."