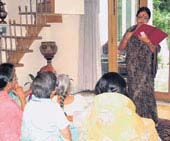 Old Wine, a group for senior citizens in Kolkata, believes that people, like wine, mature with age - more valuable for all their lived experience. The fledgling organization set up in April 2005 has already created much excitement among senior citizens. It is working to provide a platform where the elderly can exchange ideas, explore their creative potential and have a good time on the whole.

The organization is the result of a chance meeting between communications expert Mira Kakkar, 55, and Nilanjana Sen, 59, a homemaker and freelancer. Kakkar had approached Sen to help her translate some material into Hindi for her ad agency. "I discovered how talented she was. She could compose poems in a jiffy, she could recite extempore beautifully; but it was all lying unexplored because of a lack of opportunity. There are many Nilanjanas in our society, so I thought, why not create a platform where they can interact with like-minded people in their age group?" says Kakkar.

Kakkar, a mother of two, is a bundle of energy and has her fingers in many pies. She had also started 'That Take Ovaries: Open Mike Session' - a programme to help women and girls share their experiences and triumphs against odds - for the first time in India in 2003 in Kolkata. The programme, originally started by Rivka Solomon in the US, in 2002 following the publication of her book 'That Take Ovaries! Bold Females and their Brazen Acts'. Kolkata was the first center outside of the US to hold an Open Mikes session, following which there have been similar sessions in China, Canada, Australia etc.

The Open Mikes session is also where Kakkar first met Sen, who charmed everyone with her impromptu rendition of a folktale, a la Teejan Bai. Sen grew up in Raipur (Madhya Pradesh) and was familiar with the region's Pandavani narrative tradition (which Teejan Bai has popularized). Sen has also worked for All India Radio, where her women-oriented programme 'Bindiya' was quite a hit.

It was Sen's enthusiasm and creative potential that gave Kakkar the push for a brainstorming session with her. From this was born Old Wine, with Sen as the first member. Today, Old Wine had 80 members - both men and women, although women are in a majority. Perhaps because women find it easier to communicate, Kakkar speculates. "When they respond to our phone call inviting them to join this new venture, they readily agree that they are lonely, and would love to come. Men are usually not comfortable admitting it, perhaps thinking that it would be weakness on their part because they are brought up with images of the strong, macho male," she says.

"Actually, I had been thinking about such a group for a long time," confides Kakkar. "After my father died at the age of 70, I saw my mother take over the management of the school he had started. All our life, we had only thought of her as a mother and homemaker, but she was managing everything so well. Senior citizens have a lot to give society, but society just pushes them into the background." Women, especially, find little outlet for their talent. Sen agrees, "Talent never dies. It just needs the right atmosphere and encouragement to flourish. Why should we feel that we are useless because we've crossed 50?"

Sen keeps busy translating literary work and running a small catering business. Sen's busy schedule, however, hides a personal tragedy. "When my 23-year-old daughter died, I went into a shell. It was my elder daughter who encouraged me to do something to keep busy. I am thankful that I listened to her. These creative pursuits have rejuvenated me," she says.

Kiran Rampuria, 51, a member of Old Wine, is inspired by Sen's tireless enthusiasm. "I do keep busy with work at home, but I crave for something beyond that. I want a little time for myself, to exchange ideas with people my age, and also to learn and do something creative," she says. She used to paint before she got married. "But all that's gone now." Today, she is thinking of reviving her hobby and, perhaps, exhibiting her work to fellow members.

People today are living better and their health is improving. When they are older, they are still energetic enough to take on many challenges. What they lack is the opportunity to do so, and this tells on their sense of well-being. Loneliness, alienation and the lack of things to do are some of the common problems that elderly people grapple with.

The situation could further aggravate as the number of elderly people in India increases. According to the Census 2001, the proportion of people over 60 has crossed 7 per cent of India's 1.02 billion population, qualifying it as an 'ageing' country (as defined by the United Nations). A rapid transition from high to relatively lower mortality and fertility has fundamentally altered the age composition of India's population, says demographer P P Talwar. The 2001 census shows that India's population is steadily ageing; it is estimated at 76 million at present - currently the second-largest in the world, according to World Health Organization figures. Projection studies indicate that the number of 60+ people in India will increase to 100 million in 2013 and 198 million in 2030.

Kakkar now plans to expand the Old Wine concept well beyond its current scope, in consultation with members. She also hopes to rope in charitable organizations, corporate houses and organizations like Dignity Foundation to collaborate on projects. "We need a space where people can meet on their 'club' day, which is at present a monthly affair. There could be musical functions, story-telling sessions, acting - anything the members would like to do. People can teach others too. In fact, the American Association of Retired Persons - a leading non-profit organization - recommends learning new things, creating memory strategies, socializing, exercise and a healthy diet to prevent the onset of Alzheimer's.

Bir Sankar Banerjee, 65, is a health and environment consultant and a member of Old Wine. He goes swimming every morning and generally keeps fit. He feels that the idea of Old Wine is great, but that help must come in from others too. "Elderly people may not be able to spend much, and this initiative will need support to survive. Personally, I find the idea very exciting," he says. At the moment, membership is free. Kaka feels, though, that once it is a little more organized, there should be a small membership fee - "There must be a sense of ownership. And involvement."