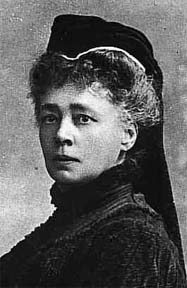 She calls it Berthaisation; he sees it as Suttnerisation. But this is no battle of the sexes, for both Cora Weiss - head of the International Peace Bureau and president, Hague Appeal for Peace - and Austrian President Heinz Fischer dream of seeing Bertha von Suttner become a household name the world over. The Austrian Countess von Suttner was the first woman to have received the Nobel Peace Prize in 1905. Indeed, without her the prize might not even have existed.

A wealthy but lonely man, Alfred Nobel lived in Paris when the penniless von Suttner barged into his life as household help. Nobel fell in love with von Suttner and enjoyed talking to her about love and life, and peace and war. He told her that by manufacturing dynamite he was strengthening the prospects for peace, a contention that the von Suttner firmly rejected. In 1889, she condemned, in verse, the arms race in her best-selling novel 'Lay Down Your Arms'.
My armaments are defensive,
Your armaments are offensive.
I must arm because you must arm,
Because you arm, I arm.
So we must arm,
We arm more and more.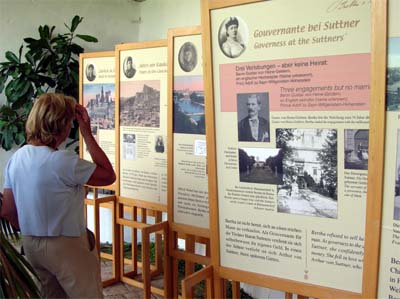 'Lay Down Your Arms' sold better than any other book in the 19th century and Leo Tolstoy compared her technique of rallying readers to her cause to that of Harriet Beecher Stowe in 'Uncle Tom's Cabin' for the emancipation of American slaves. But von Suttner was also lampooned for her sentimental story of Sophie, an aristocrat whose life became a pawn in the hands of death and destruction in the midst of war.

Only a woman could express such anti-war sentiments, her critics laughed. But on the eve of World War I, many Europeans also looked up to her for leadership in the cause of peace. Although they did not marry, von Suttner and Nobel remained life-long friends and the Peace Prize idea was born when she, with her husband Arthur von Suttner, accompanied Nobel on a motorboat ride on Lake Zurich in 1892 and von Suttner pleaded with Nobel to allow a fixed amount to the peace movement. When Nobel's will was finally read out after his death in 1896, she danced with joy at the news that a cash prize would be awarded annually for peace work in the name of Nobel.

Von Suttner received the prize in December 1905 and Vienna hailed her a heroine. Her last words were, "Lay down your arms! Tell it to all." World War I, nevertheless, started soon after her death in June 1914.

"This year, the 100th anniversary of the Nobel Peace Prize award to Bertha von Suttner, is an excellent opportunity not only to honour her but also to spread her concerns and peace activities," says Susanne Jalka, KonflictKultur, which is a partner organisation that is hosting events throughout the year to commemorate von Suttner's work. One of these events was an international seminar held recently in Harmansdorf, Austria, the official residence of the von Suttners. Shirin Ebadi, who won the Nobel Peace Prize in 2003, was one of the many peace activists who attended the seminar.

Today, the world is awash with weapons from 60 million small arms to 30,000 nuclear bombs and an outrageous one trillion dollars a year is spent on militarism and war, while two billion people lack safe drinking water and adequate sanitation. Too many girls stay at home while their brothers go to school. Women lack literacy and job training, and reproductive health rights are non-existent for too many. Rape has become a weapon of war and a cause of HIV/AIDS.

Women are over 50 per cent of the world's population but make up only 16 per cent of the world's senior government officials and decision-makers. We are living at a time of extremes of religious and political movements that are seducing women as well as men to their reactionary, often violent, behaviour.

"There were no radioactive, cancer-causing, lethal nuclear bombs in Bertha's days, but there were dum dum bullets, mustard gas and bombs dropped from hot air balloons...Bertha had no problem calling for their abolition. So, wouldn't she be at the front of the campaign for the abolition of nuclear weapons and for the abolition of war today," said Weiss at the seminar, stressing on the need for a gender-aware, gender-sensitive and gender-equal human security system in the world.

Weiss, and many like her, believe that to reach peace is to teach peace. She suggested that the campaign must continue to educate coming generations of people with alternative skills to violence as a solution to conflict.

The interactive process will continue throughout the year, with meetings, via Internet and telephone, to connect women peace activists for networking, training, and sharing ideas and strategies. The Austrian Foreign Ministry will help an inspiring exhibition on Bertha von Suttner to eventually travel from the rustic environs of the orangerie at her home in Hermansdorf to at least 30 cities in 22 countries around the world.

The sprawling baroque villa that was once the home of the von Suttners now belongs to Victoria Glawischnig, the wife of a retired veterinarian who bought it for breeding pigs and horses a few decades ago. Glawischnig is now busy collecting donations by selling little bricks with a photo of the pacifist for the eventual restoration of the dilapidated granary that was converted into a playhouse by von Suttner for regular performances with anti-war themes. "This is the least that an ordinary woman like myself can do to keep alive the memory of a great woman whose roof I happen to share today," she says.