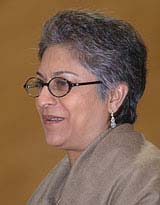 Asma Jahangir, 53, is a thorn in the side of Pakistan's powerful. For a quarter-century, this human rights lawyer has defended the oppressed in Pakistani society, among them political prisoners, bonded laborers, women and minorities sentenced under unjust laws. She has also played a pivotal role in building institutional structures to provide free legal aid and monitoring human rights in Pakistan.

Internationally recognized for her achievements, Jahangir also works with the International Commission of Jurists, is a senior UN official, and has won the prestigious Ramon Magsaysay Award for public service.

Jahangir has also been an active worker for peace between India and Pakistan. Her books include `From Protection to Exploitation - The Blasphemy Laws of Pakistan' and `Hudood Laws: A Divine Sanction'.

Yet, despite her celebrity status, Jahangir remains what she has always been - a fighter for unpopular causes and a fiercely independent voice in public life. Three decades on, Jahangir still runs into trouble with the Pakistani establishment - President Pervez Musharraf called her unpatriotic - for raising issues that many would rather ignore.

Jahangir grew up in the school of hard knocks. She was not yet a lawyer during her first legal battle in 1972; her father, a legislator in the National Assembly, had been detained by the then prime minister, Z A Bhutto. Jahangir filed a constitutional petition in the Supreme Court challenging his arrest, winning in a year and a half.

In 1980, Jahangir, a law graduate from Punjab University, started Pakistan's first all-woman law firm along with three partners. Pakistan was under martial law and Zia ul-Haq's regime tried to bring the country under Sharia' diktat. Among the most significant were laws denying women the equal rights they already enjoyed under the Constitution, and relegating them second-class citizenship. There were also draconian laws in place denying freedom of expression in the media and political forums.

A founder-member of the Women's Action Forum, in 1980, Jahangir earned the nickname of "little heroine" for leading a protest march against the laws in 1983.

In 1986, Jahangir and her sister, Hina Jilani, set up the first free legal aid center in Pakistan, the AGHS Legal Aid Cell. Apart from the hundreds of oppressed people - minorities, bonded labor, and grassroots women - it has helped with free legal aid, the AGHS (named after founding members Asma, Gulrukh, Hina and Shahla) is also highly regarded for its expertise in legal research, its review of existing laws, and its effective lobbying for reforming laws that discriminate against women. It has strong links with bar associations, police, political parties, trade unions, and the press. It also works with other civil society groups, nationally and internationally.

The same year, Jahangir also helped set up the Human Rights' Commission of Pakistan, an independent body of lawyers and activists. She has served as its founding secretary-general and its chairperson, helping to carve out a strongly activist and non-partisan role for the organization.

Jahangir has frequently had to face hostility and threats for challenging the status quo, whether by defending Christians and Muslims sentenced to death under harsh blasphemy laws; investigating the fate of prisoners missing in police custody; or helping women secure the right to marry without the consent of their families, or seek divorce from abusive husbands.

Defending two Christians accused by a Muslim imam (religious head) of blasphemy, she won a much-publicized case but received death threats, and had to travel with an armed bodyguard. Jahangir was also threatened for representing a woman seeking divorce from her husband against the wishes of her family; the woman was later murdered by her own family in broad daylight in their office.

These threats, often emanating from rightwing religious and political parties, have not deterred her, and Jahangir continues to take up risky cases, and to speak her mind on public issues. As a peace activist, she has been forthright in criticizing the country's nuclear policy. One reason why she can speak freely is that she has guarded her independence carefully, refusing to be co-opted: she has turned down offers to serve in the country's National Assembly, and as a judge. 'It would be hypocrisy to defend laws I don't believe in, like capital punishment, the blasphemy law and laws against women and in favor of child labor,' she told an interviewer.

Jahangir's relentless criticism of the Hudood Ordinance, introduced during martial law in the 1980s and still in force, has led to far greater awareness among people about the role of discriminatory laws.

Since 1998, Jahangir has been speaking up for the oppressed not just in Pakistan, but in some of the world's worst trouble spots, which she has visited as the United Nation's Special Rapporteur on Extra-judicial, Summary, or Arbitrary Executions. She has investigated human rights abuses in countries as diverse as Sudan, Brazil, Kosovo, Mexico, East Timor, Nepal, Turkey, and the Honduras. She has also worked extensively with non-governmental and inter-governmental organizations in the development of human rights law and standards.

Married with three children, Jahangir lives in Lahore.