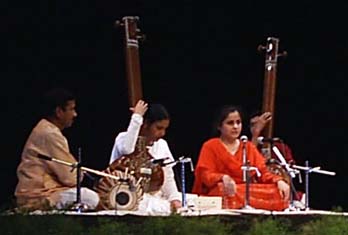 Aliya Rasheed , dhrupad singer and performer, has given music lovers a lot to mull over. Despite there being a rich tradition of music in her home country, Pakistan, Rasheed chose to cross the border and learn dhrupad - the most demanding of Indian classical vocal music forms - in India rather than her native Pakistan.

Not only that, she followed the traditional guru-shishya parampara (tradition) which requires the disciple to take up residence in the home of the guru or teacher. This involved a four-year stay at a vegetarian gurukul in Bhopal (Madhya Pradesh) at a time when Indo-Pakistan relations were at their most strained. Last but not least, Rasheed is visually challenged.

The daughter of Abdul Rasheed and Bushra Rasheed, Aliya was born in 1978 in Dubai and spent a very happy childhood. "You should ask my mother about all the mischief I got up to during my childhood. I was known for being the naughty one among my brothers and sisters," she says, her charming looks, beaming smile and lilting voice instantly winning over people..

To learning music, Rasheed became a student of the Sanjana Institute in Lahore, her hometown. The timbre of her voice and her extraordinary capacity to pick up nuances and reproduce them led her teachers and well-wishers to believe that Rasheed's talents needed to be nurtured with care.

Her training at an institution patronized by the city's music aficionados was, at best, a gathering place for aspiring talent and serious listeners. What Rasheed needed was an atmosphere of higher training and exposure to a demanding and well-defined art form.

Despite the geographical closeness of the two countries, Rasheed's entry into dhrupad and India did not follow a direct route. India's famed dhrupad practitioners, the Gundecha brothers (Umakant and Ramakant Gundecha), were on one their tours of the United States when a music-loving acquaintance there strongly recommended that they take one Aliya Rasheed, a talented singer from Pakistan, under their wing. The Gundecha brothers' gurukul (residential school that follows the ancient Indian style of learning), Dhrupad Sansthan, in Bhopal, their hometown, has long been a notable address on the dhrupad learners' directory worldwide.

The Gundechas agreed to include Rasheed among their disciples who, at that time, were from Australia, Spain and Japan. Rasheed's challenge - and one she willingly accepted - was a four-year training period (which started in 2001) to learn the art of dhrupad singing up to a standard that one could perform it on a prestigious platform.

"It was the time when the Kargil war had just ended," recounts Rasheed, about her first days in India. "The atmosphere was quite different then. Maine achha buraa sab sunaa...(I had to take flak sometimes)" she recalls. But she was undeterred. There were, of course, fleeting moments of doubt about her being able to stay in India and continue her training; but those moments became fewer and then disappeared altogether.

The one thing Rasheed was sure about during those four years was that she had nothing to fear in India and that gave her the courage and the will to make the most of her stay at the gurukul.

For her gurus and the other family members too, there were a few initial hiccups. "But before long, she could find her way around the whole house and never needed any help at home. Even our food habits were not an issue with her. We are Jains and Aliya never uttered a single word of protest about the vegetarian food," says Mrs Gundecha.

On their part, the Gundechas made Rasheed feel at home. "She kept Roza fasts during Ramzan; and on Id, I made sure that we all had a feast of sevian and other traditional delicacies." The highlight of their family togetherness was Aliya's 27th birthday (in 2005), which the family celebrated in Bhopal. "There was a birthday party for her and Aliya loved the custard that was served!" says Mrs Gundecha.

Food and family were important but it was music that was the core focus of Rasheed's four-year stay. Here gurus' assessment was that she had a limited understanding of classical music at the start of her training. Listening to her performance now, after the completion of her training under the Gundecha brothers, music critics have marveled at her mastery of the dhrupad style's intricate details. Her creative play of musical ideas by means of a precise and accurate sub-division of the beat are an attractive element of her individual style.

Her choice of compositions, ranging from references both Islamic and iconic, are proof of Rasheed's universality of thought. Her finale, with verses dedicated to the Hindu God, Shiva, were sung with care and conformity. Rasheed stresses that dhrupad is 'ibadati sangeet' (devotional music).

Having flown back to Pakistan after her training (in May 2005), Rasheed has ambitious plans for the future. On the eve of her departure for Pakistan, she had her future course mapped out with dhrupad-like precision. It will be performances at Sanjana Institute, of course. Then Al Hamrah and wherever there is an opportunity for it. "This music cannot stop; it has to grow. I will perform, I will teach," she says passionately. "This is what I am contributing to the peace process (between India and Pakistan)."