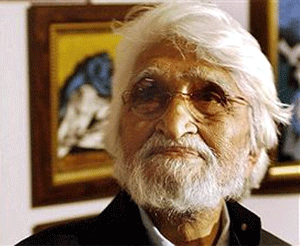 Born at Pandharpur, Maharashtra, India on September 17, 1915, he had become a photogenic icon, and the newspapers loved him. The stuffy Calcutta Club was pilloried when it refused admission to a barefoot Husain on the grounds that he violated their dress code.
He was nominated to the upper house of the Indian Parliament, the Rajya Sabha in 1987; and during his 6 year term he produced the Sansad Portfolio.
In 1966 Husain was awarded the Padmashree by the Government of India. In the following year he made his first film, Through the Eyes of a Painter. It was shown at the Berlin Festival and won a Golden Bear.
India's most controversial and most loved M. F. Husain is one of the few artists who enjoy multifarious range of occupations interests and passions. His love for Indian music, movies, jewelry, tapestries, photography and literature is well known. Besides being one of the most popular Indian painter, he has made international award winning films and created beautiful designs in tapestry, jewelry and toys. His autobiography "Pendhapur ka ek Ladka" is a master piece written in Hindi.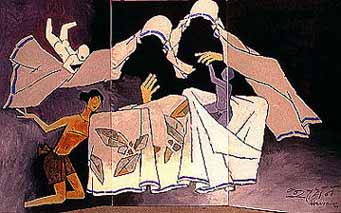 Mother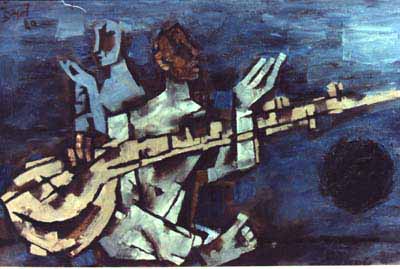 Raagmala
Image of MF Husain (c) Gettyimages.com
Artwork of MF Husain depicted is scanned from unknown pamphlets/magazines.