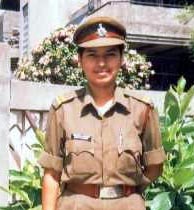 Lifting and handling heavy equipment, performing strenuous drills for hours at a stretch, studying a vast variety of seemingly unconnected subjects like applied psychology and heavy vehicles, town planning and rescue techniques, paramedics and water supply, are all in a day's work for Harshini Kanhekar. And she loves it. This girl will soon graduate as India's first firewoman.

Three years ago, Kanhekar, 23, created history when she became the first-ever female student to get admission in the fire engineering course at the National Fire Service College in Nagpur (Maharashtra) - the only institution of its kind in India.

"I did not know I was going to be the first and only female student when I applied for the course," she says candidly, "My parents were very nervous when they found out." Being the first woman in an all-male institution meant a lot of adjustment for everyone, she says. "When it came to the medical test, it was found that there were no existing criteria for women.
So they just took my height and weight and checked me for color-blindness."

Then there was the constant attention and wonder that has been part and parcel of her three-year stint in the institution. "Everyone, from fellow students to professors to visitors, was awed by the fact that there was a girl in the institution. People came to just look at me, or to tell me how proud they were of me."

Of course, this also meant she had a lot of expectations to live up to. "I was a guinea pig," she smiles. "Everyone looked at me and wondered, 'can she?'" The then director of the college, Dr K C Wadhwa, even asked her if she felt she would be selected at the campus recruitment. "It was kind of awesome, and it inspired me to put in extra effort so that I did not disappoint anyone."

"But the good part," Kanhekar remarks, "was that my instructors scrupulously treated me exactly as they treated all the other students. I was not spared any pains, not even the rigorous punishments that come with training. And on my part, I never asked for any relaxation. I have not been absent for a single day during the entire three-year course."

She recalls an incident: "One day, during the drills, we were required to perform a difficult operation involving rescuing a dummy casualty from a high-rise building and bringing it down a ladder on our shoulders. Just as my group of four was falling in, I heard the instructor calling on me to fall out.

"As my team mates went ahead with the drill, I was on the verge of tears, thinking that I had been pulled out. Just then, I heard the instructor's voice again, calling me to fall in. I could not believe it. I went up the ladder alone, lifted the heavy dummy on my shoulder and brought it down. I realized that far from being discriminated against, I had been given the best chance to demonstrate my skills."

As a rule, the strenuous drills that are part of all fire service courses were never much of a problem for Kanhekar. "It is a myth that women can't take as much physical strain as men," she asserts, adding that she was an NCC cadet, and found that she was very good at the drills that are a part of the fire engineering course. "Every morning during the entire course we were required to practice our drills for 90 minutes, and I never felt that I was behind anyone. I was always right marker (the one who leads a squad) for my squad in all parades. Girls should not let themselves be intimidated into thinking that they can't take physical strain."

The only thing she has not quite managed to perform is a maneuver in the hook ladder drill. "This drill involves lifting a ladder single-handedly in a prescribed manner. While the ladder is light enough to lift otherwise, this particular maneuver of lifting it is something I haven't quite managed. But I will get it right before the course is over." she declares, the glint of her steel showing. Kanhekar graduates by June end, 2005.

While she has enjoyed an excellent rapport with her batch-mates in the course, Kanhekar candidly admits that being the only girl in an all-male institution is not that easy. "Most of the guys were very supportive, and some became very good friends. But there are certain things that you just can't share with guys." Then there were other things. Fire service courses are all residential, but since there had been no women in the course before, there was no women's hostel in the campus.

Being a resident of Nagpur, Kanhekar was allowed to be a day scholar. "I was the first student who was allowed this liberty. But staying at home had its drawbacks. While the other students were free to consult the instructors at all times when doubts cropped up, I had to make endless phone calls to get my doubts cleared. Also, I really missed the advantage of group study, which was available to the other students. Sometimes, on the day of an exam, I would find that during the night, the others had found something we had missed earlier and studied it, while I hadn't."

During a campus recruitment drive earlier this year (2005), Kanhekar was selected by the Oil and Natural Gas Commission (ONGC) as a fire and security officer. "I found out that the ONGC has its own territorial army, and I am really looking forward to being selected for some real Army training," she says, her eyes gleaming with excitement.

And finally, what does it feel like, being the first female fire engineer in India? Kanhekar characteristically brushes this question off: "I don't think there is anything 'manly' or 'womanly' about a job. I am fortunate to have hit the number one spot, but frankly, all I am interested in is the fact that I am doing something I love."