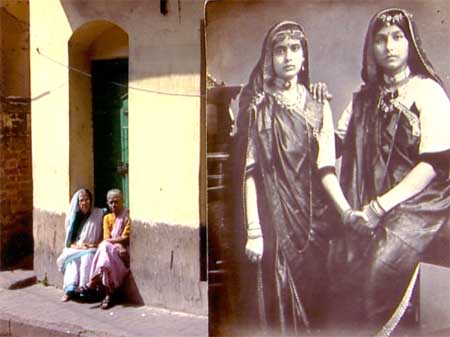 Picture a photo studio in Ahmedabad city: A young man brings his own photo, and one of his beloved, to get a combined photo of the couple. He sits by the computer photo-specialist, giving detailed instructions. His desires are specific: the two must be seen together in a garden full of red roses, in a quasi-embrace. This is not easy to achieve, from the two separate, stiff photo-figures. The studio owner innocently suggests that the couple simply come together for a joint photograph, to which the desperate lover answers, "Her parents don't let her out." He continues with a shy smile, "This photo she gave me personally."

Again, the same man makes another passionate request. "We must look like stars in the sky," requesting the studio technician to merge his picture along with his beloved against the background of the Taj Mahal. Both man and woman are reduced to a facial cutout by the studio photographer and enclosed in a five-pointed star. The man's fantasy comes true right in front of his passionate eyes!

Surrealism and humor are part of 'City of Photos', a documentary film by Nishtha Jain, who is in her 30s. The film is her personal journey into neighborhood photo studios in Indian cities. Through the film, we discover entire imaginary worlds in the tiniest of spaces as people share photo-fantasies, filled with romantic dreams and exuberant longings.

Yet, beneath the fun and games runs an undercurrent of foreboding: not everyone enjoys being photographed, nor are all photos taken on happy occasions. The city itself becomes a grim, gritty backdrop to the plush photo palaces.

The film is the outcome of a fellowship granted by the Bangalore-based India Foundation for the Arts. Part of their Arts Research and Documentation programme, the grant supported the idea of producing a film on studio portraiture in India that would explore the human and social dimensions of photographs, and the experience of being photographed. The documentary was recently screened at the Indian Habitat Centre in New Delhi.

"My interest in posed photographs goes back to childhood experiences of some of the more popular photographic practices. There were street photographers in Old Delhi, with their box cameras and black cloths, ready to create a picture of you with your favorite film star. And there were the fantasy cut-outs of fairgrounds, of Enfield mobikes and airplanes. I was equally intrigued by the quietness of old black-and-white photos hidden away in albums, and how, when these albums came out, eyes would grow bright and stories would be retold."

As Jain explains, "The simple portrait that is so much a part of our lives might appear, at first sight, too slight to warrant any search for deeper meanings. It seems to be a thing that is all surface, all transparent. There, one might say, the matter ends. For me, however, this is where it all begins - my journey to discover patterns, uses, histories."

Her film explores several such stories - the bread of memories leavened with a whiff of nostalgia. Often there is a touch of glamour too, for studio photography since its inception has been nothing if not a doorway to magic.

'City of Photos' is shot in two cities - Kolkata and Ahmedabad. Kolkata is redolent with the mystique of the past: a lady in purdah (veil), whose face must remain hidden even to the (male) photographer; families dressed to the hilt for photographs that are now archival material; backdrops of stately mansions, carved balustrades and curving soft sofas. Then there are the photos of monuments and public figures, bridges and grand events. In many ways, the city we know has actually been created by its photos.

Photo studios of Ahmedabad are located more firmly in the present, and reveal some of the darkest moments of contemporary India. We see a young photographer leave his well-ordered world of studio portraiture to embark into the outer, chaotic world. Stark reality, it turns out, is chaotic:
away from the shadowy spaces of the studio, the 2002 riots in Gujarat: that the photographer records. He shoots pictures of looted homes, desolate and devastated individuals - visual testimony to human violence, brutality and destruction.

Clearly, the film examines how photographs occupy an intriguing middle ground between truth and fiction. It seeks to deconstruct photos and photographic practices in terms of cultural influences, social aspirations and contexts, as well as individual fantasies.

Photo studios are part and parcel of urban landscapes and the urban dream - of achievement, upward mobility and high adventure. They might appear to be close to hard facts and harsh reality, yet they often approximate pure fantasy. Frequently, they represent a surrealistic combination of fact and fancy.

Jain's voice, as she takes us along on what is evidently a personally fulfilling journey for her, is full of curiosity, wonder, and the joy of sudden flashes of understanding. She relishes the humor or certain photographic situations, and notes the pathos inherent in others. Throughout, the journey is vibrant, pulsating with life - emanating from the seemingly lifeless prints that are her take-off points. Often the prints are faded, frayed at the edges, unfashionable or simply unfathomable. Yet there is never a dull moment. Not for an instant does our interest flag, as we traverse the by lanes of this `city of photos'.

Then there is the new kind of backdrop Jain discovers in studio after studio: the chaos of the outer world reflected even in these rarefied interiors. While some people still want a beautiful park or the grandiose Taj Mahal as backdrop to their personal portraits, others now prefer tragedy as the background. Thus, we have the blazing twin towers of 9/11; or a massive train accident in Bihar, with dozens of bodies strewn around; or a cyclonic storm hitting coastal Orissa....

Imagine ordinary children, women and men dressed up in their Sunday best, posing in front of a scene of such catastrophe. Does this representation of their individual selves lift them out of anonymity, making something extraordinarily adventurous out of the raw material of their mundane lives? Does it give them a sense of triumph that they have survived, in a world where thousands are being killed like flies?

A photograph is, after all, a moment in time, frozen `forever'. It is the breath of immortality: a hint that we can outlast our own deaths.

Signs and symbols that evoke whole worlds, hoary with age yet resplendent with contemporary meaning, the 'City of Photos' is a source of delight, edification, entertainment and a powerful commentary on the way we are.