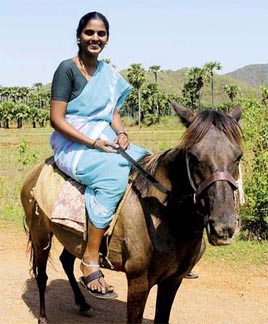 Nadipudi Ratna Kumari is known as the "lady on the horse" - well, technically, on a mule - throughout the tribal belt of the East Godavari district in Andhra Pradesh. Everyday, Kumari, 30-plus, and her trusty steed cross 15 km of hard terrain - over hills, valleys and through a forest - in the Rampachodavaram tribal belt to get to Dabbavalasa, a small tribal hamlet with a population of 309.

For the past 15 years, Kumari has been an anganwadi (childcare centre) worker with the Central government's Integrated Child Development Scheme (ICDS), and her job involves awareness-generation among women in Dabbavalasa on health issues and providing children with a basic education.

An anganwadi is the focal point for delivery of services at the community level to children below six years of age, pregnant women, nursing mothers and adolescent girls. The anganwadi also serves as a meeting place for women's groups, promoting awareness and joint action for child development and women's empowerment.

For the women and children of this tribal hamlet, Kumari is the face of the ICDS. Her work fetches her a monthly salary of Rs 1,000 (1US$=Rs 44).

In the beginning, Kumari used to walk the 15 km from her village (Pedageddada in Rampachodavaram mandal) to her workplace. The area is poorly developed and there are no buses or other mode of transport connecting the village and the hamlet. About nine years ago, Kumari went through a tubectomy following the birth of her third child, and found that she was too weak to walk. Her husband was unemployed at that time and it became doubly important that she hold on to her job.

This is when her husband, Parvatha Reddy, came up with the idea of travelling on a mule. He even offered to teach her how to ride. The couple put their savings together and bought a one-and-a-half year-old mule at the local weekly market, where one can buy anything from vegetables to livestock and mules.

"Initially, I found it difficult. Not only did I have to learn how to ride the mule, but also how to negotiate the animal through this rough terrain. With practice, I am better at it," Kumari says. There was another factor, though: embarrassment. Women, or even men, in her region do not ride horses or mules. Kumari recalls, "Initially, it was slightly embarrassing for me - a lone woman, dressed in a sari, mounted on a horse. But I got used to people staring and they got used to seeing me." An independence of spirit, she believes, helped her tide through the initial days.

Kumari sets out from home at about 7.30 am and reaches Dabbavalasa in about an hour. She spends a good part of the next eight hours giving healthcare tips to women, teaching them about hygiene and nutrition, particularly nutrition for pregnant women. She also spends some hours teaching children the three Rs - reading, writing and arithmetic. About 4 pm, she begins her long trek home.

Has Kumari encountered wild animals or other threats in her journey across the jungle? She confesses, "I have occasionally come across wild boars, and once, I came face-to-face with a bear. Initially, I was terrified and would stop; but over time, I learnt that it is best to move on slowly because animals smell fear. Someone told me they had spotted a tiger; thankfully, I have not!"

Kumari says that she fought her fear because she both wants to and needs to continue working. "I have now picked up some self-defence tips. When I encounter an aggressive animal, I just climb up a tree, wait for the animal to go, and then remount my mule."

And is she a modern-day crusader, struggling to better the lives of others? "No, my sole aim is to make a living with whatever skills I have." Kumari's husband has now moved to another village some distance away. "Ever since he got a government job, he does not care for me and the children. It is now even more crucial for me to continue working to bring up my children." Her children go to a local school and fend for themselves while their mother is away. "My mother lives in my village, so she keeps an eye on them," Kumari says.

In April (2005), Chief Minister Y S Rajasekhara Reddy felicitated Kumari for her courage and persistence and offered her a reward of Rs 50,000. She does not want to use the money to set up a small business in her own village. "I want to continue doing what I do now," she says. In fact, with her education - she has studied up to Class 8 - Kumari could have sought other employment avenues, perhaps with more pay. She asserts, though: "I like what I do. It gives me a sense of accomplishment when I educate other women about health."