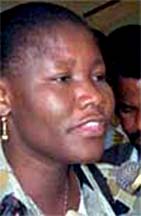 For the first time in Zambian political history, a woman - Edith Zewelani Nawakwi - has been elected president of a political party. Nawakwi, 46, heads the Forum for Democratic Development (FDD), one of the three main opposition parties. In a fiercely-contested election at the recent party convention, she beat three male colleagues to make the post.

Until her election as president, Nawakwi was vice-president of the party and a member of Parliament. A businesswoman and farmer, she holds a degree in economics and business management and a post-graduate diploma in the economics of energy and development. A mother of five children, Nawakwi describes herself as "a woman who works for her living".

Nawakwi entered the Zambian political scene in the early 1990s, when multi-party politics was re-established after 17 years. She joined the Movement for Multi-party Democracy (MMD), which defeated the then-ruling United National Independence Party (UNIP). She contested and won the election from her home constituency in the northern part of the country. This victory opened doors for her to ministerial positions in key ministries - labour and social services, energy and water development, agriculture and rural development, and finance and development.

A decade later, though, she was disillusioned. She left with half the cabinet ministers to form the FDD over a serious disagreement with then president Frederick Chiluba on a constitutional issue. Nawakwi has, in her many years in politics, earned a reputation as an outstanding woman with integrity, who is forceful and speaks with authority. She has no time for people who raise petty issues about her marital status (her husband has taken another wife) or her gender. "I don't dwell on these things because they only serve to demoralize me and curb my creative potential. I like to be positive," she says.

She points out that the debate around women leaders is always focused on their personal life, not the issue of their qualifications and capabilities. She is proud of her record as someone who can deliver. "As finance minister, I negotiated billions of dollars for Zambia at the International Monetary Fund and World Bank, and faced creditor countries and persuaded them to write down our debt."

Zambia, she says, is ready for a woman leader, even if some individual Zambians aren't. She is all set to join the presidential contenders in next year's general elections. "When women are given the room to do a job, they do it with excellence and perfection. When the country comes to realize that women can deliver better than men, men will have not a chance in the State House," she says. Africa has had women leaders, she says, citing the example of Grace Majuru, Vice-president of Zimbabwe. What are the main issues her party plans to focus on? Nawakwi singles out poverty as the most pressing problem in the country and says that her party's primary vision is to create a poverty-free Zambia, where people are in charge of their development. The country is, at present, not free with the international community in charge of development, she says.

Nawakwi envisions a decentralized system of governance. Her government's first budget will be district-based, with people governing themselves. She explains that the suffocating influence of Central administration does not leave room for development because the players are invisible. "We have to dismantle the system that centralizes power."

There is much jubilation around Nawakwi's election among women's activists and politicians. Women's organizations - like the Non-Government Organization Coordinating Committee (NGO-CC), Women for Change and the National Women's Lobby Group - have long been bemoaning the absence of women in key leadership positions in both politics and government. In spite of the government's adoption of various international declarations on gender parity, Zambia is far from achieving 30 per cent share of women in decision-making by the end of the year (as agreed in the SADC Southern African Development Community (SADC) Declaration.

During the 2001 presidential elections, there were two women aspirants - Inonge Mbikusita Lewanika, now Zambia's ambassador to the United States and Gwendolyn Konie, a lawyer - both nominated members of the House, and both of whom faired poorly. Analysts say that they did not receive adequate support from their party because they were not popularly elected and their colleagues felt they had been imposed on them.

Nawakwi's election, on the other hand, has been widely welcomed as is evidenced by the numerous congratulatory messages and press comments she has received since her election. "We are proud of you and are assured that now, the women of Zambia will go a long way in attaining positions of decision-making at all levels and, more importantly, within the party structures. The time has come for women to take their rightful positions, including that of presidency," the NGO-CC says.

Swedish Ambassador to Zambia Christina Rehlen looks to the future: "I firmly believe that the country can turn around with a female president. If countries like India, Sri Lanka and even Britain had female prime ministers, why not in Africa?" Lumba Siyanga, director, Women for Change agrees. She says that it is now time for women to take action, and that there is a need for more women in leadership positions as the fight for women's empowerment and gender equality continues.

Nawakwi's predecessor, Christon Tembo, who did not contest for the position, sent in her congratulations: "My successor has an intelligent personality second to none. She has the ability to fulfil our party's dream because of her accomplished grassroots-based skill." The new vice-president of FDD, prominent lawyer Chifumu Banda, is confident that Nawakwi has the credentials and experience necessary to propel the Zambian people to greater economic, social and political emancipation. Meanwhile, women's activists and sympathizers watch the run-up to next year's elections with bated breath.