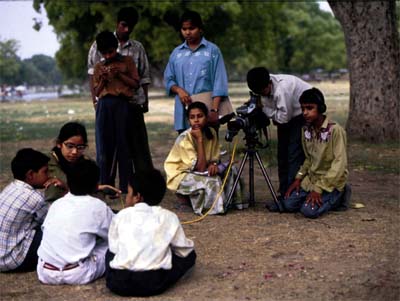 Koppal and Raichur districts of Karnataka have one thing in common with all districts of India - a population that is not respected and often looked down upon as a liability by society, a population that is forced to live a life of tears.

These, in effect, are the opening words of a 10-minute documentary on disability. It examines the stigma and indifference with which families and communities regard disabled children, often leaving small girls like Nagamma to wander through the village till their parents come home from the fields, or locking up adolescent girls like Radhama to prevent them from being abused.

Although the theme is not new, it is handled with a distinct clarity and sensitivity. That children have made the film and narrated it, underlines the seriousness with which today's 12- to 18-year age group views issues impacting their lives such as disability, illiteracy, child labor, sexual exploitation and child marriage.

'A Life of Tears' tells the story of young Nagamma, who is left at home for long hours every day while her parents and siblings leave for work and school. Her parents do leave behind food for the mentally challenged girl with their neighbors, but the latter often forget to feed her. While the whole village is her playground today, when she attains adolescence her parents will lock her up at home as does Radhama's mother.

Earlier, Radhama would roam about the village and follow anyone who offered her food. Once a man lured her to his house on the pretext of giving her something to eat and upon reaching there, he raped her. Radhama became pregnant and subsequently delivered a still-born baby. The incident left her mother shaken and now she won't let her daughter out of her sight, keeping her locked indoors.

The documentary moves on to the touching and inspiring story of Yellappa, an adolescent lad who, despite wearing a brace on his left leg, regularly attends school. He ignores the constant jeering and discrimination of teachers and peers alike in the hope of getting an education and building a future for himself.

If the bus does not come, Yellappa has to trudge eight km to school and when he gets there, the other children don't let him play with them. "They don't call us by our names, but by our disability. When we fall down, they laugh at us. I feel very humiliated," he recounts. Incidents such as these as well as the absence of ramps and toilets dissuade many disabled children from attending school, he adds.

Yellappa's parents feel it is useless to spend money on his education because he is handicapped, but the boy works on the weekends and during the summer holidays so he can stay on in school. "I told them I would work and take care of my own expenses, but would not leave my studies. I have saved money for my tuition fees, books and uniform," he says firmly.

The short documentary does not attempt to analyze or give sermons. It simply presents the story of these children and concludes with the simple message that discrimination for them begins at home and that this is the place where perceptions must change.

Another interesting experiment in film by children of a south Delhi resettlement colony - using animation - investigates children's need to have accurate information on safe sex so that HIV/AIDS can be prevented.

An 11-minute film, 'A Misguided Life' begins with children watching a TV advertisement for birth control pills. When they ask their mother what the pills are for, she declines to answer. And when their older brother Sumit, the main protagonist, returns home from work, he also refuses to tell them until he recalls what happened when he was younger. Sumit was also not informed about the changes his body was going through during adolescence - first his father refused to explain and then his teacher skipped the relevant chapter in the textbook.

Uncomfortable with the natural sexual desires he felt, Sumit sought to satisfy them first with younger boys and then with sex workers. Subsequently, he was diagnosed as having contracted a sexually transmitted disease (STD). The doctor told him he was very lucky not to have been infected with HIV, and counselled him on safe sex practices. Sumit recollects all this and decides to inform his young siblings about sexual desires and safe sex so they don't make the same mistakes that he did.

About 20 children from Badarpur and Sangam Vihar in south Delhi were involved in the making of 'A Misguided Life', says Umesh, program officer with Community Aids Sponsorship Program (CASP), a local NGO which promotes awareness on children's issues and has coordinated the production of the documentary.

The objective of the films prepared by children is to give them a platform to raise and discuss issues that concern them, says Umesh. For Nirmala and Meenakshi, for instance, 'A Misguided Life' raises relevant adolescent concerns about sex and sexuality. Meenkashi, 17, has been associated with CASP for 3 years now and is a member of its Bal Panchayat (children's council) which meets regularly to discuss children's issues. She has also been involved in making documentaries on child labour and early marriage. Her endeavor has impressed her father, a peon with a private firm, who now encourages his daughter to participate in such activities.

Nirmala, 18, recalls her hesitation in the beginning as people in her locality made fun of her when she went around with her camera. "But now both parents and children are concerned with the adverse effects of the media and are more open to discussing sensitive issues," she remarks.

The two documentaries are part of a larger media development project aimed at providing opportunities to young people to create short video films and animation films on issues impacting their lives. Since its inception in 1999 by Plan India, a Delhi-based NGO, the project 'Children Have Something to Say', (funded by Plan, Netherlands), has given children an opportunity to deliberate on various issues. These include education, dowry, female feticide, traditional practices, substance abuse, trafficking, HIV/AIDS, domestic violence and sexual exploitation.

The two films were among several prepared by children which were screened in Delhi recently. The project, involving over 300 children in the 12-18 age group from 13 organizations across seven states has yielded 40 documentaries so far, says Nidhi Pundhir, project coordinator of Plan India.

"The films are a vehicle to promote child participation and equip them on how to articulate their rights and influence decision-making in the community vis-a-vis the issues that affect them," observes Pundhir. More importantly, the children learn that they too have a voice that should be heard and respected.