Narayan Shridhar Bendre was born in 1910 in Indore. He got his early art education in the State Art School, Indore. Later he obtained his Government Diploma in Art from Bombay in 1933. Being an enthusiastic traveler he visited many places and captured them on his canvas throughout his career, often with different stylistic means. His initial interests were conditioned by the quasi-mode-mist landscape painting of Indore School. Later his favorite subjects were landscapes and portraits in oils and gouache. He experimented with cubist, expressionist and abstract tendencies. The result of this was his work "Thorn" which won National in 1955. He combined European modernism with Indian formal thematic reflection in his work with a touch of elegance.
In 1945 he stayed in Shantiniketan as an artist with Nandalal Bose, Ram Kinkar Baij, Binod Behari Mukherjee. In 1948 he left for New York where he exhibited his work in Windermere Gallery. On his way back to India he traveled through Europe and came across the work of European modern artists. He visited West Asia and London in 1958, the USA and Japan in 1962.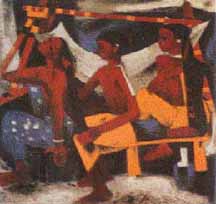 From 1950, to 1066 He served in the Department of Paintings in Faculty of Fine Arts, Baroda and left it when he was a Dean. He continued to paint till he passed away in February 18th ,1992.
His early recognition came with the Silver Medal from the Bombay Art Society in 1934, followed by the then ultimate honour of the Gold Medal in 1941. He was awarded Padmashri in 1969. He was elected the Chairman of the International Jury at the Second Triennale in New Delhi in 1971 and a fellow of the Lalit Kala Academy in 1974. He obtained the Aban-Gagan Award from Viswa Bharati University in 1984, and the Kalidas Samman in 1984.