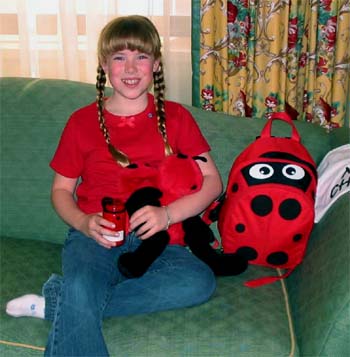 The elite Empire Club in Toronto invites speakers of tall stature to address its members. This one, on April 21, 2005, was no exception. Only, special arrangements had to be made. Nine-year-old Hannah Taylor stood on a trunk so that the assembled audience could see her.

The gathering that included corporate bigwigs was visibly moved as the pint-sized advocate for the homeless spread her simple message: People need to share more and be kinder to the less fortunate, she said in a soft but firm voice. The youngest-ever speaker in the club's history, Hannah was on a platform that has been graced in the past by world leaders such as Winston Churchill, the Dalai Lama and Margaret Thatcher. There was obviously a reason for this Grade 3 student to be invited here. In the past four years, Hannah's Ladybug Foundation has raised almost half a million Canadian dollars to fund projects for the homeless.

What started as an effort by Hannah in her classroom at school has now expanded to a formal organization with a wide network of supporters and volunteers. This girl with an impish smile has made many people reach into their pockets. And whether it is addressing children her age or people closer in age to her grandparents - at schools or political and corporate functions - she speaks with confidence, charm and wit.

At the Empire Club, an often-repeated question was put to her - will she stop what she is doing? Hannah's response: "No. I will always help and I'll always care, even when I'm 90." As the audience laughed, she added, "I knew you would like that."

Although her parents help her out with her speeches, the ideas are always hers. Asked if she is ever daunted by the stature of the people she is addressing, the answer is an emphatic no. Nor is she nervous. She remembers being a bit nervous when she made her first public speech at the age of six and says, "It took a little while to make me not nervous because I get very excited; but now I am calmer."

The third of Bruce and Colleen Taylor's four children, Hannah's life is a privileged one. She studies at an elite private school and lives in an exclusive suburb in Winnipeg. But none of that has filtered her approach or attitude towards the less fortunate. She was just five years old when she spotted a man eating from a garbage bin. It is a sight most people do not even register, but Hannah did and asked her mother why he had no food.

"For a whole year she said, 'Mommy, where's he eating? Where's he sleeping? Who loves him? Who cares for him?'" recalls Hannah's mother. The question, Colleen Taylor admits, was discomfiting because she did not know what to do about it. However, in the face of her daughter's persistence she told Hannah that doing something to help the homeless might make her feel less sad.

So Hannah decided to tell her Grade 1 class about the problem, and wrote her first speech at age six. She then appealed to her teachers, classmates, friends and family members and began collecting spare coins in 'ladybug' jars - made out of baby-food bottles and painted red and black like ladybugs. The reason for choosing ladybug as a mascot was because "it means luck". Those jars, to "make change" for the homeless, were the start of the Ladybug Foundation, which raises money for charities that help homeless people.

Fortunately, Hannah's confidence and drive has not impacted the child in her. The moment any question is directed at her mother during the interview, she puts away the ladybug soft toy she has been cuddling all along, to slip away and do her own thing - whether it is rummaging through the drawers or to toy with her skipping rope. Like many privileged children of her age, she loves to draw, ride horses and go to school. At the same time, she is a trifle disappointed that her speaking engagements are not busy enough for her to "skip as much school" as she wants to!

In the past three years, she has addressed audiences as large as 16,000 and as high-ranking as Canada's Prime Minister Paul Martin. Everywhere she goes, Hannah makes reference to what is an important fact in her perception - "I know some people are afraid of homeless people." But, she continues, "They are great people wrapped in old clothes, with sad hearts. Don't be afraid of them, be kind to them. If they're cold, share your mitts. If they're sad, give them a smile. If they're hungry, give them a sandwich."

She readily admits to being scared in the initial days. Asked what kept her going, she ponders briefly and says, "I do not know, their smiles I guess. I like to make them happy." One of her homeless friends is Rick, who frequents a shelter in Winnipeg. "He is a beautiful person," says Hannah, "and when I met him he cried. I asked him why, and he said because I was hugging him and looking at him and talking to him. He said they were happy tears."

When people refuse to give help it does not hurt Hannah as much as it confuses her because, she says, "it is so easy to love them". She is convinced most are good people who have just fallen on bad times and need to be helped. And even if they have brought the situation upon themselves due to substance abuse, her thoughtful response is, "It does not exactly matter. It just matters how you act and they are good people. They need our love."

During her visit to Toronto, Hannah wanted to track down a homeless friend she had met two years ago. She had her lawyer-father take out time during his business visits to the city, to find him. And he did. This time, Hannah says, she would meet him with a sandwich, a drink and a sweater to keep him warm.

"She's a very determined, stubborn child," says her mother who is proud of her daughter's perseverance and highly appreciative of the support that has come from various quarters for the Ladybug Foundation. Taylor says she and her husband are careful to teach Hannah about the darker side of homelessness and let her know that many battle substance abuse problems.

They also shield Hannah from watching or reading the reports on television and in newspapers that result from her frequent interviews. "The danger is that she could get caught up in what people think of her.... I just think it might make her nervous, might make her think, 'Is this about what I have to say or who I am?"

The nine-year-old has a heart problem, an inoperable condition that was discovered at birth, but she does not let that slow her efforts. The girl who describes herself as "just a normal kid with a passion", says she does not know how she makes a difference in the lives of the homeless. When pressed, she says, "I hope I am bringing them at least some hope."