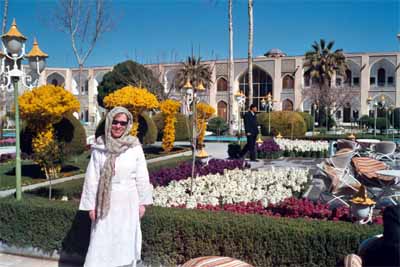 Such was the splendor and importance of the central Iranian city of Isfahan, Persia's ancient capital, that it was regarded as "half the world". Today, it could claim to be half a world away from many Western people's lives. That in no way detracts from its beauty, which endures in the form of magnificent blue-tiled mosques and distinctive, pale stone bridges arching over the shallow, muddy Zayandeh Rud river.

The city's centrepiece is Imam Square, once a polo pitch for the rich and powerful, and whose huge size is variously described as twice as big as Moscow's Red Square and second only to China's Tiananmen Square. It is bordered by two exceptional mosques, a palace and Isfahan's Great Bazaar - a significant trading centre in Isfahan's heyday and still abuzz with sellers of carpets, tiles, marquetry, spices and jewellery. The contrast with the serenity of the mosques is profoundly satisfying.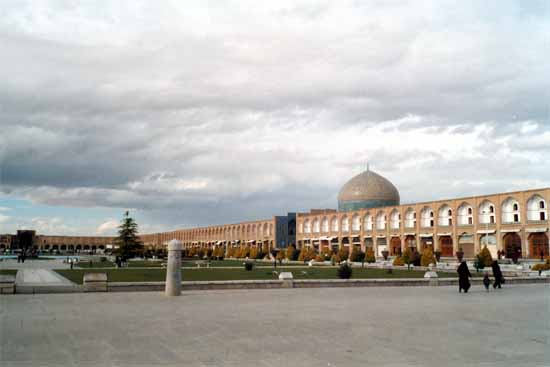 In March 2005, as proud host to a meeting of oil producers' cartel, the Organisation of the Petroleum Exporting Countries (OPEC), Iran decided Isfahan would be a fitting venue. Sky-high oil prices - and the fact this was to be the first time OPEC member Iran had hosted one of the cartel's regular meetings since 1971 - added to the interest of the story, and as an energy correspondent of an international news agency, I was despatched to cover it.

I was dimly aware my usual wardrobe would not suffice for this trip, but it took time for me to realise I wouldn't even be able to eat my breakfast in public without wearing the hijab (headscarf). Equally, I was incredulous when my first attempts to get a visa were rebuffed because I was not wearing a headscarf in the passport photograph I submitted. I was in London at the time and yet I was already subject to the Iranian law that all adult women must adhere to the hijab dress code - that is, cover their hair and their body-shape whenever in public.

This was only the beginning of a gradual realisation of what Iran is really like and I am sure that after only a week in Iran, my learning process has barely begun.

The abiding impression is that under the relatively relaxed regime established by the pro-reformist President Mohammad Khatami - on whom many women had pinned their hopes for change - rules have been bent but not broken, and appalling punishments remain on the statute books.

The tension between what you can and cannot get away with is palpable. Iran's feisty young women wear the hijab as creatively as they can, but they all wear it. Wisps of hair peek out from artfully-arranged headscarves and make up and jewellery abound. Black still predominates - especially in conservative Isfahan, where many women still wear the all-enveloping chador (an outer garment worn by women, with or without a veil) - but is no longer essential. Some 400 km of mountain and desert away, in today's capital Tehran, pink is the in colour, perhaps because of its rebellious status as the closest thing to red. That, my guidebook tells me, is the one colour you really should not wear because it is associated with the enemy of the holy martyr Imam Hossein.

The only place where I saw a woman take off her coat to reveal a tight-fitting T-shirt was in a tea-house tucked away near the bazaar in Isfahan and she was a foreign visitor, whose risk of punishment was probably minimal compared with that for Iranian women. The tea-house was theoretically for men only, but women and men smoked the hubble-bubble (hookah) together. The atmosphere was relaxed and bohemian as the sound of shoppers buying presents for Naruz (Iranian New Year) drifted in from the bazaar.

An Iranian friend told me that smoking together is a relatively minor offence and an apology to the religious authorities would probably be enough to absolve anyone who is caught. Not wearing the hijab is viewed far more seriously as a breach of Islamic law and is punishable by lashing.

Some feminists have argued that the virtue of the hijab is that it prevents women from being treated as sex objects. The argument is weakened by the fact that Iranian women are given no choice and, even if not considered sex objects, they are hardly treated as equals to men. As a journalist, trying to compete with more practically-dressed men, I felt disadvantaged as I struggled to hold on to my headscarf while chasing after oil ministers and dictating news bulletins down my mobile phone.

To me, a more convincing benefit of the hijab and attendant segregation is the solidarity it engenders. The minute I arrived, women were helping me to wear my headscarf in the best way. Another foreign journalist in our group told me a woman assistant in a gift shop had adjusted her makeup for her and made it look far better, something that would only happen in Britain if someone were trying to sell you the latest cosmetics range.

The rules on male and female public contact - and also female solidarity - evaporated during a press conference called by Khatami as unruly members of the press scrum, male and female alike, jostled each other. It was a woman photographer, with dyed blonde hair showing from beneath her headscarf, who thrust me most violently out of her way. The excitement was all for very little news. Following the opening prayer, Khatami reiterated his well-rehearsed line that there was no possible incentive the United States could offer to make him abandon his country's purportedly peaceful nuclear programme. The mild-mannered President then greeted foreign press visitors with the greatest charm.

Journalism was once seen in Iran as providing good career prospects for educated Iranian women contending with high unemployment and a male-dominated workforce, but authorities cracked down on it, including banning Zan, the feminist publication of former president Rafsanjani's daughter, at the end of the 1990s. Khatami, reportedly to keep the peace, and because of his limited executive power, has failed to reverse press restrictions.

Khatami will step down in June 2005, according to the Islamic republic's Constitution, which bars the head of state from serving more than two consecutive terms. Opinion polls have found Akbar Hashemi-Rafsanjani the favourite to get back in. The 70-year-old, once considered progressive, but regarded as having since moved closer to the conservatives, has yet to declare formally that he will stand.

Whoever wins, the implications for Iranian women remain to be seen. Although criticised for failing to usher in promised reforms in the face of opposition from hardline conservatives, Khatami has nevertheless established a relative degree of social freedom. Many believe that will survive because the authorities, however conservative, are wary of triggering mass discontent.