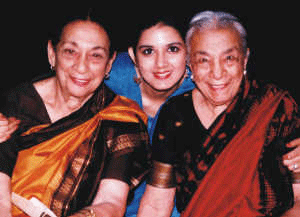 "The wind blew gently in the faces of the two sisters as they sat on the swing tied to the branches of a tree...the irate gardener chased them out of the mango orchard where they had gone to steal mangoes... singing and dancing in the rain without bothering about what people would say..." When veteran Indian theatre and film actor Zohra Segal, 93, reminiscences about her carefree childhood spent in undivided India along with her younger sister (played by Segal's younger sister Uzra Butt) in the play `Aik Thee Nani', it transports the audience to the nostalgic days of an era gone by.

When Segal asks in the play: "Could a border, demarcating physical boundaries between two countries, drawn by politicians, divide hearts or replace love with suspicion and hate?", tears roll down the face of her younger sister, who had migrated to Pakistan in 1947. Each time the play is performed, tears roll down the faces of many in the audience watching the sisters in this emotional moment.

"The tremendous emotional response to `Aik Thee Nani' (A Granny for all Seasons), a play underpinning the yearning between the people of India and Pakistan to live in peace and harmony, reflects the mood of the people. They are against the politics of hate and obscurantism. They want friendship and love," said Madeeha Gauhar, director of the play, at its recent performance in Delhi. The performances in Delhi and Jaipur were organised by the NGO, SANGAT. SANGAT chose this play, as part of its people-to-people initiative (between India and Pakistan), because of its cast and portrayal of the hopes of people of the two countries.

Staged to a packed audience, `Aki Thee Nani' narrates the story of two sisters separated by the partition of India. The role of the sister who stays back in India was essayed by Segal, while her younger sister, renowned Pakistani actor, Butt, 88, plays the role of the one who migrated with her husband to Pakistan. In reality too, after Partition, Segal remained in India while Butt left for Pakistan.

Born in Saharanpur, Uttar Pradesh, India, Segal graduated from Queen Mary's College in Lahore in 1929. She and Butt were, by the late 1930s, renowned in India for combining classical dance with acting. Segal's acting career (in films and theatre) has spanned over six decades internationally. Butt, for long, has been associated with Ajoka, a theatre group for social change set up in 1983 in Pakistan. Ajoka has collaborated with theatre activists from other countries of South Asia, particularly India.

`Aik Thee Nani' was first staged in 1993. This was the first time the two sisters had come together on stage after Partition. The play talks about the shared history of the people of India and Pakistan, their common destiny and their friendship.

The success of `Aik Thee Nani' stems from its deft weaving of fact and fiction to underline the change in the lives of those who opted for Pakistan. The play is focussed on Pakistan and critiques the prevailing social norms that deny women their space and freedom in the country.

In the play, when Segal comes to visit her granddaughter in Lahore, she notices changes in her sister, who also happens to be the paternal grandmother (daadi) of the same girl. She is amazed to find her sister keen to marry off her young granddaughter against her wishes. The granddaughter wants to fulfil her dreams of acting but is afraid to express her wishes. She knows her daadi would never allow her to be an actor because it was not considered the right profession for girls from respectable Muslim families.

However, she finds an ally in Segal, her nani (maternal grandmother). Segal is, in fact, delighted that her granddaughter wants to be an actor and show the world her talent, just like she had wanted to and had done in her youth. Determined to help her realise her dreams, Segal decides that unless her granddaughter learns music and dance, she would not be a complete performer. So, she arranges for music classes and herself begins to secretly teach dance to her granddaughter. She inducts the family maid and her granddaughter's tutor in this secret mission.

Simultaneously, Segal tries to remind her sister of the liberal progressive-minded person she had been before migrating to Pakistan. But Butt does not want to talk of the days of yore. Neither does she wants to be reminded of the heady days when the two sisters performed on stage together in undivided India.

Yet, Butt hasn't really forgotten those days. Pakistani playwright Shahid Nadeem brings out Butt's suppressed longing in a sequence where she enacts a dramatic scene from a popular play, in her dreams.

Just when it seems that Segal and her `conspirators' will succeed in achieving their goal, they are caught out by the man who is supposed to marry the granddaughter. Here, director Gauhar uses her protagonist to question the existence of double standards that allow men to wear fashionable clothes and visit discotheques but prevent women from performing on stage.

"During the process of reinventing our identities as Pakistanis, the performing arts were the obvious targets of obscurantist policy makers and ideologies. This bias against the alleged `un-Islamic' artistic expression permeated into social norms and values. Consequently, it became almost impossible for women performers to gain acceptance in such a conservative society," stated Gauhar.

But just like Gauhar and many other women resisted social norms and customs to follow their dreams, Butt, the antagonist in the play realises her mistake in succumbing to social pressures. She allows her granddaughter to pursue acting and promises to return to being her old self - that of a progressive and open-minded person.

Although the play reflects life in Pakistan, it could well be life in India. Obscurants here have, in the recent past, tried to rewrite history and initiate a process of ethnic cleansing like their counterparts across the border. The resumption of the peace process and the interaction between the people of the two countries through the performing arts and other activities underscores the desire of the people of two countries to live like a happy family, even if it means staying in adjoining houses.