The Water Baby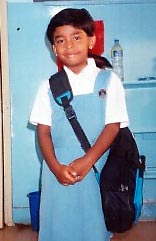 Ever since Sanika Todankar was a baby she had a fascination with water. She loved playing with the water relentlessly when her mother would give her a bath. During the Ganapati immersions she would linger on in the sea waves. She would love to get wet in the rains. Little did Sanika�s parents know that their daughter�s love for water was far more than a passing fancy. When a four-year-old Sanika was admitted to Mahatma Gandhi Swimming Pool by her parents in an effort to de-addict her from watching cartoons on TV, she amazed her coach Vinod Parulekar by becoming an adept swimmer just in a month�s time. When Sanika would swim on for seven to twelve hours at a stretch, her coach was awed by her stamina. Soon Vinod knew that there was a champion in her. He trained her to excel in long distance swimming. Barely a year after Sanika had learnt swimming she created a record by being the youngest girl in Maharashtra to swim 36-km stretch of the Arabian Sea from the Dharamtar Jetty to the Gateway of India within 12 hours (11 hours 51 minutes) on 17th March 2005. She was just 5 years 11 months old.

Sanika who has recently turned six smiles shyly perplexed at all the media attention and felicitations. When asked if swimming for almost 12 hours battling the waves scared her she answers, �In fact it was quite fun. The most enjoyable parts were when I was being given Tang and chocolates while swimming.� Sanika had said a little prayer and put a coconut in the water before the swim. She dove into the water at 3:45 am when it was still dark. Sanika swam in freestyle through the waters sometimes calm and sometimes choppy, sometimes chilling cold and sometimes warm, sometimes against the tide and sometimes with the tide. At 3:34 pm she reached the Gateway of India to be greeted by an exuberant crowd of friends, teachers and relatives. An observer from the Maharashtra State Amateur Aquatic Association monitored the swim.

Sanika had prepared for this big event by practising regularly at the sea at Dahanu (situated near the border of Gujarat and Maharashtra). On February 24th she had swum 12 kms from the Elephanta Caves to the Gateway of India in 4 hours 32 minutes.

Sanika comes from a humble household. Her father Sandeep runs a small transport business. Her mother Samruddhi is a housewife. Sanika�s family and her uncle�s family share a one-room-kitchen apartment in Prabhadevi�s Adarsh Nagar. Her parents have always been encouraging and supportive both in her swimming feats and academics without being pushy. They have gone out of their way to fund their daughter�s swimming.

Sanika�s school, Adarsh English School has been another major source of support. Her Principal G.Saudamini Rao has made special arrangements for her to take her examinations separately so that they don�t coincide with her swimming events. Saudamani says, �Sanika has indeed made our school proud. Staff members were there to greet her at the Gateway of India. We were surprised to see that she was so energetic even after the long swim. She didn�t have to lie down or rest at all. We arranged a horse carriage ride for her with the accompaniment of the music of the school band to celebrate her victory. She was garlanded and we decorated the whole school with flowers and rangoli.� Sanika�s school has given her a cash reward of Rs 5000 and has granted her full scholarship as long as she is in the primary section. Saudamani says, �Sanika is an excellent student too and can draw very well.�

Sanika�s coach Vinod has high hopes for her. He plans to train her intensively so that next year, she can cover double the distance she has already covered. Will that accomplishment double Sanika�s fame and happiness? Will she grow up to be India�s next Bula Choudhury? It�s all for us to wait and see.
01-May-2005
More by : Pallavi Bhattacharya
---