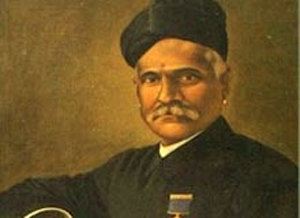 Raja Ravi Varma was born on April 29, 1848 at Kilimanoor, a small town in Kerala. As a boy of five, he filled the walls of his house with pictures of animals and illustrations from everyday life. His uncle the artist Raja Raja Varma recognized his talents and gave him elementary art lessons. He was taken to Thiruvananthapuram in his fourteenth year to stay in the royal palace and learn oil painting. During these formative years the young Ravi Varma had many opportunities to discover and learn new techniques and media in the field of painting. His later years spent in Mysore, Baroda ad other parts of the country enabled him to sharpen and expand his skills and blossom into a mature and complete painter.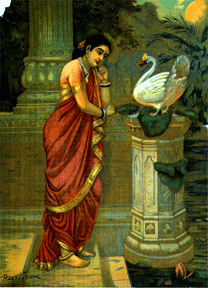 The glittering career of Raja Ravi Varma is a striking case study of academic art in India. In the year following his death, the 'Modern Review' described him as the greatest artist of modern India, a national builder who showed the moral courage of a gifted 'high-born' in taking up the 'degrading profession of painting'. He was courted assiduously by the British Empire as well as by the Indian Maharajas. His less expensive prints of his Hindu deities hung in every home.
Raja Ravi Varma owed his success to a systematic training, first in the traditional art of Thanjavoor, and then in European art. His paintings can be broadly classified into
1. Portraits,
2. Portrait-based compositions,
3. Theatrical compositions based on myths and legends.
Though the artist's immense popularity lay in the third category, the first two types of works prove his merit as an exceedingly sensitive and competent artist. No other painter till today has been able to supersede Ravi Varma in portraiture in the oil medium.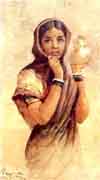 Ravi Varma is considered as modern among traditionalists and a rationalist among moderns. He provided a vital link between the traditional Indian art and the contemporary, between the Thanjavoor School and Western Academic realism. He brought Indian painting to the attention of the larger world.
Raja Ravi Varma breathed his last on 2nd October 1906.