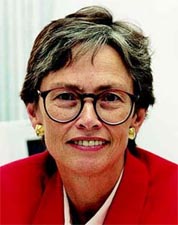 Carol Bellamy, Executive Director (ED) of UNICEF, steps down on April 30, 2005. In an interview with Rong Jiaojiao, she talks about her experiences as ED of UNICEF for 10 years, and of working as a leading advocate for the world's children.

Q: What do you think of your work as the Executive Director of UNICEF?

A: It is the best job in the world. For me, there is nothing more fun and challenging than being an advocate for children. There are obviously many people working for children, but as the children's agency of the UN, UNICEF involves so many parts of the world - 158 different countries. That has given me the opportunity to fight for kids, to work with kids, to meet people who are powerful or who are not so powerful but still strong in their community. One could experience almost unimaginably different experiences.

Q: What kind of joy do you get in being an advocate for children?

A: The joy of being an advocate for children is seeing positive changes, the joy is seeing girls going back to school in Afghanistan. The joy is seeing children who have been forced to fight in the war in Sudan be returned to family; seeing girls who drop out of school to take care of their parents (who live with HIV/AIDS), go back to school again. The joy is seeing the success of the children's movement for peace in Columbia, and seeing the successful UN Special Session on Children in 2002 finally happen, and so on.

It is really fun working in UNICEF. There is so much energy and vitality. I think it is fun to get engaged with kids. We are in an organization to let babies and children survive. We also work with young people, and it is interesting that you can engage with them back and forth. I am really impressed by their freshness, honesty and clarity. They remind you to be clear and direct. I don't think direct has to be sharp, tight or negative, but the more transparent and open you are, the better communication and engagement you have.

It is very interesting to talk with young people on education. Actually, they are the clients of education and you could get very effective feedback from them. So I think it is a good idea to let people engage with each other more openly. And sometimes, young people could be more complicated and deceiving than grownups. I don't want to create a perfect young person, but to appreciate the diversity...

Q: Looking back, what do you feel most proud of?

A: I think I am most proud of the organization I am leaving now. I contributed to make it financially and professionally strong. We have proved in many areas that we could respond fast to emergency. I think it is a respected organization. There are still so many problems for children out there, but UNICEF alone cannot solve them all, so there is still much work to be done.

Q: Do you have any regrets after working in UNICEF for 10 years?

A: UNICEF alone cannot solve this problem, but I regret that there are still close to 10 million children dying each year, although the figure is down from 10 years ago, but it is still too high. I regret that none of us could do as much as we should do to fight with HIV/AIDS. That many children are still orphaned, spoiled and violated. Even though there is an international convention in place that ensures children's rights, still, many children can barely experience their right.

Q: How do you view UNICEF's cooperation with the Chinese government over the past 10 years?

A: I think it has been good. The Chinese government is very clear in terms of recognizing the cooperation with UN agencies. We have brought a little bit of money here and we would bring US$100 million in 2006-2010 to China, but it is not the money that makes a difference here. The Chinese government is more interested in the technical capacities we brought in many areas, although they also did much research in these areas. China has an enormous capacity, but because of our global reach, we can bring China the experiences and lessons we learned from other places, and we could also bring China's experiences to other places. China has made enormous improvements in the past 10 years, but it still has very significant disparity...

Q: What is the most challenging aspect regarding children in China?

A: Globally, the two big challenges for children are children caught in conflict and war, and in HIV/AIDS. China is not a country at war, but the poverty is still a challenge; HIV/AIDS is a real issue here. Although the figure for young patients is low compared with African countries, the problem can never be underestimated. China has made enormous breakthroughs in recognition of HIV/AIDS. Until the country realizes the problem, very little can be done. The blood transfusion is controllable, but the population movement in the border areas, and the drug thing*** could be very challenging in China, and it really takes time.

Q: What advice would you offer in China's fight with HIV/AIDS for children, and to make UNICEF stronger?

A: Young people need to get an education on HIV/AIDS. From the prevention point of view, particular focus on young people would be important. Generally speaking, China is going in the right direction.

We should make UNICEF stronger in terms of policy analysis and policy advocacy instead of doing a small program here and there. It should have some pilot projects, update the law regarding children's well being, and update the policy of childcare so as to influence more broadly....(to) strengthen the work such as poverty elimination and policy advocacy.

Q: What are your plans after leaving UNICEF?

A: I will work in a small organization called World Learning. It involves international education, and it has a program in China. I could come back to China again in my new role. It is a small organization compared to UNICEF, but it will keep me involved with young people, because it involves international education and international studies and exchange programmes. I think the more young people in the world understand each other, the more tolerant we could be to each other.