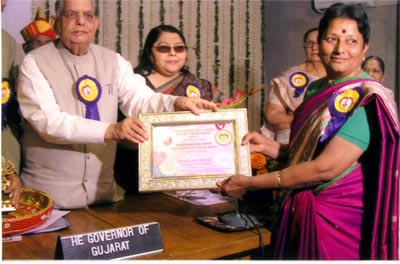 Ketkiben Shah, 58, has donated blood 100 times in the last four decades. In India, this is the highest number of times somebody has donated blood.

Shah first donated blood as an undergraduate student of St Xavier's College in Ahmedabad. "It all started in 1965, during the India-Pakistan war. At that time, no women donors were ready to donate blood. I used to study in college and our principal requested me to donate blood. He felt that maybe after I donated blood, other women would come forward too."

But why donate blood so regularly? "The value of being beneficial to society was inculcated in me during childhood. I saw my grandmother allocate some part of the home budget to charity. She used to always give me some money to give away to the poor or for helping the downtrodden. This inspired me to also give away something every month in charity." But soon Shah realized that donating money was not enough. She started going to donate blood at camps organized by the Indian Red Cross Society.

Shah is now a member of the executive committee of the Ahmedabad Red Cross Society and Chairperson of the Women's Blood Donor's Club, which was started in 2001. She has been felicitated several times by various voluntary organizations in Ahmedabad and honored by the Health Minister of Gujarat as well as former Union health and family welfare minister Shatrughan Sinha.

"Against 92 per cent male donors in the state (Gujarat) there are only 8 per cent female donors," says Shah. Most women are anemic and cannot donate blood. "The beauty pageants in India inspire girls to want reed-thin bodies, which forces girls to go on crash diets. They do not take necessary nutrition and end up eating very little food. So they are not in a position to donate. The parents are also equally to be blamed because they do not encourage their daughters to eat green vegetables and fruits."

There are certain criteria that one needs to fulfill before donating blood. "The donor has to be between 18-60 years of age, must weigh at least 45 kg, have a hemoglobin count of 12.5 gm/dl and blood pressure within acceptable range of 110/70 mmHg to 180/100mmHg. The donor should not be under treatment for diabetes, cardiac problems or any other disease," explains Shah.

Shah participates in blood donation camps on national holidays and encourages women donors to come forward. She also distributes literature on blood donation in schools, colleges, universities and hospitals.

Shah insists that people who take a wholesome diet can donate blood regularly without suffering any consequences. She claims she has not had any health problems in the last 40 years. "One can easily give away money in charity. But one needs to do more. Blood is something you get back after donation. (Donated blood returns to the body in a span of two-three weeks, though a person can donate blood again only after three months.) So, I want to explain this perspective to everyone." Shah has also pledged her eyes and other organs after death to the V S Hospital, Ahmedabad.

"Ahmedabad's annual requirement of blood is roughly 140,000 units but only about 83,000 units are available," says Dr Chaitanya Vora, Executive Director, Indian Red Cross Society, Ahmedabad. He feels that more women like Shah should come forward for blood donation.

Vora says that the blood donation system is predominantly dependent on family donors." It's a good method wherein we encourage each member who comes in for blood to encourage her/his family members or friends to donate blood to our organization." He says that out of the 4,500,000 people living in Ahmedabad,

14,41,551 belong to the 18-60 age group. "Even if 2 per cent of the 14,41,551 donate blood twice a year, we can procure 100,000 units of blood regularly."

Shah is grateful to her husband and son who have been supportive of her throughout. Her husband has been so impressed with her efforts that even he has donated blood 30 times to the Indian Red Cross Society. She strongly believes that one is blessed with human life only to be of help and service to humankind.

Shah was recently chief guest at a function organized by the Aids Control and Health Department to felicitate women blood donors. She is also now a volunteer with Ahmedabad Red Cross Society's project, 'Fight Thalassaemia', and spreads awareness about adopting a child with Thalassaemia.

"The need is for a high level of motivation and co-ordination and awareness amongst the people, especially among women, about blood donation," says Shah.