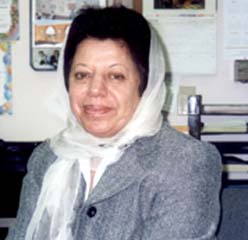 Under the Taliban, Afghan women were beaten, tortured, imprisoned, and shot for teaching young girls to read and write or for showing a lock of hair. The world was silent. Those days are over now. The Taliban regime is gone, and a new government is in place. Yet, the situation for women and girls has hardly improved, says Suraya Parlika, head of the All Afghan Women's Union and a candidate for the Afghan Senate (in the elections to be held in 2005), because the same type of men remain in power. Her views are echoed by other reports from the Revolutionary Association of the Women of Afghanistan (RAWA), Amnesty International and Human Rights Watch. Life for Afghan women is still hard, and foreign aid is pouring into the pockets of rich warlords, instead of the most needy.

Before a full house at the World Affairs Council in San Francisco recently, Parlika said the warlords are in control of the country, fundamentalism still reigns, and forced marriages still place women in "prison".

Speaking gently but firmly in her native Dari, Parlika's comments reflect her lifelong commitment to women's freedom. "We fought with our lives to get women's rights into our Constitution. Forty-two per cent of women voted," she recalled. In the new Constitution, women have equal rights with men; but the law has not changed how women are treated.

Fundamentalism, not Islam, is responsible, she says. "In the Koran, women have their own place, but fundamentalist warlords abuse their power. They do not accept the Koran's law or even the national law." Girls are married very young, says Parlika, sometimes when still in their mother's womb, sometimes to very old men. "Before she can breathe the air, she's a prisoner. To marry by her will is considered immoral, like prostitution." All signs of liberation are equated with sin - such as removing the veil or getting a job.

Parlika is well known throughout Afghanistan. Choosing not to marry, she has dedicated her life to the fight for women's rights. In 1978, she was chosen Chairperson of the Democratic Organization of Afghan Women, for which she was promptly jailed, and tortured in the infamous Pul-e-Charkhi prison. After her release, she took up that post again until 1986, when she became the head of the Afghan Red Crescent. Since then, she has founded the nationwide All Afghan Women's Union. She has been nominated as one of the "peace women" under the 1,000 Women for the Nobel Peace Prize initiative.

For Parlika, the key to change is economics. "Afghan women are the foundation of society. They perform the most difficult tasks. They bring wood from the high mountains, they do the farming, take care of animals, the housework and the education of the children." And they are not getting any recompense for all this work. "Beautiful carpets are made 100 per cent by Afghani women and girls, and they never get a penny for what they do."

It was not always so, says Parlika. Before the Taliban, women worked even in construction and were the first truck drivers. "I was a student 40 years ago. Women were on the faculty. Afghan women can do any job!"

There is no liberation, she says, without economic independence. "If I am elected to the Senate, I will be a voice in Parliament against the oppression Afghan women are suffering."

Parlika garnered the most votes of any candidate for a seat in the loya jirga (the traditional council), for which she was awarded the Medal of Honor by President Hamid Karzai. During her recent tour of the US, members of the Afghan Academy of Hope facilitated Parlika. She also attended the Beijing+10 review held at the UN Commission on the Status of Women in New York.

Calling for more International Security Assistance Force (ISAF) for Afghanistan, the American organization Feminist Majority (FM) corroborates Parlika's report. According to FM's website: "Over 30 girls' schools have suffered arson or other violent attacks...Provincial warlords continue to impose restrictions on women, and women who work, go out without a burqa, or advocate for women's rights endure constant threats..."

Human Rights Watch concurs that, "Through intimidation and armed attacks, local warlord factions, the Taliban, and other insurgent forces have forced the closure of projects that provided desperately needed education, health, rights awareness, and job training to women and girls."

Commenting on Laura Bush's March 30, 2005 visit to Afghanistan, Sonali Kolhatkar, co-director of the Afghan Women's Mission (an American ally of RAWA), said on Amy Goodman's radio and TV show, 'Democracy Now!' that Laura Bush "took with her $21 million for a school in Afghanistan, highlighting all of these superficial positive changes. Of course, what we didn't hear is that the US spent about $83 million upgrading its military bases in Afghanistan, and really that's the US' main goal...It's a very convenient, very strategic military area for them where they can have their bases, and they're spending much more, of course, on military operations than they do on humanitarian projects."

Again, the problem is the warlords, and US support for them. "Everybody I met talked about how they were really happy the Taliban was gone, and then they said, well, now we've got these warlords who are ideologically the same as the Taliban. They're just less organized. And the US has backed these warlords, some of them since the 1970s in the fight against the Soviets.... [President] Hamid Karzai has actually put them into positions of power. Ismail Khan, is now the Minister of Energy and he is an extremely fundamentalist warlord, Abdul Rashid Dostum...is now the Army Chief of Staff," said Kolhatkar.

US aid to Afghanistan, Parlika says, goes to the pockets of these warlords.