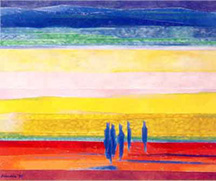 Jehangir Sabavala was born in Mumbai in 1922. He studied in the best known art colleges of the world. After receiving his diploma from the J J School of Arts in 1944 he went to Europe and studied in the Heatherley School of art, London from 1945 to 1947, the Academic Andre Lhote from 1948 to 1951 Paris, the Academic Julianfrom 1953 to 1954 and the Academic de la Grande Chaumiere in 1957.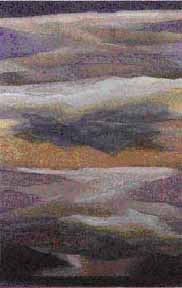 He has held 27 one man shows across India and abroad, and participated in prominent exhibitions all over the world. These include the 'Art Now in India' Exhibition, the Venice Biennale, the exhibition of the Arts Council of Great Britain, the 7th Triennale, India, the Masters of India Art Show, Mumbai, the Southebys Islamic & Indian Art show, London and the Christies Indian Contemporary Paintings, London. He has participated at the Salon National Independent, Paris 1950, the Venice Biennial, 1954; the Commonwealth Arts Festival' London 1965; Contemporary Art ftom India, Washington 1975; Asian Artists Exhibition, Fukuoka Art Museum Tokyo, 1979 and Modem Indian Painting, Hischhorn Museum Washington 1982. Apart from several international auctions he has also participated in 'Chamatkar-Fantasy in Indian Art' presented by CIMA Gallery at Whiteleys' London 1966
Three monographs have been published on him already, by eminent art publishers including Tata- McGraw-Hill and the Lalit Kala Academy, New Delhi. 'Colours of Absence' - a film on his life, won the national award in 1994. He was awarded the 'Padma Shree' by the Government of India in 1977.
This grand son of Sir Cawasjee Jehangir lives in Mumbai and still works an assiduous eight hour day in complete concentration before his canvas figuring out the many mysteries that eventually take form it.