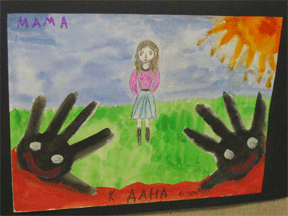 The image is stark. Two black hands that are disproportionately larger than other figures in the painting. "They are my mother's," explains Dana Konieva, 6. She does not have to add that the teary-eyed young girl in the painting is herself. Dana's mother died while covering the little girl with her body when explosives went off. They were among 1,300 adults and children taken hostage in a school in Beslan (Russia) in 2004.

In contrast, the next painting shows a few children sitting in a classroom; it seems like an ordinary day in the life of any child. But the caption accompanying 10-year-old Soslan Dzgoev's work is a reminder of how a perfectly ordinary day could turn into a long nightmare. It reads: "I shall never step into the class since you are not there anymore."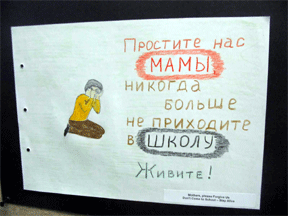 These and more such images at an art exhibition in Toronto, coupled with the presence of 17 school children from Beslan, tugged at the audience's hearts. Though separated by age, Dona, Soslan and other children from the school in Beslan are united by a common thread: the loss of childhood. In the space of a few hours, these carefree children cast off their childhood and matured beyond their years.

Some, however, slid backwards. "They got younger. They hang on to their mothers. They are afraid of everything," says Fatima Kanukova in even tones. The youngster, who looks like an average teenager, displays wisdom far beyond her 14 years. Her soft voice belies the strength of her spirit. Fatima's mother commented that she was "like a tank - indestructible".

It was this spirit that made children like Fatima endure the seemingly unending horror from September 1 to 3, 2004, when militant Chechen and Ingush separatists took nearly 1,300 children and adults hostage. The 54-hour siege left 344 civilians, including 172 children, dead. Cut off from the outside world and unsure of their fate, the older children found themselves catapulted to a parenting role: calming the terrified younger children and keeping hope alive, even though they were petrified themselves and were bracing for the worst.

Fatima recalls, "The smaller children were all crying, they didn't know what was happening. They would not follow orders, wouldn't lie down on the floor and we thought they would be killed. The older students tried to cover the younger ones with their bodies."

As a horrified world watched, the rebels freed 26 women with infants on the second day of the siege. Forced to leave their older children, these despondent mothers joined the ranks of other anxious and helpless parents outside the school building. The rebels had already killed 20 hostages by then. A day later, the siege ended; but only after snuffing out hundreds of lives as the explosives wired by the rebels in the school building went off.

Five months have passed, but memories of the tragedy continue to haunt Beslan, a small city of 33,000 people in the region of North Ossetia, Russia. Though swamped by collective grief, the community is trying to move on. And the organisations that sponsored these children's Canada trip and the art exhibition hope this sojourn would have a healing effect. The two-week trip was a collaborative effort of Canadian Russian Speaking Congress and Hope for Beslan.

Hope for Beslan, a non-profit organisation that was formed in the wake of the tragedy, also organised a month-long art exhibition displaying the paintings of the children who were taken hostage as well as other children from Beslan's two art schools.

During their two-week Canada sojourn, the children, who were in the age group of 12 to 16 years, visited Montreal, Quebec, Ottawa, Niagara Falls and local landmarks in Toronto. They also interacted with local school children, watched a baseball match, went for an auto show and shopped!

Inna Dolgopolsky, a Russian-speaking volunteer with Hope for Beslan, observes, "They are emotionally very mature, open and straight and extremely caring about each other. I have not seen them tease each other in a nasty way. They have lovely nicknames for each other, often hug each other, look after each other and also the younger ones." Indulgence and caring for each other seemed to come naturally to all these children. Overtly demonstrative, they often hugged each other and held hands, almost as if seeking reassurance.

This trip, says Hope for Beslan's co-founder Jelena Solujic, "was meant for them to have fun. To relax and enjoy." Solujic, mother of a six-year-old girl, sponsors Dana Konieva, whose painting at the exhibition made many people misty-eyed. "She sent this painting to my daughter as both girls exchange letters, photographs, paintings etc. So children are also reaching out to other children," she says.

Art clearly offers an emotional outlet. The paintings and drawings by the Beslan school children portray not only loss and grief but also sketch a picture of hope.

A note of advice accompanied one of the paintings. Bella Gubieva, 12, writes to other children on "what to do if you are taken hostage". Hoping no one ever goes through a similar experience, she talks about steps to be taken in such an eventuality. It is hard to believe that such measured advice could come from such a young girl. After listing various measures, she says that most important of all is to "keep the hope that you will survive".

It was this hope that saw them through the ordeal. And having emerged from it with their lives intact but psyche bruised, they are trying to look to the future. The Canada trip, they say, has had a therapeutic effect of sorts. "It is a big psychological help to be distracted from problems and be yourself," says Fatima and adds, "even looking at people's faces here has a healing effect because they are different."

For Chera Nogoaev, 15, the journey to Canada also entailed a reunion with his cousin. What touched him, he says, was the fact that "people care about us".

Among those waiting for the Beslan children's arrival was Hetag Lolaev. He was with his sister Alana in the school when she was killed and Hetag's mother subsequently moved with him to Canada. He was overjoyed to meet his classmates for the first time after leaving Beslan.

The trip meant different things to different people, but there was no doubt in anyone's mind that it rekindled sparks of lost childhood in these kids. And for some, it perhaps triggered off a new personal journey. Marina Bokoeva, 16, pauses when asked about the impact this journey had on her. "Something inside is changing because everyday we have been meeting and talking to people. Inside something is changing, but I cannot express it..."