A self-taught painter, Anjali Arora is from Ahmedabad, India. She learnt the art of painted expressions by studying the works of Impressionist masters like Renoir, Monet, Degas, Pissarro, etc. Her professional life started in April 1998, when she held her first solo show in Ahmedabad. Since then her paintings have been exhibited in several solo and group shows at the Ravishankar Raval Gallery in Ahmedabad and the Artists' Centre gallery in Bombay, besides the display she has on several virtual galleries on the Internet. To further her expertise she undertook Artist Residency at the Anderson Centre for Interdisciplinary Studies, based at Red Wing, Minnesota, USA.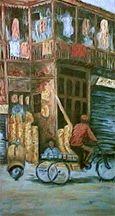 Anjali's painted expressions have found home in the private collections in various parts of the world.
Anjali's paintings reveal a confluence of Impressionist methods and Eastern values. A blend of Beliefs and visual stimuli. In her paintings one sees the glimpse of the life-energy and inherent beauty of subjects that are taken from everyday situations. These ordinary scenes are transformed into a moving and fulfilling work of art. In her work, there is an element of celebrating the ordinary and the 'here and now'. As Anjali says, "Painting is my way of being one with nature, of trying to unravel her secrets of beauty. You will find nothing in Nature that is ugly or repulsive".
One cannot but help agree with Anjali.


"Matka"
The earthenware Water Pot
Oil on Canvas

"Canal in Venice"
Oil on Canvas
Happily married with Ravi and mother of 16 year old Sanjay, Anjali is all set to project the harmony of life through her medium.
Anjali can be contacted at anjali@artbrush.net