Umashankar Sharma is a practitioner of the traditional style of Rajasthani Miniatures. Born in 1961 in the town of " Bani Thani" Kishangarh, he has mastered the art and technical skill of the famed Rajasthani Miniaturists without any formal training.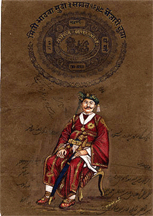 Paintings of Umashankar are a reflection of the beauty and aesthetics of the rich legacy of India. His art is rooted in tradition, but in a way is modern too, for he has innovated upon the style and the features of the basic traditional technique.
To enhance the beauty and longevity of the paintings, rare pigments are used, many ground from semiprecious stones. He uses handmade squirrel brushes, handmade paper and only real gold and silver leaves wherever required.
Since 1994, Umashankar's work has been exhibited in various art galleries in India and in Avignon Festival, Paris - 1995, Art Show, Yugoslavia - 1998 and Cork Art Gallery, New York, USA - 2000. Many of his works are already in the collection of private collectors in India and abroad.

You can contact Umashankar Sharma at: banjara7777@yahoo.com