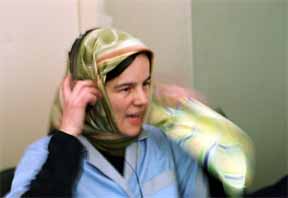 "To make films was always my dream, but I felt that I had to learn something before I began," says Marina Caba Rall, 40, who recently won the Debut Film Prize for her first feature film, 'Last Minute'. Rall received the award at Feminale, the International Women's Film Festival held in Cologne in October 2004.

In 'Last Minute', two cleaning women - Heike Eggert and Nina Winter - who work at a German airport are compelled by circumstance to come into close contact with a handcuffed Kurdish man who claims to be an asylum-seeker. On the run, Kawa (the Kurd) finds a place to hide from the police in the storage room of the head of the cleaning staff - Eggert.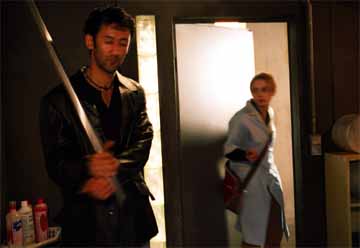 The women find it difficult to believe him - he could well be a criminal or a terrorist! The film unfolds to show how the two women's routine life - that has its own set of problems - is thrown off-gear by Kawa, the foreigner. Kawa's cultural and political problems are both immediate and immense. As the film continues, Eggert and Winter decide to help Kawa escape the police. And in the process of overcoming their apprehensions and prejudices, they experience a change in their relationship.

The compact screenplay and the grasp of cinematic detail in 'Last Minute' has followed the experience of making eight short and documentary films. Rall says it was important for her to learn different things about people and their history and their countries before saying "something about myself". She has studied history, philosophy, theatre and film science at the Free University in Berlin. In 2003, she graduated in direction from the Konrad Wolf Film & Television Academy in Potsdam. About this film of three dissimilar people who finally come close to one another, Rall says, "I think I tried to portray my own hybrid background."

Born in Madrid to a Spanish father and a German mother, Rall came to Germany when she was 10. The switch from Spain to Germany was "hard but I have learned a lot", she says. She now lives in Berlin with her Spanish husband and tries to make sure that her three-year-old son is not like her, because as a child, she "could not speak the two languages".

How did she come to choose such a politically sensitive theme in her first feature film? Rall says the choice of theme is based on her experiences, and the stories she has heard from a lawyer-friend who deals with the problems of refugees. She herself participates in demonstrations and tries to influence the authorities towards the rights of refugees or asylum-seekers.

What was interesting about the cleaning women, Rall says, is that "they have the keys to open all doors at the airport and they can see everything". Most people who see them at the airport do not perceive them as human beings - they are seen as "M�belst�cke (pieces of furniture)". So it was very interesting for Rall "to give them the power". "They can really open a lot of doors when they want," she says.

In the film, the two women could certainly do that for Kawa, who longs to return to his homeland but is haunted by images of torture. The opening and closing of doors has both a spiritual and political meaning: "The map is drawn on ice/If it would be in my hands, to head for this journey or not.../I would do it again." The scene in which Kawa reads out this poem to Eggert is a turning point for her. In her imagination and in reality, Eggert begins to perceive Kawa in a different, humane light. Although the poem has different connotations for Eggert and Kawa, it leads to the moment of their "intersection" or communication.

Says Rall, "Eggert is full of prejudice. So she is really very typical in the way she sees this brown-eyed, dark-haired man. She thinks - 'Oh he looks like a criminal'." For Rall, it is very important that a working class woman, "who does not even know what Kurdistan is and who thinks the Kurdish people are terrorists, in the end sees the human being in him, with his own history and his own suffering."

The political subtext notwithstanding, one of the outstanding achievements of 'Last Minute' is that it makes an effective point about human relationships in the social and political context, without striving to do so. Staying close to the simple story line of one day in the routine life of two cleaning women, it dwells effectively on the moments when the complacent and the shocking, the boring and the surprising, intersect.

Was Rall's dream of becoming a filmmaker ever tied up with her being a woman? In the beginning, she says, she just wanted to be a filmmaker. "When I was a child, I always thought I was normal, a human being. When I grew up, I realised that I was not the norm. The normal things are the men. Later, these two things came together. I realised, okay, I want to be a filmmaker - I will include history, identities, and human experience, but also women's experiences."

Rall is quick to add that she has also made films about men. "For me, it is both (men's and women's issues), really. I think it has to do also with my personal history not only as a woman but also a woman in two cultures. So I always have different issues to put together: women and different cultures. I see now that my films always have important female roles but they are also culturally hybrid."

Rall has two new projects: a documentary about a German-Jewish woman poet, and a fiction film about a Spanish woman migrant worker. Both will focus on the complex and challenging relationships in different cultures.