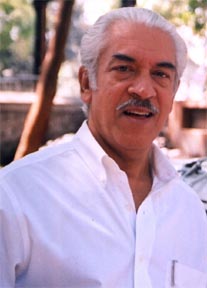 "It is not enough to say 'I am honest.' You should enforce your honesty and confront the system. That's the bottom line." When Arun Bhatia utters these lines, it is not for effect. An officer of the Indian Administrative Service (IAS) with a career spanning over 30 years, he has earned a reputation for exposing the shortcomings of and corruption in the very system he works for.

Bhatia has paid a price for his actions - regular transfers, insignificant postings and juniors being promoted ahead of him. But nothing has deterred this bureaucrat; he just carries on digging out carefully guarded skeletons from within the institutions of governance.

This time round, he has raised an issue that governments assiduously keep under wraps - malnutrition. Two surveys conducted this year by the Tribal Research and Training Institute (TRTI) - which he heads as Commissioner - in Maharashtra's Nandurbar and Thane districts, reveal that the deaths of many tribal children in these areas were related to malnutrition. The government has responded by issuing a show-cause notice to him. But as usual, Bhatia is sticking to his guns.

Though this report is the most publicized one over the past month, there have been others. The officer has interpreted the mandate of TRTI to include investigation into the status of various schemes meant for tribal communities.

He says, "This institution is meant to do research and training. But research in what - in folklore of tribals, artefacts and paintings they produce, or make stupid calendars? Why don't we show malnutrition, death by snake bites, lack of food, lack of clothing and basic necessities, why don't we show their deprivation, poverty, hunger, their lack of land titles, payment of money to get even firewood. We'll do research in implementation and evaluation of schemes meant for the uplift of tribals, implementation of land schemes."

And that is exactly what he has been doing - with a series of surveys whose findings are startling, to say the least. Take the scheme for financial assistance to pregnant tribal women. The aim of the scheme (which covers five districts in Maharashtra) is to provide some nutritional cover to pregnant women by granting Rs 800 each to reduce premature birth and malnutrition deaths. The TRTI report published in May this year states that out of an annual program budget of Rs 272 lakh, almost Rs 72 lakh has been misappropriated (1US$=Rs 48). What's more, it adds that "people, including the beneficiaries, know this is happening".

The survey was conducted in 19 villages spread over three blocks of Thane district, and included 171 beneficiaries. Forty one percent of the beneficiaries did not receive the full amount of money. In gross
exploitation of tribals' illiteracy, beneficiaries in some of the more interior villages received only Rs 50!

While this and other reports by TRTI on corruption in various other schemes did not create a flutter in government circles, the TRTI's investigations into the death of many children in the tribal pockets of Nandurbar and Thane districts have. And Bhatia has incurred the government's wrath for using the word 'malnutrition' - a taboo in administrative circles. According to Bhatia, the government of India had asked TRTI to investigate reported malnutrition deaths in Nasik division in 2001, because it was dissatisfied with the state government's explanation. "This letter," says Bhatia, "was lying around for some months, because it is a sensitive issue and no one wanted to take it up. Then I came in December, did a survey, printed a report indicating that the deaths were malnutrition-related mainly on basis of the nutrition status of surviving siblings of dead children."

The survey covered 143 families that had lost 158 children in Nandurbar district. It pointed out that the extent of malnourishment in 136 siblings was 76.5 per cent; and of these, 40 per cent were suffering from severe malnourishment.

While the Nandurbar deaths were from an earlier period and hence did not raise hackles within the administration, a TRTI survey in Thane district - of 25 families that had lost 26 children - created a furore. According to the report, of the 27 siblings of deceased children, as many as 92 per cent
were malnourished.

Bhatia says, "There are social workers who keep shouting that deaths are malnutrition-related, but no one listens. Then some bureaucrat gets up and claims that the deaths are not malnutrition-related, that shops are stocked and medical facilities in place. This is reported in the press, and the death-files are closed conveniently, quickly, without investigation and without revealing the truth. I contradicted this and sent a letter to Chief Minister and Chief Secretary and after that I was served a show-cause notice."

In his reply to the notice, Bhatia has rebutted the government claim that the tribals had access to food grain in the well-stocked fair price shops. He says the impoverished tribals did not have the cash to buy food grain. That much of the subsidized rice, sugar, wheat and kerosene in the shops had not been bought by the families in Thane district that had lost their children.

According to Bhatia, as many as 68 per cent families had taken loans from moneylenders for food. "This episode of malnutrition leads on to governance issues. How can they serve a notice on an officer for expressing an opinion based on a scientific survey? It is an indication of how feudal, autocratic and unprofessional the situation is; of how dissent is treated. It is a serious governance issue and should be taken up."

This civil servant should know. In 1982, he had unearthed massive corruption in the Employment Guarantee Scheme in Dhulia district. As Collector of Bombay, he exposed land scandals involving senior IAS officers. More recently, when Bhatia was Commissioner of the Pune Municipal Corporation, he swung the baton against illegal encroachments and construction by builders and politicians.

Bhatia has now initiated a citizens' campaign against corruption. "The test of a good bureaucrat," he says, "is what he does to reform the system."