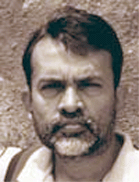 An alumnus of Government College of Arts, Calcutta, the water color man, Samir Mondal (now in his late forties) lives in Bombay. In his own words, "Picture making in water color is an exciting game. Color becomes my opponent. Every stroke of my brush is countered by color itself and overwhelms me." This is truly evident from his paintings.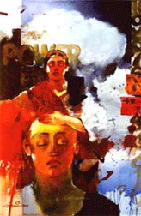 To the sensitive and perceptive mind of Samir, several icons have dominated and influenced his consciousness. Starting with landscapes, to stylized figures, Samir graduated to painting themes. He would take one subject and explore it from all angles possible. Most of the themes that Samir has worked on have been those that he personally experienced. In his words, "...the theme was an essential part of my life, a process in which I was personally involved."
Mondal's most important contribution to the art of his generation is a sustained revival of water color. A medium that presents a number of traps and handicaps which Mondal has successfully overcome by giving his paintings weight and depth, solidity and expressiveness. The three examples of his artwork shown here are an apt proof of this.

Exhibiting in major cities, and having experienced a whiff of many German cities (under, the Indo-German Cultural Exchange Program) and of Paris, Mondal now made a name for himself in media such as the press and television. He collaborated with the eminent poet and media person Pritish Nandy on a number of projects. He created the Mulla Naseeruddin series for The Illustrated Weekly in which each episode was represented by a separate painting. Mondal's full page portraits of film stars and other prominent personalities in The Sunday Observer have been widely appreciated.
He has been active in his field for 25 years and has received many prestigious Awards including AIFACS, New Delhi, West Bengal State Academy Award (twice), The Academy of Fine Arts Award (twice) and A.P. Council of Artists Hyderabad. His works are part of valued collections of many institutions and private collectors worldwide.
He can be contacted at samirmondal@vsnl.com
I recommend visiting his site The Water Color Man to see more of his work.